North Wild Kitchen by Nevada Berg
December 2, 2018 by Jenny
Named by Saveur magazine as the 2016 Blog of the Year and Best New Voice, North Wild Kitchen and its author Nevada Berg have become one of the voices spreading the spirit of Norway around the world. Written from her 17th-century mountain farm in rural Norway, Nevada's blog and Instagram feed offer a cornucopia of gorgeous-and achievable-ideas for home cooking and entertaining with the bonus that any of the recipes can work in both situations.
In her debut cookbook, North Wild Kitchen: Home Cooking from the Heart of Norway, the self-taught cook shares her simple and charming approach focusing on seasonal food prepared brilliantly. This title combines rustic comfort with elegance. The photography is stunning with each dish styled to perfection by transforming simple, beautiful food into art without fuss. The beauty of Norway is well represented with every turn of the page revealing a peaceful sea scape, luscious landscape or inspirational plate of food.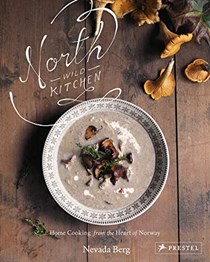 With dozens of mouthwatering recipes for Norwegian-inspired dishes, North Wild Kitchen features equally enticing photography of the food and the country's landscape. Each chapter focuses on a different aspect of Norwegian food culture-foraging, fishing, and farming; hunting, harvesting, and camping; baking, grilling, and frying. Along the way, Berg narrates the unique pleasures of Nordic life as she tends to her chickens, explores the outdoors, or sets a welcoming table. The author is both inviting and entertaining as she weaves her own experiences into each recipe, delivering a beautiful collection of good food and great living from the heart of Norway.
Prestel, the publisher, is sharing one of Nevada's recipes with our members today and providing three copies in our giveaway below.
Bread is a dietary staple in Scandinavia. Norwegians, like most Nordic people, enjoy a range of hearty breads with whole grains, coarse flours, nuts, and seeds. is loaf is my own invention and a cross between Kneipp bread (kneippbrød), barley bread (byggbrød), and rye bread (rugbrød). Kneipp bread is a whole-wheat bread, named after the German doctor Sebastian Kneipp. e recipe made its way to Norway in 1895, when the Hansen Bakery was the first to get a license to bake it and sell it. It's the most commonly consumed bread in the country, which is why I used it as the base for this recipe. My version has a few more ingredients, including oats. It has well-rounded flavor and is oh-so-slightly sweet. e recipe makes two large loaves, so you can freeze one for later or even bake a half batch.
• makes 2 large loaves
1 cup (120 g) rye flour

1 cup (120 g) barley flour

 3⁄4 cup (90 g) quick-cooking oats
2 3⁄4 cups plus 1 tablespoon (675 ml) lukewarm water
1 1⁄4 cups (300 ml) milk
5 1⁄2 cups (660 g) all-purpose flour, sifted
3 1⁄2 cups (420 g) whole-wheat flour
1 ounce (25 g) fresh yeast or 1⁄3 ounce (8.5 g) active dry yeast
1 1⁄2 teaspoon salt
3 tablespoons Norwegian dark syrup or light molasses
In a large bowl, combine the rye flour, barley flour, and oats. Add 2 cups (480 ml) of the lukewarm water and let stand for 30 minutes.
In a small saucepan, heat the milk until just warm to the touch.
In the bowl of a stand mixer fitted with the dough hook attachment, combine the white flour, whole-wheat flour, yeast, and salt. Add the warm milk, along with the remaining 3⁄4 cup plus
1 tablespoon (195 ml) lukewarm water and the dark syrup and knead on low speed until combined. Add the oat mixture and continue kneading for 5 minutes or until the dough becomes workable- it should be rather sticky.
On a floured surface, knead the dough a few times then shape into a ball. Transfer to a lightly buttered bowl, cover with a tea towel, and let rise in a warm spot for 45 minutes or until doubled in size.
Preheat the oven to 425°F (220°C). Line a baking sheet with parchment paper.
Divide the dough into two equal parts. On a floured surface, knead each ball of dough a few times then gently form into oval-shaped loaves. Using a sharp knife, make a couple of slits on the top of each loaf. Place the loaves on the prepared baking sheet. Cover with tea towels and let rise for 1 hour.
Dust the tops of the loaves with a little flour and bake for 40 minutes or until golden brown. Transfer to a wire rack to cool. Serve with your favorite toppings and store at room temperature in a resealable plastic bag for up to 2 days. Alternatively, place the cooled loaves in airtight plastic bags and freeze for up to 2 months.
The publisher is offering three copies of this book to EYB Members in the US One of the entry options is to answer the following question in the comments section of this blog post.
Which recipe in the index would you try first?
Please note that you must be logged into the Rafflecopter contest before posting or your entry won't be counted. For more information on this process, please see our step-by-step help post. Be sure to check your spam filters to receive our email notifications. Prizes can take up to 6 weeks to arrive from the publishers. If you are not already a Member, you can join at no cost. The contest ends at midnight on January 22nd, 2019.