Sweet Street – EYBD Promotion
December 3, 2018 by Jenny
Now with EYBDigital, if you buy a print book within the promotional period, for the first time you will have access to the full EYBD cookbook wherever you can access EYB – on vacation, at work, in the grocery store, etc. In addition to the digital book, all the features of EYB will be included in the access, at no cost to the book purchaser. For more information see our EYBD Page.
• Recipe search
• Bookmarks
• Recipe ratings and reviews
• Photo upload (personal photos of dishes cooked)
• Shopping lists
We are pleased to share a promotion for our next EYBD Book, Sweet Street: Show Stopping Sweet Treats and Rockstar Desserts by Anna Polyviou. This book made my best list of 2018 as well as my gift guide.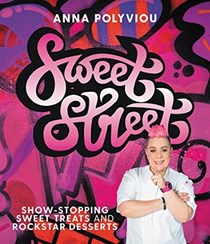 Anna Polyviou is a bright star of the dessert world and head pastry chef at Sydney's Shangri-La Hotel where she transformed the pastry team by injecting a sense of fun, irreverence and youthful energy. Her sweet events are sell outs and her influence has spread across Australia's pastry unending the oft-times stuffy world of high end pastry.
In Sweet Street, her first book, Anna brings classic techniques and flavours out of the commercial kitchen and into the home kitchen in a way that invites rather than intimidates. Home cooks with a sweet tooth will find plenty of inspiration, instruction and encouragement in the 80+ recipes here.
Anyone who looks through this title and doesn't find a smile on their face, should check for a pulse. How can someone not smile when greeted with explosive colors, powerful flavour combinations and tempting desserts with every turn of the page. Anna provides detailed instructions for some of the multi-component desserts, and while some might take some planning and time, most of the recipes are attainable. Step out of the ordinary and jump into this fantastical world of desserts.
Our
takes you inside this vibrant, modern title that features
If you order this title before our promotional period ends, register here (be sure you have a photo of your receipt or screenshot from your online order ready to upload). Once your purchase has been verified, this button
will appear on the book on your Bookshelf next to the title and will take you to the digital access for this gorgeous book.
Below are screenshots showing how these features will appear.
Special thanks to the publisher, for working with us to bring this exclusive incentive to our members as well as for providing three copies of in our giveaway below.
The publisher is offering three copies of this book to EYB Members in the US, UK, CA, and AU. One of the entry options is to answer the following question in the comments section of this blog post.
Which recipe in the index would you try first?
Please note that you must be logged into the Rafflecopter contest before posting or your entry won't be counted. For more information on this process, please see our step-by-step help post. Be sure to check your spam filters to receive our email notifications. Prizes can take up to 6 weeks to arrive from the publishers. If you are not already a Member, you can join at no cost. The contest ends at midnight on February 14th, 2019.