Holiday and Celebration Bread in Five Minutes a Day Promo with a Zojirushi Home Bakery Virtuoso Plus Breadmaker
December 4, 2018 by Jenny
When I shared promotions for Home Made Christmas (with a Le Creuset Dutch Oven) and Set for the Holidays (with a Mauviel roaster) last week, I mentioned there was one additional holiday book from this season that blew me away. That book is Holiday and Celebration Bread in Five Minutes a Day: Sweet and Decadent Baking for Every Occasion by Jeff Hertzberg M.D. and Zoë François. This book made my best list of 2018 as well as my gift guide.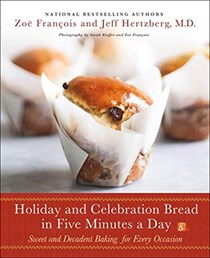 If you are remotely interested in bread baking, you are familiar with the Five Minutes a Day cookbook titles by Jeff Hertzberg and Zoë François. Their books have made bread and pizza making possible for millions of bakers who would otherwise shy away from tackling bread. Holiday and Celebration Bread, their latest, shares yeasted breads, doughnuts, rolls, coffee cakes, and other baked goods, many of which have global influences, and all perfect for any celebration or gift giving.
Packed with baking tips and the authors' combined expertise this book shares recipes ranging from Greek cross-topped bread, Swedish tea ring, and Romanian Easter bread with ricotta custard to beignets and pita. The Raspberry star bread, which we have linked below, is first on my list to make. I am so behind on all my baking self-imposed baking obligations including tackling my brioche from Modernist Bread to post about after the holidays. There is so much I want to bake (or cook) and so little time. I hope I live long enough to cross off all these delicious recipes on my to-bake list.

Zoë François also shares many beautiful creations on her blog, Zoë Bakes.
The recipe for the Raspberry star bread – Add this recipe to your Bookshelf (click the blue +Bookshelf button) can be found in our online link.
To celebrate this perfect holiday book, Zojirushi is offering one of our members a home bakery. One of the most used machines in my kitchen (outside of my oven and stovetop) is my Zojirushi BB-PDC20BA Home Bakery Virtuoso Plus Breadmaker. I use the dough setting for all my doughs – cinnamon rolls, bagels, breads, anything yeasted. It is a time and life-saver for me. I haven't baked a loaf in the machine yet or tried the jam setting but just for the dough setting alone it is this baker's dream machine.
Below are some of the technical specifics:
The Home Bakery Virtuoso® Plus Breadmaker bakes a traditional-shaped 2-lb. loaf of bread automatically. Dual kneading blades and additional heater on the lid ensures thorough kneading and even baking. Expanded healthy course options include Multigrain, Whole Wheat, Rapid Whole Wheat, Gluten Free, Salt Free, Sugar Free and Vegan.
Menu settings include: White, Whole Wheat, European, Multigrain, Gluten Free, Salt Free, Sugar Free, Vegan, Rapid White, Rapid Whole Wheat, Dough, Sourdough Starter, Cake, Jam and Homemade
3 Homemade memory settings allow you to customize the knead, rise and bake times
Convenient 12-hour clock with 13-hour delay timer
European menu setting bakes light and savory breads that pair well with a variety of cuisines
Rapid courses allow you to bake a loaf of White or Whole Wheat bread in just 2 hrs. and 25 mins.
Includes a Liquid Measuring Cup, Nested Measuring Cups, Measuring Spoon and full color recipe book with 50 delicious recipes
Large viewing window to watch the process
cULus listed
Instruction manual and Recipe Book in English and French
I have been so busy using the dough setting that I didn't even realize there was a cake setting or sourdough starter! I have to try those features soon.
St. Martin's Press is offering three copies of this book and Zojirushi is providing one grand prize winner with a Zojirushi BB-PDC20BA Home Bakery Virtuoso Plus Breadmaker. This contest is open to US addresses only. Two of the entry options are to answer the following questions in the comments section of this blog post.
Which recipe in the index would you try first?
Which product at Zojirushi would you like to find under your tree?
Please note that you must be logged into the Rafflecopter contest before posting or your entry won't be counted. For more information on this process, please see our step-by-step help post. Be sure to check your spam filters to receive our email notifications. Prizes can take up to 6 weeks to arrive from the publishers. If you are not already a Member, you can join at no cost. The contest ends at midnight on February 8th, 2019.
Special thanks to St. Martin's for providing me with a copy of Holiday and Celebration Bread and to Zojirushi American Corporation for providing me with a machine for review. have an earlier model that I have used for over five years and it is still going strong. With the addition of this second machine, I can now make double batches of dough for bagels and baking at the same time.