Ideas for using Christmas leftovers
December 7, 2018 by Darcie
While many cooks have their Christmas feast planned well in advance, some of us (hand raised over here) haven't even started on the menu. Very few of us have planned beyond the big meal, but that's exactly what they've done over at The Sunday Times. They are already featuring recipes to make use of the inevitable Christmas leftovers.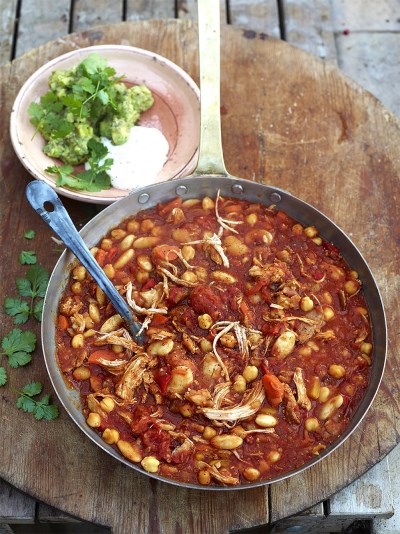 Even if you think your menu is set, once you read the ideas from the likes of Gordon Ramsay, Jamie Oliver, Rachel Allen, Tom Kerridge, Hugh Fearnley-Whittingstall, and Lindsey Bareham, you may be tempted to ensure that you are making the items that they cleverly use in the post-holiday phase. Bareham's idea for a "killer bubble and squeak" makes one hope that there will be plenty of Brussels sprouts remaining.
Hugh Fearnley-Whittingstall offers many ideas for using up leftover turkey, including a Thai curry and a turkey and mincemeat tagine. He's also got tips for using up cranberry sauce, Christmas cake, and any extra citrus fruits you have hanging around. Jamie Oliver will have you whipping up a turkey chili (pictured above) and Gordon Ramsay offers a unique spring roll recipe that features a mixture of root vegetables, Stilton and chopped walnuts and served with a port and hoisin dipping sauce. You may need to register with the newspaper to access all of the recipes, but they are available free of charge if you do so.
Category:
Seen anything interesting?
Let us know
& we'll share it!