On being a restless cook
February 2, 2018 by Darcie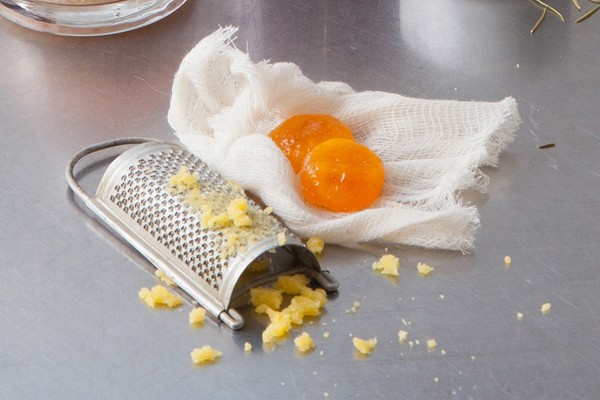 As I scrolled through my Twitter feed today, I came across a post about salt-cured egg yolks. "That reminds me," I said to myself, "I think I have one of those sitting in the back of the refrigerator." After a brief rummage through the bottom shelf, I spied the prize: a small glass prep bowl containing a heap of kosher salt encasing a single egg yolk.
How long this has been lurking in the dark recesses of the refrigerator is a mystery. I know definitively that it has to be less than three years, because I first spied salt-cured egg yolks in Saveur Magazine, and I see from the EYB Library that the issue came out at the beginning of 2015. In reality it's only been a month or two, as this technique was one I added to my "must try" list, which has a backlog of well over two years.
I chalk up this extra-long "must try" list to being a restless cook. My husband complains that if he says he likes a dish, that means I will never make it again. He's not altogether wrong. Although I do have several recipes that I turn to time and again, I continually seek out new dishes. Not content with just trying a different twist on a familiar food, I want to experiment with new techniques and taste new ingredients.
As a result, my kitchen cabinets are bulging with equipment: a sous vide circulator, two blenders, an Instant Pot, stacks of bakeware. The drawer are brimming with gadgets galore, so stuffed that they often get stuck when a recalcitrant ladle gets turned the wrong way. My pantry contains dozens of legumes, several varieties of rice, condiments from every corner of the world, and more pasta shapes than many Italian specialty markets.
While all of this variety keeps me well-entertained, I wonder if having too many options hinders my ability to become a better cook. Flitting about from one cuisine to the next and baking things only once in a blue moon does not lead to mastery of any ingredient, technique, or cuisine. Am I doing my cooking a disservice by pursuing too many flings? Or does this relentless pursuit of new foods help me by allowing me to build a broader base of experience?
In either scenario, I end up with things like a solitary salt-cured egg yolk languishing in the back of my refrigerator until I stumble across a post on my Twitter feed. I've cleaned out the fridge a couple of times since I gently laid the yolk onto its bed of salt, covered it, and placed it at the back of the shelf so it wouldn't get jostled. Each time I move the bowl, I make a mental note to find something to do with the cured yolk, but never follow through.
I pull the cover off the bowl to see if I should even bother to put it back in the fridge. The salt has coalesced into a nearly solid block, but after some gentle prying around the edges, the block crumbles and out pops a deep orange translucent disk that looks exactly like the magazine photo. (Some techniques, it seems, don't require much practice.) Tomorrow is the day, I resolve, to put this sunny yolk to use. If I don't find something else to do first.
Photo of Cured egg yolks from Saveur Magazine
Seen anything interesting?
Let us know
& we'll share it!