Zingerman's Bakehouse by Amy Emberling and Frank Carollo
March 15, 2018 by Jenny
Since 1992, Michigan's renowned Zingerman's Bakehouse in Ann Arbor has been feeding hungry locals and travelers from across the United States. In celebration of their 25th anniversary, Amy Emberling and Frank Carollo decided to share 65 of their well-tested, carefully detailed recipes in a stunning cookbook, Zingerman's Bakehouse: Best-Loved Recipes for Baking People Happy.

From the opening pages that begin with their appreciations, to the introductions of the bakers, to the perfect exhaustive manner in which they approach each recipe, their love of what they do is palpable. It is also evident that they want their readers to be successful – see the first chapter "setting the stage for successful baking" and the myriad tips and hints throughout the book.

Detailed instructions accompany each recipe from their sourdough starter, savory Pogácsa (the iconic Hungarian roll) to flaky Rétes (sweet and savory strudel). Recipes include bagels, pies, cookies, their famous breads (from sourdough to rye), soups, rolls and more.

I made the New deli crumb cake several months ago and it thankfully disappeared because it was dangerous to have around. Equally dangerous were the Obama buns (pecan sticky buns). Recently, I bought a Detroit style pizza pan and on page 89 of this book there is a recipe for Detroit style pizza that is calling my name.

In these pages the authors left nothing on the table – successes, failures, secret recipes – it is all here waiting for us to devour. Beautiful photographs, fun narrative and perfect recipes, what more could you ask for in a cookbook. For those in the Ann Arbor area, the Bakehouse offers classes. Who wants to drive to Ann Arbor with me? Bake trip!
Special thanks to the publisher, Chronicle for sharing the recipe for Walnut and currant rugelach below for our members to try now. Be sure to scroll to the bottom of this post to enter our contest to win one of three copies of Zingerman's Bakehouse.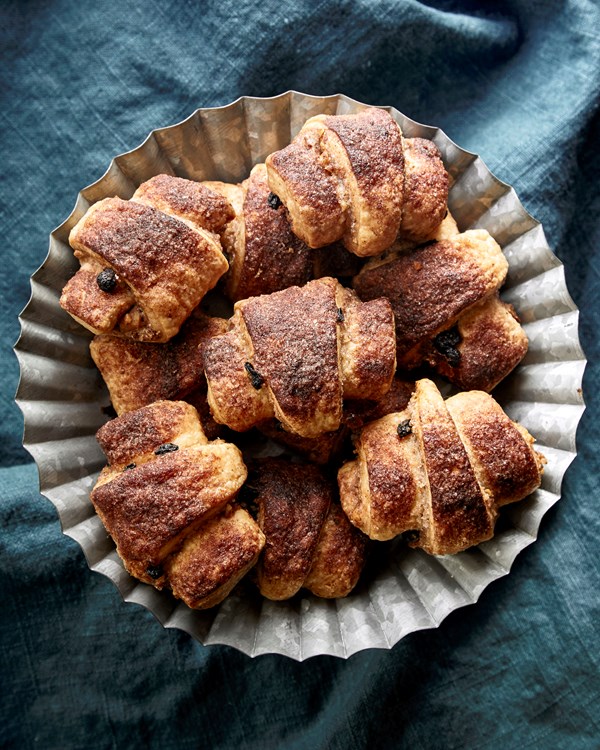 Walnut and currant rugelach
Add this recipe to your Bookshelf (click the blue +Bookshelf button).
Makes 16 rugelach
Rugelach are the most popular and well-known Jewish cookies in the United States and are definitely the most popular Jewish cookies we make at the bakery. This version is a mix between a cookie and a pastry, with a delicate and flaky dough (two-thirds of the dough is fat-butter and cream cheese) encasing special fillings, sprinkled with sugar, and baked until golden brown.
Rugelach evolved from the Eastern European Jewish cookie called kipfel. In the early 1950s, the name "rugelach" appeared, and now it has taken over. The word seems to come from rug (Slavic for "horn") and lakh (a diminutive plural), thus "little horns."
The original cookie was made with a yeasted dough. The now very common unleavened form was first introduced in the United States in the 20th century because it was easier to make and stayed fresh longer than the yeasted version. The use of cream cheese in the dough started in the early 1950s.
The popularity of rugelach is surprising to us because they're plain looking, without a lot of eye appeal. People who have never tried them are shocked at how good they are. Rugelach can be made in many different flavors-apricot, raspberry, and chocolate, to name a few. This is our most popular flavor-walnuts and currants.
Dough
Unsalted butter, room temperature 3/4 cup 170 g
Philadelphia cream cheese, room temperature 3/4 cup 170 g
Sea salt 1/2 tsp
Pastry flour 1 cup plus 3 Tbsp 170 g
Filling
Walnuts 1/2 cup 55 g
Currants 1/3 cup plus 1 Tbsp 55 g
Granulated sugar 1/3 cup 65 g
Ground cinnamon 1 tsp
Assembly
Unsalted butter, melted 1/4 cup 55 g
Ground cinnamon 1 Tbsp
Granulated sugar 1/2 cup plus 2 Tbsp 140 g
Make the Dough
1. Using a stand mixer fitted with the paddle attachment, cream the butter, cream cheese, and salt. Mix until well combined but not airy. Add the flour and mix until fully incorporated.
2. Remove the dough from the mixing bowl and flatten out into an even disk about 8 in [20 cm] in diameter. Wrap in plastic wrap. Refrigerate for at least 30 minutes. The dough needs to chill completely before it is rolled out.
Make the Filling
1. Toast the walnuts on a sheet tray in a 325°F [165°C] oven for 10 to 15 minutes, or until they're a deep golden brown. Let cool, then chop them in a food processor or with a knife until they are the same size as the currants.
2. In a medium bowl, mix the walnuts, currants, sugar, and cinnamon together. Set aside.
Assemble and Bake the Rugelach
1. Preheat the oven to 350°F [180°C].
2. Remove the dough from the refrigerator and unwrap it. Lightly flour a work surface and place the disk of dough on it. Lightly flour the top of the dough and roll the dough into a 14-in [35-cm] circle about 1⁄8 in [4 mm] thick. Keep moving the dough as you're rolling it to make sure it doesn't stick.
3. Brush the surface of the dough with melted butter and spread the filling mixture on it evenly. With a pastry wheel cutter, cut the dough circle into 16 even, triangular wedges. Starting at the outer edge, roll each piece to the center. The resulting cookie will look like a crescent or a little horn.
4. Mix the cinnamon and sugar. Place the rolled rugelach on a parchmentlined baking sheet, brush the tops with melted butter, and sprinkle with cinnamon sugar. Bake for 28 to 30 minutes. The rugelach should be golden brown and flaky.
Recipe reprinted with permission from Zingerman's Bakehouse by Amy Emberling and Frank Carollo. Chronicle Books. Photo credit: Antonis Achilleos.
The publisher is offering three copies of this book to EYB Members in the US and Canada. One of the entry options is to answer the following question in the comments section of this blog post.
Which recipe in the index would you try first?
Please note that you must be logged into the Rafflecopter contest before posting or your entry won't be counted. For more information on this process, please see our step-by-step help post. Be sure to check your spam filters to receive our email notifications. Prizes can take up to 6 weeks to arrive from the publishers. If you are not already a Member, you can join at no cost. The contest ends at midnight on April 22nd, 2018.
Seen anything interesting?
Let us know
& we'll share it!