Featured Cookbooks & Recipes
March 2, 2018 by Christine
Did you know adding online recipes to your EYB Bookshelf is a really great way to build your personal recipe collection? You can do this even if you have a free membership!

Try it out now and see how easy it is. Browse the recipes below, choose one that appeals, click on the link, and add it to your Bookshelf. (Make sure that you are signed in first.)

All the recipes we feature in these weekly round-ups have online links so you can add any of them to your Bookshelf.

Happy cooking and baking everyone!

Member Photo of the Week:
Lemon and Blackcurrant Stripe Cake from Sweet by Yotam Ottolenghi & Helen Goh
Photo submitted by steinsm. Have you uploaded any of your own photos yet? Learn more!
From Magazines: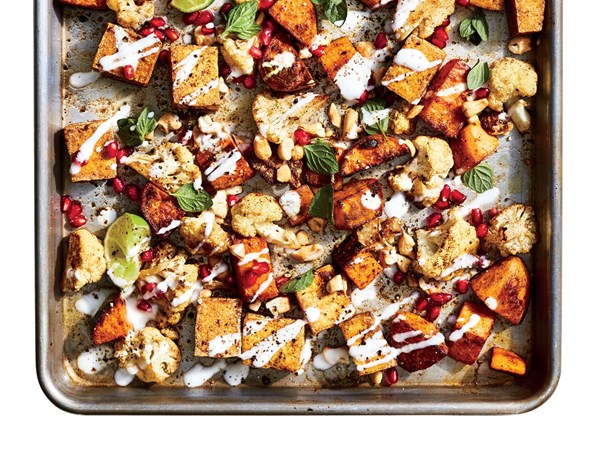 5 sheet pan supper recipes from the March issue of indexed Cooking Light Magazine
From Cookbooks:
5 recipes from The Ivy Now: The Restaurant and Its Recipes by Fernando Peire
Enter The Ivy Now GIVEAWAY! (US, UK, NZ, AUS only)
5 recipes from Plantlab: Crafting the Future of Food by Matthew Kenney
Enter the Plantlab GIVEAWAY! (US only)
5 recipes from Mr & Mrs Wilkinson's How It Is at Home: A Cookbook for Every Familyby Matt Wilkinson & Sharlee Gibb
Enter the Mr & Mrs Wilkinson's GIVEAWAY! (US, UK, NZ, AUS only)
10 recipes from Masala & Meatballs: Incredible Indian Dishes with an American Twistby Asha Shivakumar
10 recipes from From Mother to Mother: Recipes from a Family Kitchen by Lisa Faulkner
Seen anything interesting?
Let us know
& we'll share it!