Eat Your Books Cookbook Club – March 2018
March 26, 2018 by Jenny
March has us cooking up recipes in the Eat Your Books Cookbook Club from the following cookbooks/recipes:
Main selection: David Tanis' Market Cooking by David Tanis.
Online option: David's online recipes which are indexed from his City Kitchen column.
Baking title: BraveTart: Iconic American Desserts for more information on Stella's remarkable book see our promotion post.
Flashback option: any recipe from any Moosewood title
And, desserts are still be churned out in our second group working through Ottolenghi's Sweet (please see our errata sheet for the Americanized version of this book and information on the reprint).
The photos below are just a few of the beautiful shots our members have been sharing; visit the groups for more inspiration. Do not forget to upload your photos and add your notes to your bookshelf at Eat Your Books. Instructions on uploading your photos and links to other helpful articles can be found here.
Our April through July selections have been announced and all club posts are tagged #EYBCookbookClub if you are looking for a particular post.
A few announcements: Please make sure you have entered all our giveaways, there are some exciting promotions coming up for great cookbooks and products including: Stargazer cast iron, Ruffoni, Emile Henry, Mauviel, Le Creuset, Anolon and Nordic Ware and I'm working on many more. What is better than a cookbook giveaway – a cookbook with cookware and bakeware giveaway.
We launched our EYB Book Preview and EYB Recipe Preview on Friday. Find out more here.
Every Sunday, I compile a post of Kindle cookbook deals be sure to check those out for bargains!
David Tanis Market Cooking: Recipes
and Revelations, Ingredient by Ingredient by David Tanis
Review here.
Maree R made the Roasted snapper with lemon and fennel
Kimberly P made the Southern greens with ham hocks "This was a big hit! The broth was flavorful (addictive) and the greens tender as the notes promised. Looking forward to leftovers! I made two changes: used only 2 lbs of greens -it's a lot! -keeping all other ingredients the same, and cooked for three hours for extra deliciousness."
Jessica J made the French chicken tarragon "Served with buttered egg noodles and Melted spinach. This was delicious. Tarragon and creme fraiche are two of my favorite flavors so this was at the top of my list to try. I did put the chicken under the broiler for a few minutes to crisp up the skin a bit. This was a relatively simple dinner that I will make again."
Susan H made the Red onion soup with cheese toast. "We thought this was just ok. The combined bite of cheese toast and soup was good. But, the soup itself was flat."
Jane Kelly made the Chicken with apricots, lemon and saffron by David Tanis from the New York Times. She states "I didn't love this. I thought I would as it had ingredients I like but it was overly sweet from the apricots (and I didn't use the full amount in the recipe). The lemon slices balanced the sweetness some but not enough. Though the side I made, Spinach and preserved lemon freekeh from On the Side by Ed Smith was fabulous!" (Review of On the Side)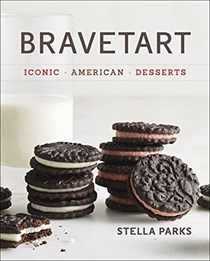 Lisa S made the Homemade Oreo Cookies. "Gave these a test run for St. Patrick's Day and filled them with mint cream. The cookies are nice and crisp and they taste like you're hoping they will. I was glad I read the instruction not to make the filling in advance, it needs to be used right away."
Darcie made the Lemon Meringue pie. "I used my own crust, and made two small pies instead of one big one. I bruised a few frozen Kaffir lime leaves and added it to the filling. It only took 7 eggs to get 5 oz of yolks and 8 oz of whites. I torched the meringue on one pie and did the other in the oven, and I prefer the look of the torched one."
Sweet by Yotam Ottolenghi and Helen Goh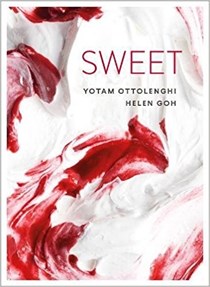 StancaD Passionfruit cheescake with spiced pineapple. The flavours complement each other so well. It's a creamy dreamy cheesecake
SharleneM Pineapple tartlets with star anise and pandan. So delicious!
LilyG Pistachio and white choc roulade; absolutely delicious cake, have made it 6 times and it's always a hit
Mami S baked the White chocolate cheese cake with cranberry compote. I used home grown blueberry instead of cranberry.it worked very well. Very rich cake with slightly sour refreshing berry compote, just delicious!
Be sure to join and visit the groups for more photos and recipe notes.
Seen anything interesting?
Let us know
& we'll share it!