Healthyish by Lindsay Maitland Hunt
March 7, 2018 by Jenny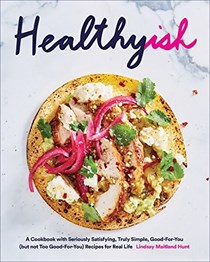 Over the last five years, a monumental shift in the quality of healthy-centric cookbooks has taken place. The days of dowdy, picture deprived, textbook-like tomes are numbered. Stunning photographs and flavorful dishes using real food are far more inspiring to cooks and those desiring to make a change in how they eat. We want to provide wholesome meals for ourselves and our families but we also want those meals to be appetizing and appealing. It is a much easier sell to our children and spouses when recipes are vibrant and fresh – at least this is true for my household.

Lindsay Maitland Hunt's Healthyish: A Cookbook with Seriously Satisfying, Truly Simple, Good-for-You (But Not Too Good-for-You) Recipes for Real Life delivers our favorite foods (tacos, pasta and desserts for example) by making a swap or two that takes nothing away from the finished dish in terms of taste and comfort. No need to make drastic sacrifices or rebuild our larders (as long as we already stock quality ingredients) as everything here is approachable, uses everyday ingredients and delicious.
Lindsay spent eight years testing and creating good, doable dishes that are designed for real life. Her goal was to provide the biggest, most delicious platefuls of food possible using vegetables and occasionally some bacon. Her five rules for creating balanced meals are: 1) making sure there is a balance of acid, fat and salt; 2) utilization of good ingredients so that we can keep it simple with no need to keep adding ingredients to boost flavor; 3) color and beauty are a major part of each dish which harkens back to my comments of appealing vibrant food; 4) flavor boosters and fun show up in her dishes and 5) providing maximum volume with minimum calories so we aren't left feeling deprived.
The author's goal for this book was to provide: recipes that didn't exist before and if they did, they were made faster, smarter and easier; recipes that cut extraneous ingredients; meals that can be prepared using fewer dishes, and these recipes are as efficient and as healthy as possible. Clear descriptions are given for novice cooks along with accurate visual references and streamlined methods provided so that both the novice and experienced cook can get dinner on the table easier and faster.
Linguine with trumpet mushroom "scallops", Pork tenderloin and carrots with tangy romaine salad, and Easy chocolate buttons with nuts and dried fruits are a few examples of recipes that have been made healthyish. The dishes in this book can be made with normal everyday staples which is always a plus. Measurements are given in both volume and weight and the book is filled with helpful tips and suggestions to guide us toward success.
Special thanks to Abrams for sharing this one-pot dinner recipe from the book with our members today and for providing three copies of Healthyish in our contest below.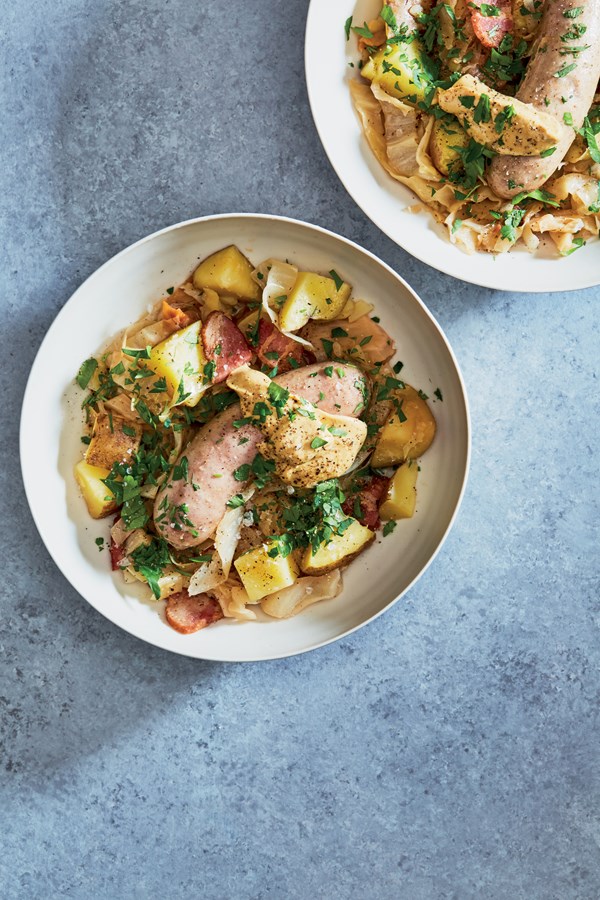 Sausage, Potato, and Cabbage One-Pot Dinner
Add this recipe to your Bookshelf (click the blue +Bookshelf button).
Makes dinner for 4
I'm going to be real with you-this isn't a particularly quick dinner. But it does happen in just one pot, and it's relatively hands-off once you get the cooking started. If you can't find Yukon Gold potatoes, use fingerling potatoes since they're also waxy (not starchy) potatoes. Bratwurst is ideal here for its mild flavor, but any lightly seasoned pork sausage will work, too.
INGREDIENTS
3 slices thick-cut bacon (about 4 oz/115 g)
1 large yellow onion, very thinly sliced
1 teaspoon caraway seeds
Kosher salt and freshly ground black pepper
1 cup (240 ml) dry white wine, such as dry Riesling, pinot grigio, or sauvignon blanc
1 medium head cabbage (21⁄2 lbs/ 1.2 kg), quartered and cut into 1⁄2-inch (12-mm) slices
1 cup (240 ml) chicken stock or vegetable stock
4 large bratwurst sausage links (1 lb/455 g total)
6 medium Yukon Gold potatoes (2 lbs/910 g), chopped into 1-inch (2.5-cm) pieces
1⁄4 to 1/3 cup (60 to 80g) Dijon mustard
1⁄4 to 1/3 cup chopped fresh flat-leaf parsley leaves from 1 small bunch
HOW TO MAKE IT
Heat a large pot over medium-low heat. Place the bacon slices flat in the pot and cook, turning a couple times, until crispy and most of the fat has drained from the bacon, 8 to 12 minutes. Transfer the bacon to a plate, leaving the fat in the pot. Let the bacon cool, then cut into 3⁄4-inch (2-cm) pieces.
Add the onions, caraway seeds, and 1 teaspoon each salt and pepper to the pot. Cook, stirring often, until the onions are completely soft, 10 to 12 minutes. Pour in the white wine and use a flat-bottomed spatula to scrape the meaty bits off the bottom of the pot. Continue to scrape until the wine has reduced by about half, 3 to 5 minutes.
Stir in the cabbage and stock, cover, and cook, stirring occasionally, until the cabbage is very soft, 20 to 25 minutes.
Stir in the chopped bacon and then nestle the sausages in the cabbage so they are completely covered. Add the potatoes on top, in an even layer. Sprinkle with 1 teaspoon salt and re-cover. Cook over medium-low heat until the potatoes are fork-tender and the sausage is cooked through, 18 to 22 minutes more.
Spoon the potatoes, cabbage, sausage, and any juices into serving bowls. Season with salt and pepper, dollop with mustard, sprinkle with the parsley, and eat hot.
Receipt Excerpt from Healthyish by Lindsay Maitland Hunt, published by ABRAMS © 2017. Photo: Linda Pugliese
The publisher is offering three copies of this book to EYB Members in the US. One of the entry options is to answer the following question in the comments section of this blog post.
Which recipe in the index would you try first?
Please note that you must be logged into the Rafflecopter contest before posting or your entry won't be counted. For more information on this process, please see our step-by-step help post. Be sure to check your spam filters to receive our email notifications. Prizes can take up to 6 weeks to arrive from the publishers. If you are not already a Member, you can join at no cost. The contest ends at midnight on April 15th, 2018.