Meyer's Bakery by Claus Meyer
April 12, 2018 by Jenny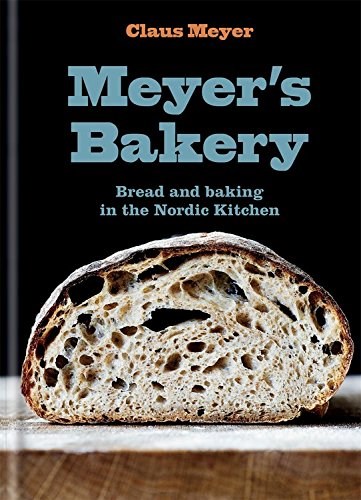 Claus Meyer, one of the original co-founders of Copenhagen's esteemed Noma, has been taking the world by storm with his fresh, Nordic cooking. The Nordic Kitchen, his first English language cookbook, targeted the home cook with personal family recipes. This book is seasonally organized to take advantage of ingredients when they are at their peak. Delivering 350 recipes and helpful tips for unfamiliar ingredients including how to make the most of them fill the book.
Over the last two years Claus' New York sensation, the Great Northern Food Hall in Grand Central Station has been the recipient of stellar reviews. Meyers Bageri is housed in the Food Hall and is known for its hearty breads, sandwiches and pastries. Now we can enjoy those same baked offerings in our own kitchens with the help of Meyer's Bakery: Bread and Baking in the Nordic Kitchen which was published in November of last year. This beautiful title shares the chef's baking secrets surrounded with lovely photographs and detailed recipes.

Learn to bake the perfect loaf of bread along with rolls, buns and other pastries. Alongside the recipes, Claus gives tips and tricks for achieving great results, with explanations of the best flour and equipment to use (see our recipe share below for example). Photographed step-by-step instructions explain each baking technique, while troubleshooting sections provide advice on such subjects as "why is my bread flat?" Containing 75 foolproof recipes and expert advice, this book is the perfect guide to creating delicious baked goods under the tutelage of a true Nordic master.
Many thanks to Mitchell Beazley for sharing the recipe for the Carrot buns as well as for providing the detailed instructions with regard to ingredients and dough that follows the recipe. Please be sure to scroll to the bottom of this post to enter our giveaway.
Carrot buns
Add this recipe to your Bookshelf (click the blue +Bookshelf button).
A delicious soft bun enhanced with color from the carrots and crunchiness from the sunflower seeds. Kids love these buns and happily devour them as 
a snack.
12 buns
Dough
50 g (5½ tablespoons) fresh organic 
baker's yeast
500 g (2 cups) cold water
1 kg (2¼ lb) all-purpose flour
75 g (1/3 cup) sugar
15 g (2½ teaspoons) salt
100 g (1 stick) salted butter, softened
Filling
2 eggs
150 g (1 cup) sunflower seeds
4 large carrots, peeled and finely grated
See pages 173-4 for instructions on how to mix the ingredients and knead the dough before letting it rest. (below)
Once the dough is rested, sprinkle your work surface with flour and tip the dough out onto it. Make a well in the center of the dough and pour the eggs, sunflower seeds, and grated carrots into it. Incorporate the ingredients by folding the dough into a huge bun, then chop it into small pieces using a knife, being sure to mix in the eggs. The dough doesn't have to be completely evenly kneaded, but it should be smooth.
Divide the dough into 12 equally sized buns (a little like hamburger buns) and gently arrange them, spaced well apart, on one or two cookie sheets lined with nonstick parchment paper.
Let the buns rise for 1 to 2 hours as described on page 174.
Bake the carrot buns at 425°F following the 
instructions on page 175, for approximately 
15 minutes. Transfer to a wire rack to cool.
p172-173
Ingredients
If you're not used to baking, always start by measuring the different ingredients separately and then line them up, one after the other. This will help ensure you don't omit anything.
The ingredients should be at room temperature.
When you make enriched dough, it's better if the ingredients have reached room temperature before you start mixing them to enable the dough to rise more quickly. 
A huge lump of cold dough has to warm up before it can actually begin to rise.
It is particularly important that the butter is at room temperature. Dough absorbs soft butter much more quickly, and you risk over-mixing if you use cold butter.
Flour
In enriched dough, we primarily use milled wheat flour with hardly any bran or germ. This flour consists almost exclusively of endosperm, which contains starch and protein. This produces strong gluten strands, which enable the dough to rise beautifully (read more about wheat flour and gluten on pages 280-1).
Yeast
We use more baker's yeast in our enriched dough than in any of our other kinds of dough and as we only use regular all-purpose flour, it doesn't need to rise for very long. However, longer rising times impart Wheat Buns, Ambrosia Cube Cakes, and Nordic Kringles with the sweetness that makes children ask for more and adults ask for the recipe. In addition, longer rising times allow you to prepare your dough a day in advance.
At Meyer's Bakeries, we always use fresh organic baker's yeast because it contains different yeast strains than conventional yeast. This is also why it tastes a little different (read more about yeast on page 282).
Sugar
In our enriched dough recipes, unless otherwise stated we use organic cane sugar. It doesn't dissolve as easily as white sugar, but you can't beat the taste. If you use high-quality superfine sugar, however, you'll also get good results. In addition to sweetness, sugar also acts as a nutrient for yeast cells and so influences the rising times. The right quantity of sugar will also enhance the taste of the other ingredients and add color to your finished pastries.
Butter
First and foremost, butter imparts your pastries with an absolutely fantastic taste as well as enhancing its beautifully golden color. Butter is also the reason that pastries are so tender and soft, as opposed to wheat bread, for example, which we prefer to be more chewy. While unsalted or sweet butter is sometimes used in baking, we always use salted butter because we think it tastes better and you don't have to add salt to the recipe.
We do not add butter to our dough until after kneading, when it's already in the process of producing the gluten strands that will bind the dough and contain the fluids until we bake it. Once butter is added and as it warms up from further kneading, it will envelop the gluten strands and "grease" them, which makes them even more expandable, and this will make your finished dough rise even more beautifully.
Eggs
We add eggs to our dough for extra softness as well as taste. 
Eggs act as a leavening agent, give the dough even shinier surfaces, and help keep the finished pastries fresher for longer.
Milk
There are two reasons for adding milk to enriched dough: it imparts the finished pastry with a rounded taste and it gives it a darker color. We recommend that you use organic whole milk because it actually tastes like real milk. In terms of texture and crumb, you should always use milk with a high percentage of fat. However, we do not recommend substituting cream for milk.
How to knead enriched dough in a stand mixer
1. Add water (or milk) and yeast to the bowl of a stand mixer and stir until the yeast dissolves. Crack the eggs into the bowl and mix them in.
2. Add the flour and sugar and knead well at low speed until the dough is smooth, shiny, and effortlessly comes away from the inside of the bowl, a sure sign that the dough has 
developed gluten strands. This should take 6 to 8 minutes, depending on your 
machine's power.
3. Chop the butter into small cubes and add it all at once.
4. Knead the dough well, until all the butter is absorbed and the dough is once again shiny and smooth. When it slides off the inside of the bowl stop the machine immediately. Once the butter settles around the gluten strands, making them more expandable, they also become more vulnerable and they will break if you continue kneading the dough.
p174-175
How to knead enriched dough by hand
1. If you're not afraid to work 
up a sweat, knead your enriched dough by hand. Start off by 
combining the ingredients 
together in a bowl, including 
the butter.
2. Knead the dough thoroughly. 
The butter is absorbed somewhat more slowly when you knead by hand. Once you've given the dough a good knead in the bowl, tip it out onto your work surface and knead it well for another 6 to 8 minutes.
3. Return the dough to the bowl and let rest for 5 minutes, after which knead it for another 
2 minutes.
Let the dough rest
It's important that you let the dough rest, both when kneaded in a stand mixer or by hand. You can place it somewhere cool, such as in the fridge, or somewhere warm, such as on the kitchen table (if you want to use it straight away). Resting time allows the dough to absorb the last drops of fluid and "take time out" because its gluten strands have been pulled and stretched during kneading and they need a rest. You'll witness a slight contraction in the dough-a bit like pulling on a rubber band-if you start shaping it right away and don't allow it time to rest.
Seal the dough in plastic wrap or put it in a plastic container and cover it with a lid or plastic wrap and place it in the fridge or on the kitchen table. If left on the kitchen table, it should be left to stand for no more than 30 minutes to 1 hour. It can be left overnight in the fridge. Depending on what you're actually baking, placing 
the dough somewhere cool 
could turn into an advantage as cold dough is easier to handle than lukewarm dough. Be aware that after shaping, cold dough needs a longer rising time than warm dough.
Shaping and rising your enriched dough
Once your dough is rested, it's time to make Cinnamon Swirls or Soft Buns. Decide on what you want to make beforehand and have any additional creams or fillings ready. You should only have the minimum amount of work to do once the dough is rested. If the dough contracts, it may be stressed because you haven't let it rest for long enough. If that's the case, simply cover it up and let it rest for another 5 minutes before continuing. Shape your dough and place it on a greased cookie sheet (or one that's lined with nonstick parchment paper) and let it rise.
As the dough rises, it also relaxes, which allows the yeast to work. While rising, you should keep an eye on the size of the pastries because they should increase by almost 100 percent. Rising times will vary depending on the temperature of the dough and 
the room.
It's important to keep the dough covered while rising to prevent its surface from drying out and then cracking. If you can't avoid a dry surface all together, you can always brush your pastry with some beaten egg.
#Make Space
When you bake pastries of any kind, it's important that you make sure that there's plenty of space between them or they'll expand into one another. Leaving some space between the pastries also allows the heat inside the oven to circulate more easily all the way around, so the pastries will bake more evenly.
#Use plastic Wrap
Rather than draping the rising dough with a dishcloth, use a piece of plastic wrap that has been rubbed on both sides with flour (the flour will keep the plastic wrap from crumpling up). Plastic wrap weighs nothing and so allows the dough to rise without any resistance. You can save the floured plastic wrap in a plastic food bag and reuse it the next time you bake pastries.
Baking your enriched dough
The oven must be really hot when baking pastries. If your oven has a convection function, turn it on to help the oven heat more quickly. If you only use one cookie sheet at a time, we recommend that you use regular top and bottom heat while baking. If you have more than one cookie sheet in the oven at the same time, use the convection function to keep the heat circulating more evenly.
Most pastries should be brushed with beaten egg before baking, to give them a beautiful sheen.
Be aware that the temperatures and baking times noted in the recipes are only approximate, so always keep an eye on whatever it is you're baking, especially taking note of the color. If the pastry is turning really dark or seems dry, reduce the heat a little. If necessary, ignore the recommended baking time and remove the pastries from the oven as soon as they seem, feel, and smell ready.
Storing and freezing enriched dough and pastries
If you're planning on baking lots pastries, you can make and shape the dough ahead of time and leave it in the fridge overnight. Then, take the dough out of the fridge for 1 to 1½ hours to finish rising at room temperature before baking.
You can also freeze pastry dough after shaping it, though how long it keeps will depend on how cold your freezer is and how well the dough is wrapped. Arrange the shaped dough spaced well apart on a cookie sheet and leave it for 1 or 2 hours in the freezer.
Once frozen, transfer the pastries to a sturdy re-sealable freezer bag and put them back in the freezer. Ensuring that the bags are well sealed will prevent the pastry dough from absorbing the flavor of any other foods in your freezer.
To defrost, remove the number of pastries you want to bake from the bag in the freezer the day before, spread them out on a cookie sheet, then transfer them to the fridge. The following day remove them from the fridge and let them rise at room temperature for at least 1½ hours, but preferably longer as freezing the dough may have diminished its rising power.
The publisher is three offering copies of this book to EYB Members in the US. One of the entry options is to answer the following question in the comments section of this blog post.
Which recipe in the index would you try first?
Please note that you must be logged into the Rafflecopter contest before posting or your entry won't be counted. For more information on this process, please see our step-by-step help post. Be sure to check your spam filters to receive our email notifications. Prizes can take up to 6 weeks to arrive from the publishers. If you are not already a Member, you can join at no cost. The contest ends at midnight on May 21st, 2018.