Bakeland by Marit Hovland
April 13, 2018 by Jenny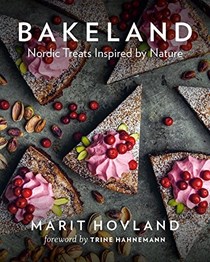 My world revolves around cookbooks. Everything about a great cookbook inspires me from the endless possibilities they offer, whether it be the exploration of a new cuisine or soaking in the knowledge of a different culture – they bring the world to me.  I know that I can turn to a cookbook to slip away for a while and take a small adventure into another world. Being on top of the new releases and making sure that I perform my due diligence by bringing you the best of the best, is one of the best parts of my job. I liken searching for cookbook news as the same feeling I get when I go into a thrift or antique store – I never knows what treasure I will come across or bring home. When I happened upon the cover for 
Bakeland: Nordic Treats Inspired by Nature
 by Marit Hovland, I was struck by the colors. The dark gray background and wedges of brownie cake that seem to melt into the gray, the creamiest pink of the troll cream and bright pops of crimson from the lingonberries and slivers of green from the pistachios -all worked together for the perfect photograph. Right then, I knew this book was special. When the publisher sent me the electronic version for indexing, I was further drawn into this book's web and took to social media as a cookbook crier, "hear ye, hear ye, you want this book." Not long after, the physical copy arrived and I fell further into cookbook nirvana and immediately did my first ever
#flipthecookbook
post on Instagram. The passion I felt for Marit's work had to be shared. To state that this book is stunning is an understatement of epic proportions. The last time I was this taken with a book was when 
Sweet
first arrived. 
Bakeland
 holds that same charm but in a magical, Alice in Wonderland-esque fashion. Marit's style is playful and artistic – she gathers inspiration from all of nature's wonders and casts her spell to create a perfectly imperfect Chocolate cinnamon tree cookie with swirls that mimic the rings of a tree or her Gingersnap pinecone with cocoa that looks as if it fell from a tree.
I made the
Cinnamon bun cake with rum glaze
 (recipe online) this weekend because I had decided that Sunday morning's breakfast should be cake.
A few things I learned while creating this cake: 1) make sure your yeast has bloomed; 2) don't start making it at 10 pm for the second time, see #1; 3) don't leave it on the counter where a 13 year old boy can wake up before you and deflower it; and 4) it is delicious! It would be the perfect dessert for brunch or any celebration for mom. Of course, my version isn't as lovely as Marit's but I don't believe she had to play doctor trying to recover after four petals were plucked – I can imagine my son saying "She's going to kill me." "She's going to kill me not" "She's going to kill me". The only negative I can muster about this title is that I want a life where I can just make every lovely creation that is housed within its covers. On the other hand, the most positive experience I have taken from this book is that somehow Marit has me convinced that my baked goods will turn out just as lovely. 
Bakeland
is a fairytale in cookbook form that we can experience in our kitchen.
Our
EYB Book Preview
will give you a closer look inside of this title and our
EYB Recipe Preview
shares the following recipes:
Special thanks to the publisher, Greystone for providing us with the
EYB Book Preview
materials as well as rewarding our passion for this book with four copies for our promotion below. Be sure you take advantage of all the entry options especially visiting the publisher and author on social media to show our support and appreciation.
The publisher is offering four copies of this stunning book to EYB Members in the US, UK and Canada and one additional copy for members outside those regions. One of the entry options is to answer the following question in the comments section of this blog post.
Which recipe in the index would you try first?
Please note that you must be logged into the Rafflecopter contest before posting or your entry won't be counted. For more information on this process, please see our step-by-step help post. Be sure to check your spam filters to receive our email notifications. Prizes can take up to 6 weeks to arrive from the publishers. If you are not already a Member, you can join at no cost. The contest ends at midnight on May 23rd, 2018.