Edible flowers add a pop of color and flavor
April 14, 2018 by Darcie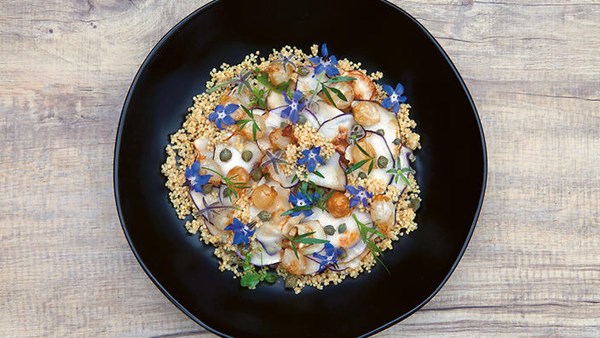 From where I'm sitting in the northern US, spring seems like only a distant possibility even though it is mid-April. We're being socked with a blizzard, and the cold and snow makes one dream about the first pops of color that signal the start of the growing season. Many of the first plants to bloom happen to be edible, and you can find additional edible flowers from spring all the way through fall.
These flowers make a beautiful garnish to many dishes, but that's only scratching the surface of how they can enhance your cooking and baking. Indexed website Great British Chefs provides us with more ideas along with an illustrated guide to the best edible flowers. In addition to providing bursts of color in a salad or atop a dessert, flowers can be made into tea, rolled into pasta dough, added to jams and jellies, and much more.
Starting off the list is borage, a five-pointed flower that has a mild cucumber flavor with hints of honey. Borage can be infused into simple syrup to be used in cocktails, and it can also be candied and sprinkled atop cakes and other desserts as a gorgeous garnish.
Another flower that caught my attention was the marigold, aka calendula. While I knew it was useful in the garden to repel pests, I did not know that marigold petals were once used to color butter and cheese, often called 'poor man's saffron'. Only the petals are edible, with a spicy, citrusy flavor. Other flowers detailed in the guide include violas, nasturtium, and rose.
It's important to mention that if you plan to forage for wild edibles, you should make sure that you have properly identified the plant you want to consume and know whether it is safe to eat. Several books can aid in the identification of flowers, or you can play it safe and purchase them from reputable vendors at farmers' markets. Growing your own plants is a fun way to have a steady supply of edible flowers throughout the growing season.
Photo of Quinoa with kohlrabi and pearl onions (Quinua con colinabo y cebolla perla) from Lima: The Cookbook by Virgilio Martinez
Seen anything interesting?
Let us know
& we'll share it!