Turnip Greens & Tortillas by Eddie Hernandez
April 15, 2018 by Jenny
Eddie Hernandez is the chef and partner of Taqueria del Sol, a chain of counter-service Mexican restaurants in Tennessee and Georgia. In life and in his debut cookbook, Turnip Greens & Tortillas: A Mexican Chef Spices Up the Southern Kitchen, the musician turned chef, makes no apologies about his style of cooking where the word authentic doesn't factor in. What is most important to him is that he serves good food with great flavor.

Recently, Chef Hernandez was featured in The New York Times. There he stated that too much emphasis is placed on culinary authenticity today, he continued. "In Mexico, we eat what we like and don't worry about what is authentic to this cuisine or that," he said. "You make do, and you make it taste good." He won me over with that statement (well he had me when I opened Turnip Greens).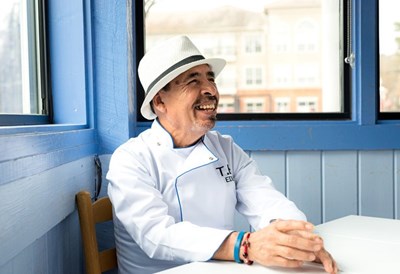 These are recipes my family loves and when I say family I specifically mean my husband. My son and I love all kinds of food – my husband not so much. I save our vegetable, seafood-centric dishes for times when my husband has a working dinner or he is out of town.
So the fact that these recipes are hubby-approved is a plus for me. Oven-baked Memphis-style ribs and the Fried chicken tacos were huge hits. I could live on those tacos which I made using the spicy Russian dressing. The vibrant colors and flavors in Turnip Greens coupled with the approachable recipes make this book an exciting keeper.
Chef Hernandez isn't fussy or pretentious, he's talented and knows what works. Special thanks to the publisher Houghton Mifflin Harcourt for sharing materials for the EYB Book Preview that shares recipes you can try now. Word of advice make those Fried chicken tacos – they are amazing. Check out the author's book tour to see if he is in your area.
Be sure to scroll down and enter our giveaway open to US and Canadian members.


Our EYB Book Preview will give you a closer look inside of this title and our EYB Recipe Preview shares the following recipes:
The publisher is offering three copies of this book to EYB Members in the US and Canada. One of the entry options is to answer the following question in the comments section of this blog post.
Which recipe in the index would you try first?
Please note that you must be logged into the Rafflecopter contest before posting or your entry won't be counted. For more information on this process, please see our step-by-step help post. Be sure to check your spam filters to receive our email notifications. Prizes can take up to 6 weeks to arrive from the publishers. If you are not already a Member, you can join at no cost. The contest ends at midnight on May 31st, 2018.
Seen anything interesting?
Let us know
& we'll share it!