The Southern Cast Iron Cookbook & the Stargazer Cast Iron Skillet – A Perfect Match
April 2, 2018 by Jenny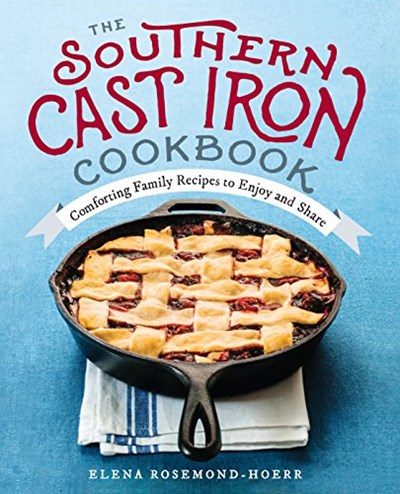 The Southern Cast Iron Cookbook: Comforting Family Recipes to Enjoy and Share by Elena Rosemond-Hoerr reflects the past and future of Southern Cooking. The author shares her heirloom recipes that have been passed down from generation to generation.
What's included in this title:
100 Southern recipes for staples and new classics along with beloved family stories of real Southern living.
Handy labels specify which type of cast iron the recipe calls for and all recipes require only a small assortment of cast iron cookware.
Time-tested tips for getting the most out of your cast iron, new or vintage, as well as instructions for cast iron restoration
From Fried green tomatoes to Skillet corn bread, The Southern Cast Iron Cookbook honors the story of Southern cooking right along with the Southern cook's most prized kitchen possession – the cast iron skillet.
A few weeks ago, I made the Peanut butter brownies for my son. They were easy to throw together but very rich, so a small slice will satisfy. Next time I make them, I may add a thicker layer of peanut butter filling and use crunch peanut butter instead as well as add a peanut butter glaze on top to cut through the richness of the all the cocoa. The recipe states it makes 4 to 6 servings, but I was able to get 12 slices that were more than adequate for a dessert or treat unless you are a chocolate fiend.
Special thanks to Rockridge Press for offering one copy of The Southern Cast Iron Cookbook in our contest below. One of the options for an extra entry in the contest is to visit Rockridge Press on Facebook – let's show our publishers some love.
Let's talk about the gorgeous skillet to the left – it's a Stargazer. I have a fair number of cast iron skillets, but this is my new favorite. Stargazer is lighter, cleans up incredibly well and is beautiful to boot. Even the bottom of the pan is gorgeous; should you wish to hang your cast iron on the wall as all the home improvement shows are doing now.
Stargazer Cast Iron was founded in 2015 by three old friends with a shared vision: creating the best cast iron cookware around and while they are the new kid on the block – they have impressed me.
How did these three friends start making cast iron skillets? I'm sharing this history directly from the Stargazer site: "It started with an obsession. Peter Huntley, professional designer and hobby cook, went searching for the perfect skillet and came up empty-handed. Dissatisfied with the options on the market, he turned to vintage cookware to find the quality he was looking for. After nearly a year of collecting, restoring, and cooking with vintage cast iron, he saw the untapped potential and decided it was time for something new. He created a unique cast iron skillet from the ground up: reimagined, redesigned, and revitalized. Huntley enlisted the help of two friends to bring the vision to life and Stargazer Cast Iron was born.

This pan will last a lifetime and I foresee my son cooking and baking in the same pan in the future should he decide that cooking isn't women's work. Yes, he's going through a phase but he's only thirteen – I'll fix that – there is time.

Stargazer is offering one of their brilliant skillets to one of our members in our contest below – open to US members only. Special thanks to Stargazer for sending me their product to test and fall in love with. Two of the options for extra entries include visiting Stargazer on Instagram and Facebook – show them some love.
Peanut butter brownies
Add this recipe to your Bookshelf (click the blue +Bookshelf button)
Serves 4 to 6 / Prep time: 20 minutes / Cook time: 30 minutes
Cast iron: 10-inch skillet
A classic brownie recipe is an important part of every cook's repertoire, and a base recipe opens up the opportunity for endless variations. Dan's particular favorite is a chocolate peanut butter brownie, where the brownie batter is divided in half and a generous layer of peanut butter is spread between the layers. We find they are best served fresh out of the oven with a generous spoonful of peanut butter gelato.
1/2 cup (1 stick) salted butter, at room temperature
1 cup packed brown sugar
4 eggs, lightly beaten
1 teaspoon vanilla extract
1/4 cup buttermilk
1 1/2 cups unsweetened cocoa powder
2/3 cup all-purpose flour
1/4 teaspoon of baking soda
1 cup peanut butter
1. Preheat the oven to 350 degrees F.
2. In a medium bowl, stir together the butter, brown sugar, eggs, and vanilla.
3. Stir in the buttermilk.
4. In another bowl, gently whisk together the cocoa powder, flour, and baking soda. Fold the flour mixture into the butter mixture.
5. Spoon half of the batter into the skillet and spread it out evenly. Top with the peanut butter and spread it evenly. Then pour the remaining batter, spreading it in an even layer.
6. Bake for 25 to 30 minutes, until cooked through. Allow to cool slightly before serving.
Variation tip: Instead of peanut butter, mix 1 cup of chocolate chunks into the batter for double chocolate brownies.
The publisher is offering one copy of this cookbook and Stargazer is offering one of their brilliant cast iron skillets to EYB Members in the US. One of the entry options is to answer the following question in the comments section of this blog post.
Which recipe in the index would you try first?
Please note that you must be logged into the Rafflecopter contest before posting or your entry won't be counted. For more information on this process, please see our step-by-step help post. Be sure to check your spam filters to receive our email notifications. Prizes can take up to 6 weeks to arrive from the publishers. If you are not already a Member, you can join at no cost. The contest ends at midnight on May 14th, 2018.