Herbs by Judith Hann
April 3, 2018 by Jenny
Good cooks know that herbs have a transformative power – they elevate an ordinary dish into something spectacular. Fresh herbs add vibrancy and not only incredible flavor but pops of color and enhance the aromatics of many dishes. Take rosemary for instance, garlic bread is wonderful but it becomes extraordinary with the slight essence of rosemary.
Judith Hann is an herb aficionado who has written a beautiful book as an ode to enjoying herbs all year round, Herbs: Delicious Recipes and Growing Tips to Transform Your Food. In each seasonal chapter, Judith skillfully weaves together guidance growing – whether you have a full herb garden or simple pots on the windowsill – with delicious, imaginative recipes.
The author's herb garden boasts over 150 different herbs and she states that it changed her cooking so dramatically that she decided to run courses to teach other herb enthusiasts everything she had learned over many years of growing and writing about healthy food. Judith took a derelict pig yard on her small farm in the South Cotswolds and created the mother of all herb gardens. She states,"The stone walls not only house figs, Morello cherries, roses, grapes and Japanese wineberries, they also trap the sensuous scents of the herbs and protect the plants so that they can thrive throughout the year."

Find recipe inspiration for more common herbs and discover how to use those herbs that aren't so readily available in the supermarket. Judith shares a huge collection of recipes that have been tried and tested at her herb cookery school – from simple herb sauces and salads to more ornate dishes. It also includes herb features, which provide a wealth of further quick recipes and ideas for:
• Pestos, made with a variety of herbs
• Herb syrups and sugars
• Herb ices
• Preserving recipes with herb flavourings
• Herb cheeses, and many more
Full of anecdotes, this is a wonderfully personal account of a love affair with herbs, as well as an indispensable guide on how to make the most of them every day. The photographs are stunning and plentiful throughout.
We extend our thanks to Nourish for sharing a recipe with our members today as well as providing three copies of this title in our giveaway below.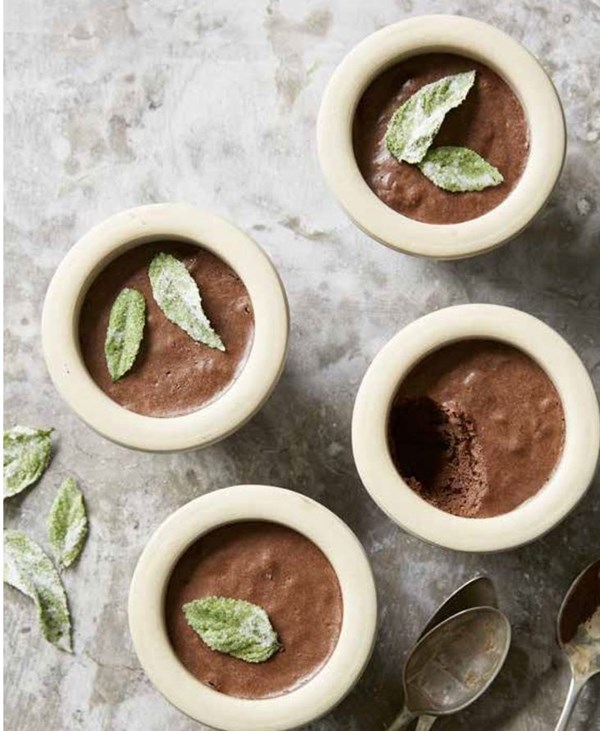 Minty chocolate mousse with crystallized mint leaves
Add this recipe to your Bookshelf (click the blue +Bookshelf button).
Rich and dark – and sinful if you are on a health kick or trying to lose weight! This old favourite is made a little different by adding mint, and will taste very special if you use good-quality dark chocolate with a high percentage of cocoa solids. Apple or Bowles's mint is perfect for this recipe, if you have it, but ordinary mint will work fine. Ideally, make the crystallized mint leaves the day before, so that you can leave them to dry overnight.
250g/9oz dark/semisweet chocolate, at least 70% cocoa solids, broken into pieces
1 tbsp butter
1 handful of mint
4 eggs, separated
Crystallized mint leaves
1 egg white
8 mint leaves
1 tbsp caster/superfine sugar
Preparation: 15 mins, plus crystallizing, cooling and setting
Cooking: 5 mins
SERVES 4
First make the crystallized mint leaves. Line a flat plate with baking parchment. Whisk the egg white until light and fluffy. Brush it onto the leaves on both sides, then sprinkle with sugar. Lay the leaves on the prepared plate and leave in a warm place to dry, preferably overnight.
To make the mousse, put the chocolate, butter and 150ml/5fl oz/scant ⅔ cup water in a saucepan over a very low heat and melt, stirring all the time, until smooth. Add the mint and submerge in the liquid. Leave to cool, then remove the mint, which will have flavoured the chocolate. Whisk the egg yolks, then whisk them into the chocolate mixture.
In a clean bowl, whisk the egg whites for about 5 minutes until thick and silky. Fold a couple of spoonfuls into the chocolate mixture to loosen it, then gently fold the remaining egg whites into the chocolate until just blended. Turn into individual ramekins/custard cups and leave to set. To serve, top with the crystallized mint leaves.
Credit: Herbs: Delicious Recipes and Growing Tips to Transform Your Food by Judith Hann. Nourish Books, 2017. Commissioned photography by Tamin Jones
The publisher is offering three copies of this book to EYB Members in the US, CA and UK. One of the entry options is to answer the following question in the comments section of this blog post.
Which recipe in the index would you try first?
Please note that you must be logged into the Rafflecopter contest before posting or your entry won't be counted. For more information on this process, please see our step-by-step help post. Be sure to check your spam filters to receive our email notifications. Prizes can take up to 6 weeks to arrive from the publishers. If you are not already a Member, you can join at no cost. The contest ends at midnight on May 14th, 2018.