The Art of the Pantry – The Art of the Larder
April 4, 2018 by Jenny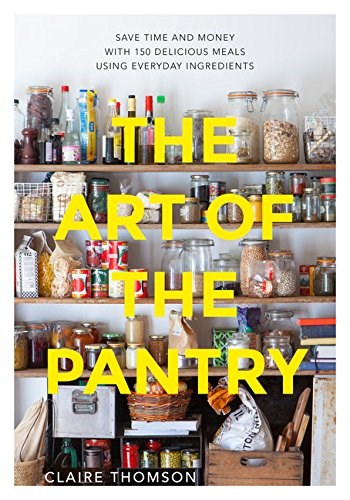 The Art of the Pantry: Save Time and Money with 150 Delicious Meals Using Everyday Ingredients by Claire Thomson was published in October of last year in the US, previously having been released as The Art of the Larder in the UK the month prior. Personally, I prefer the word larder to pantry – it is the anglophile in me. Larder or pantry, the books are identical with measurements given in weights and volume and both sporting the same lovely cover.

Claire is the voice beyond the blog 5 O'Clock Apron who also writes about cooking for children for the Guardian (we index Guardian recipes for our members). Currently, she is the 2017 family food ambassador for the National Trust and wrote the National Trust Family Cookbook last year as well. How does she do it all?
In The Art of the Pantry, Claire takes us through the essentials of preparing a good pantry. I am guilty of a bulging pantry where ingredients that find their way to the back of shelves die in the darkness with little dignity. I'm planning to take this book and redo my pantry when we move this summer. The waste and ineffectiveness will stop.
With a pantry that works for us and the additions of fresh produce and proteins, a good dinner is never an exercise in frustration. Nine chapters covering Pasta and Noodles, Pulses, Grains, Flours, Spices, Refrigerator and Freezer, Vegetables, Meat and Fish and Sweet Stuff, sets the stage for creative, budget-friendly meals. Each of the chapters includes "pantry basics" and then recipes for using those ingredients.
With recipes such as Firecracker noodles, Sourdough soup, Pork chops with rhubarb, honey, ginger and hazelnuts, and Coconut fish tacos – your menus will be revitalized, and your pantry will be the star. Photographs are beautiful, the illustrations are lovely, and the wealth of 150 recipes make this a must have book.
Update 4/22. Our
will give you a closer look inside this beautiful book.
Special thanks to the publisher, Quadrille, for sharing this impressive and tasty cake recipe for our members to try now and for offering three copies of this title in our contest below.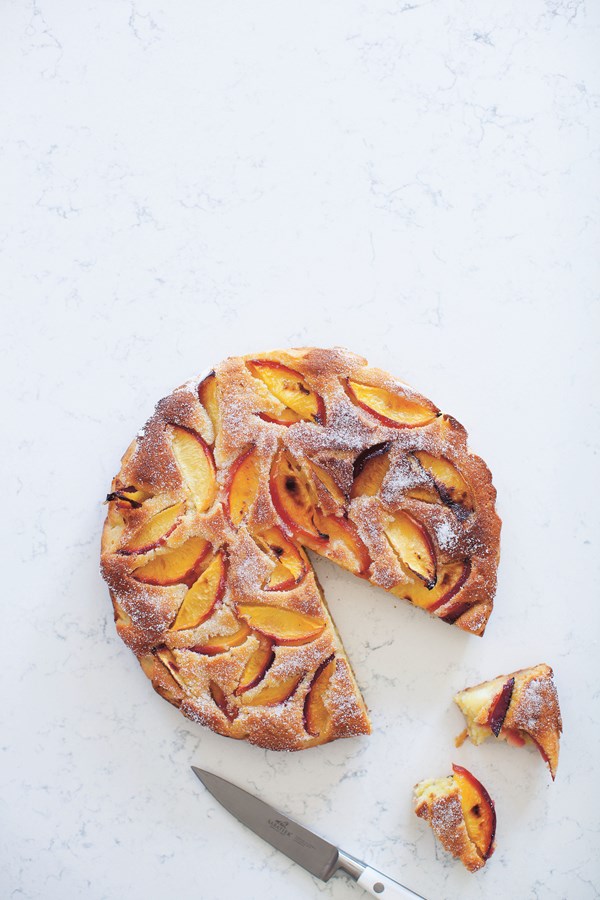 Marzipan and roasted nectarine cake
Add this recipe to your Bookshelf (click the blue +Bookshelf button).
I've always hated marzipan served as a thick slice between the Christmas cake and the layer of fondant icing. Chopped small and cooked in a cake batter, however, the marzipan here does something wonderful to the cake crumb, turning fudgy, sweet and unmistakably almondy.
Makes 1 x 8 1/2-INCH CAKE
4 1/2 oz / 1/2 cup butter, softened, plus extra for greasing
2 eggs, lightly beaten
4 1/2 oz / just under 2/3 cup superfine sugar, plus an extra 2 tablespoons to toss and sprinkle
4 1/2 oz / 1 cup all-purpose flour
1 3/4 oz / 1/2 cup ground almonds
1 teaspoon baking powder
a pinch of salt
3 1/2 oz / 1/2 cup plain yogurt
3 1/2 oz / about 1/3 cup marzipan, cold, finely chopped
2 ripe nectarines, halved, pitted and sliced
confectioners' sugar, to dust
Preheat the oven to 375°F/gas mark 5. Grease an 8 1/2-inch springform cake tin and line with baking parchment.
Put all the ingredients apart from the marzipan, nectarines and confectioners' sugar into a food processor and pulse until smooth. Stir in the marzipan and spoon the batter into the prepared tin.
Toss the nectarine slices with 1 tablespoon sugar and lay them on top of the cake batter.
Sprinkle with 1 more tablespoon of sugar and bake for about 45 minutes, or until a skewer inserted into the middle comes out clean.
Leave the cake to cool in the tin for 10 minutes before removing, then peel off the parchment and slide the cake on to a plate. Dust lightly with confectioners' sugar before serving.
Recipe excerpted with permission from The Art of the Pantry by Claire Thomson, published by Quadrille October 2017, RRP $29.99 hardcover. Photo: Mike Lusmore
The publisher is offering three copies of this book to EYB Members in the US, UK, NZ and AU. One of the entry options is to answer the following question in the comments section of this blog post.
Which recipe in the index would you try first?
Please note that you must be logged into the Rafflecopter contest before posting or your entry won't be counted. For more information on this process, please see our step-by-step help post. Be sure to check your spam filters to receive our email notifications. Prizes can take up to 6 weeks to arrive from the publishers. If you are not already a Member, you can join at no cost. The contest ends at midnight on May 17th, 2018.
Seen anything interesting?
Let us know
& we'll share it!