Ultimate Pound Cakes
April 7, 2018 by Jenny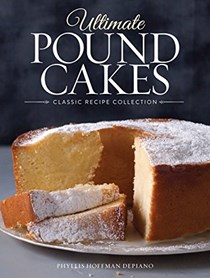 The pound cake originated in Europe during the first half of the 18th century and received its weighty name because the recipe called for a pound of flour, butter, eggs, and sugar. This was a time when most people could not read so it was a simple way to remember the recipe. Over the years, bakers have transformed the cake to make it lighter and more suited to a typical family's needs, however the name stuck.
Having lived in New York for fifteen years, I grew accustomed to eyeing the Jenga-like stacks of plastic cling-wrapped pound cake slices on the deli counters and like others often have the misconception that this type of cake is bland and boring. Phyllis Hoffman Depiano says "nay, nay" to that stereotype – the pound cake has been reborned in her new book, Ultimate Pound Cakes: Classic Recipe Collection. Nearly 100 recipes that will rock your pound cake dreams are shared in various flavors and sizes.
One of my favorite pound cakes is the Ultimate cream cheese vanilla bean pound cake. I have made a version of this cake so many times, always to rave reviews and it is truly one dangerous cake to make without having friends and family nearby to consume it. Don't make the cake without helper eaters because pound cake will have a new meaning and you'll have to lie down on the bed and pray that your jeans will zip up the following day. The cake is addictive and that good.

Ultimate Pound Cakes is presented in the same beautiful style as the Bake from Scratch magazines and cookbooks – stunning photographs, well written recipes that will surprise and delight any baker. The cake recipes are organized by Tube Cakes, Bundt Cakes, and Loaves & Mini Cakes. Peach season will be all the more special with the Fresh peach pound cake and any dessert table will shine with the Vanilla Bundt cake with caramel sauce. The individual cakes are perfect for gift giving – who wouldn't smile when presented with a Honey-orange loaf pound cake? The recipe we are sharing today for Jo's whipping cream pound cake requires six simple ingredients and a few garnishes, whip it up and you will win dessert.
Julia Child said, "A party without cake is just a meeting" and I always say "A wake without cake is is even more depressing" so let's bake cake. Special thanks to Hoffman Media for sharing the following recipe with our members as well as providing two copies of this book in our giveaway below. Stay tuned for our promotion for Bake From Scratch Volume Two.
J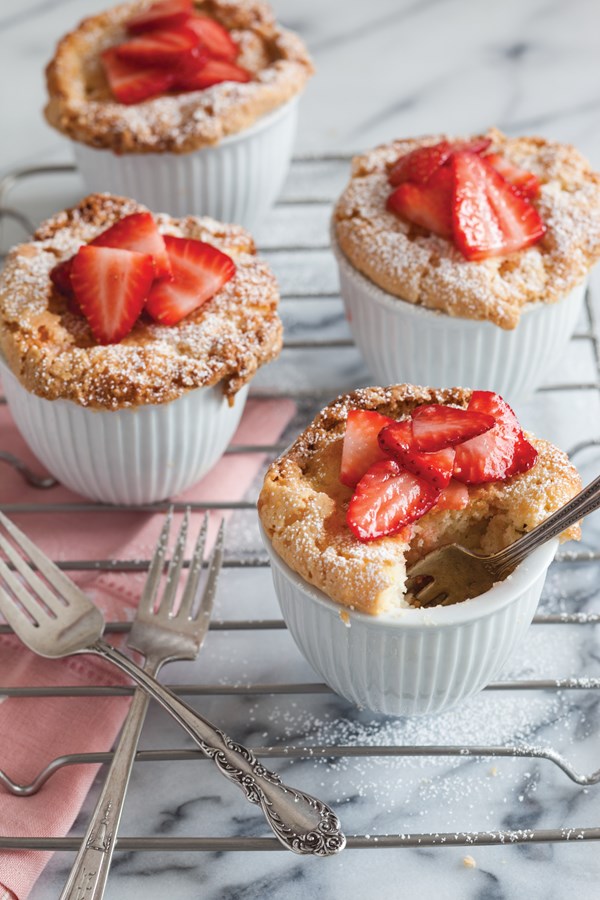 o's whipping cream pound cakes
Add this recipe to your Bookshelf (click the blue +Bookshelf button).
Makes 12
1 cup unsalted butter
3 cups granulated sugar
5 large eggs
3 cups cake flour
1 cup heavy whipping cream
1½ teaspoons pure vanilla extract
Garnish: confectioners' sugar, sliced fresh strawberries
Preheat oven to 325°. Spray 12 (1½-cup) ramekins with baking spray with flour.
In a large bowl, beat butter and granulated sugar with a mixer at medium speed until fluffy, 3 to 4 minutes, stopping to scrape sides of bowl. Add eggs, one at a time, beating well after each addition.
Reduce mixer speed to low. Gradually add flour to butter mixture alternately with cream, beginning and ending with flour, beating just until combined after each addition. Beat in vanilla. Divide batter among prepared ramekins.
Bake until a wooden pick inserted in center comes out clean, 30 to 35 minutes. Let cool completely on a wire rack. Garnish with confectioners' sugar and strawberries, if desired.
The publisher is offering two copies of this book to EYB Members in the US. One of the entry options is to answer the following question in the comments section of this blog post.
Which recipe in the index would you try first?
Please note that you must be logged into the Rafflecopter contest before posting or your entry won't be counted. For more information on this process, please see our step-by-step help post. Be sure to check your spam filters to receive our email notifications. Prizes can take up to 6 weeks to arrive from the publishers. If you are not already a Member, you can join at no cost. The contest ends at midnight on May 14th, 2018.