The birth of the Bundt
April 8, 2018 by Jenny
In 1946 housewife, Dorothy (Dotty) Dalquist, and her husband David founded Nordic Ware in Minneapolis where a vibrant immigrant community was forming and more importantly no competition for their business.
Dotty, the daughter of a Danish immigrant, and David having just returned from service in World War II wanted to bring jobs to St. Louis Park, Minnesota. They began as a small operation making Scandinavian ethnic cookware products such as the Rosette iron, Krumkake iron, Platte Panne pan, and the Ebelskiver pan.

About five years into the business, the Minneapolis chapter of the Hadassah Society, a local Jewish women's group, requested that Nordic Ware add a new design to their inventory. The women were looking for a traditional, old world cake pan which was round and deep with a hole in the middle to ensure even baking, but made with modern materials.
In places like Germany, Austria, Switzerland, and parts of France, these pans were used to make light, yeasted cakes called gugelhupf (sometimes spelled kugelhupf), but the Hadassah women called them "bund" cakes as a nod to how they were often served to a group. David coined the term Bundt as a play on the "bund" hoping to evoke the idea of people gathering together around a cake.
Meanwhile, in Texas, Ella Rita Helfrich found a slightly more American use for the Nordic Ware Bundt pan that had found a way into her home. She came up with the "Tunnel of Fudge Cake" which was filled with a can of Pillsbury frosting. She submitted her cake to the 1966 annual Pillsbury Bake-Off Contest and she won 2nd prize and the cake became a household name helping to propel the further success of Nordic Ware's line.
Growing up, in the midwest, the only cakes my mother baked came from a box mix. I remember sometime in the 70s when we somehow came across a Bundt pan ourselves (perhaps a gift) and my mother made the infamous Tunnel of Fudge cake. To us kids, it was a miracle and something elegant – that creamy fudge center oozing out of that perfectly molded cake. The delusions of youth where everything is far more grand than it truly is. We seldom had guests in our home but on those rare occasions when we did, a Bundt cake (and often it was a Tunnel of Fudge cake for a celebration) would make an appearance. My sisters and I counted the minutes until the cake would be presented, sliced and the lava flow of fudge would pour forth.
Over the decades, Nordic Ware has grown from a company of two employees, the Dalquists, to over 500 workers making 350 plus products all over the world, and Bundt is a household name. They have Ella and her Tunnel of Fudge cake to thank for bringing their pan to American baker's attention. Dorothy, as well, worked endlessly developing recipes and doing presentations including the development of the Bundt cake box mix for mass production. Dorothy is still the Director of Nordic Ware. David passed away in 2005.

The Bundt cake is making a comeback – although I don't believe it was ever really gone. Many bakers continue to bring the curved cake to celebrations, pot lucks and house warmings. With the addition of flower shaped pans and other specialty designs Bundt has brought a whole new generation of fans to the Nordic Ware line. I have three beautiful Bundt cake pans myself of the gold variety which hang proudly in my kitchen. Just as we cookbook lovers collect books, there are collectors of Bundt pans who proudly declare their love of all things Bundt.
Two of my friends and EYB members have contributed two photos of their pans. Vivian's collection is shown in the photo above. As you can see from these shared photos there are many shapes, sizes and styles in the Nordic Ware line. Collectors can be very creative showing off their collection as you can see below in member Kerrey's photo. Her dining room has a 3-D Bundt cake pan wallpaper border. Kerrey started collecting over ten years ago and has roughly seventy pans in her collection. I have a long way to go to start a border of Bundts in my kitchen.
This month we are featuring Bundt cakes in our Eat Your Books Cookbook Club as one of our options. Come join us and share your bundt creations! Eat Your Books has over one thousand online Bundt recipes indexed for our members.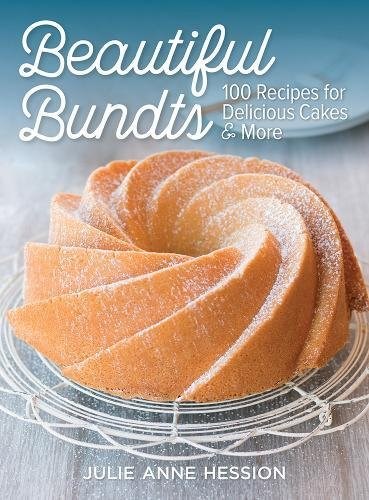 Beautiful Bundts: 100 Recipes for Delicious Cakes and More by Julie Hession shares 100 versatile recipes for every occasion featuring the retro classics we enjoyed as a child, to modern pull-apart Bundts like Monkey bread for even more Bundt cake inspiration.
The recipes here are simple and easy to make, and the results are spectacular (see my photo of the Rich chocolate bundt from this book below). There are recipes for sweet, savory, vegan, and gluten-free ensuring that there are Bundts for everyone! Helpful advice, tips and techniques to get started, from key ingredients and how to glaze and ice a cake, to step-by-step photos on how to effortlessly make a gorgeous layered and swirled Bundt are all included.

The book is divided into two parts Part I is all about Bundts including information on equipment and tools, key ingredients, basics and specialty Bundts. Part 2 is all about recipes from simple Bundts to Breakfast and Brunch to Filled and Savory, ending with a whole selection of glazes and sauces. Try a Lemon-filled coconut snowball bundt, or a Pepperoni pizza pull-apart bundt or even a Mexican hot chocolate piñata bundt from this book – the variations are endless.
For Easter, I made the Rich chocolate bundt (pictured above) in a Nordic Ware Premier Gold Brilliant Bundt Pan and it was not only stunning but easy and delicious. It was indeed rich and a hit at dessert. Our guest even asked to take a slice home – a sure sign of a good cake. Truth be told any cake would look stunning after being baked in the Brilliant Bundt Pan. I have to admit I was a little fearful that my cake wouldn't slip out of the pan. But using Bak-Klene Non-stick baking spray, flouring lightly, tapping and then one more light layer of release spray, the cake came out perfectly (the prayers and promises to the baking gods could have contributed as well) and it was Easter. I did allow it to cool for only 10 minutes as well.
Robert Rose is offering three copies of Beautiful Bundts in our contest below open to US and Canadian members and Nordic Ware is providing one of those gorgeous Brilliant Bundt pans to a winner in the US. Special thanks to both companies for their contributions to this promotion.
Robert Rose would also like our members to try one savory recipe from Beautiful Bundts now. The Croque Monsieur Strata Bundt would be perfect as a brunch offering or even served for dinner beside a fresh salad.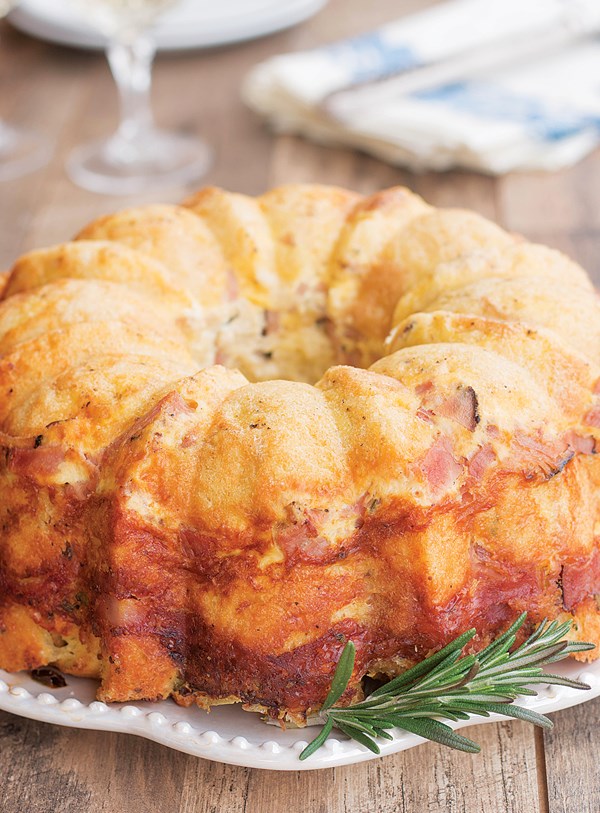 Add this recipe to your Bookshelf (click the blue +Bookshelf button).
Originating in French cafés as a lunch or afternoon snack, the croque monsieur is a ham sandwich, usually served on buttery brioche bread, with broiled Gruyère or Comte cheese on top. The name of the sandwich derives from the French words croquer, to bite, and monsieur, mister. The croque madame, its counterpart, takes the already satisfying sandwich another step by placing a fried egg on top! Inspired by the croque monsieur, slices of this savory strata feature layers of Black Forest ham and nutty Gruyère cheese and need only a simple green salad and a glass of sauvignon blanc for a perfect weekend brunch.
Makes 10 to 12 servings
• Minimum 12-cup Bundt pan, sprayed
9 large eggs
3 cups half-and-half (10%) cream 750 mL
2 tbsp grainy mustard 30 mL
1 tsp salt 5 mL
1⁄2 tsp freshly ground black pepper 2 mL
Pinch cayenne pepper Pinch
1 lb Black Forest ham slices, chopped 500 g
2 cups finely shredded Gruyère cheese 500 mL
1⁄4 cup minced green onions 60 mL
11⁄2 tbsp chopped fresh rosemary (or 11⁄2 tsp/7 mL dried) 22 mL
1 lb loaf rustic white bread, cut into 3⁄4-inch 500 g
 (2 cm) cubes (see tip)
1. In a large bowl, whisk eggs until blended. Whisk in cream, mustard, salt, pepper and cayenne.
2. In a medium bowl, toss together ham, cheese, green onions and rosemary. If necessary, using your hands, separate pieces to break up any clumps and create a uniform mixture.
3. Place one-third of the bread cubes in prepared Bundt pan. Top with half the ham mixture, sprinkling in an even layer. Repeat with half the remaining bread and the remaining ham mixture. Arrange the remaining bread on top, pressing down gently.
4. Slowly pour egg mixture evenly over the layers, letting it soak in as you pour. Cover pan with plastic wrap and refrigerate for 8 hours or overnight to allow bread to absorb egg mixture.
5. Preheat oven to 375°F (190°C).
6. Uncover pan and bake for 55 to 65 minutes or until puffed and golden brown and a paring knife inserted in the center comes out clean. Let cool in pan for 15 minutes, then carefully invert strata onto a plate. For best results, serve warm or at room temperature.
Tip
It is important to cut the bread into small enough cubes so that it can thoroughly absorb the egg mixture. If desired, buy your bread a day in advance so that it has a chance to dry out a bit.
Courtesy of Beautiful Bundts: 100 Recipes for Delicious Cakes & More by Julie Anne Hession © 2017 www.robertrose.ca Available where books are sold. Photo credit for recipe images: Julie Anne Hession. Black and white photos courtesy of Nordic Ware. Rich chocolate Bundt and Bundt pan photo by Jenny Hartin. Collector photos courtesy of Vivian and Kerrey, EYB members.
The publisher is offering three copies of this book to EYB Members in the US and Canada and Nordic Ware is offering one of their Nordic Ware Premier Gold Brilliant Bundt Pan to one member in the US. One of the entry options is to answer the following question in the comments section of this blog post.
Which recipe in the index would you try first and which Nordic Ware product is on your wish list? The Fleur de Lis is next on my list.
Please note that you must be logged into the Rafflecopter contest before posting or your entry won't be counted. For more information on this process, please see our step-by-step help post. Be sure to check your spam filters to receive our email notifications. Prizes can take up to 6 weeks to arrive from the publishers. If you are not already a Member, you can join at no cost. The contest ends at midnight on May 20th, 2018.