In Good Company – Corbin Tomaszeski
May 15, 2018 by Jenny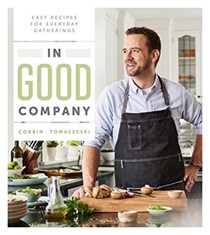 Corbin Tomaszeski was raised on a farm outside of Edmonton, Alberta where one of his earliest memories is the smell of baking bread in his grandmother's kitchen. With nearly three decades of culinary experience, he has worked at some of the world's largest hotels and was the host of several Food Network shows. When not working or volunteering for charities, he spends time with his wife and three sons at their home in Toronto.
In Good Company: Easy Recipes for Everyday Gatherings, his debut cookbook, he celebrates his philosophy of food, fun, and family. Filled with approachable dishes and beautiful photographs, this book is definitely a keeper. These are dishes we as cooks would love to share with family and friends. Who wouldn't love Mini Dutch babies, Hazelnut s'more and banana pancakes, Baba's pierogi, Potato and corn chowder with smoked paprika and puffed wild rice, or Banana and dark chocolate bread pudding? For special occasions, we have recipes for Fennel and pistachio crusted lamb rack or Cedar-planked pork tenderloin with pineapple and onion relish. Elevated comfort food that is sure to impress guests and please our family at the same time is the best way to describe the recipes here.

I particularly love the trio variations that the chef provides for some recipes such as the Cookie whoopie pies below or Ploughman's lunch three ways, Stress-free meals three ways and so forth. Corbin finds the perfect balance of elegant meets homespun fare and I am excited to start cooking from In Good Company.
Thanks to Figure1 for providing me with a copy of this book for review and for sharing this the fun recipe below with our members. Scroll to the bottom of this post to enter our giveaway open to US and Canada. Update 5/31/2018 for a look inside this cookbook check out our EYB Book Preview.

Cookie whoopie pie
Add this recipe to your Bookshelf (click the blue +Bookshelf button).
Traditionally, whoopie pies are made by sandwiching a meringue-style frosting between two soft, cake-like cookies. My version is more like an ice-cream sandwich made with highly addictive cookies. This may be an unconventional dinner party dish, but trust me, nothing lights up people's eyes quite like cookie sandwiches.
Serves 4
Ingredients
1/2 cup (1 stick) butter, softened
1 cup packed brown sugar
1 egg
1 tsp vanilla extract
1 cup all-purpose flour
1/2 tsp baking powder
1/2 tsp baking soda
Pinch of salt
1 1/4 cups oatmeal
3/4 cup chocolate chips
3/4 cup chopped pecans
2 cups vanilla ice cream
3/4 cup Oreo cookie crumbs
Method
Preheat the oven to 350°F. Line a baking sheet with parchment paper.
In the bowl of a stand mixer fitted with the paddle attachment, combine butter and brown sugar and beat until light and fluffy. Add egg and vanilla and beat until smooth.
In a medium bowl, combine flour, baking powder, baking soda, and salt and mix well. Add dry ingredients to the butter mixture and beat until just combined. Add oatmeal, chocolate chips, and pecans and beat until just combined.
Scoop 8 large balls of cookie dough onto the prepared baking sheet, 2 inches apart. Using a fork, gently flatten the cookie dough to a 1/2-inch thickness. Bake for 12-15 minutes, until golden. Remove from oven and set aside to cool completely.
To serve, scoop 1/2 cup ice cream onto the flat side of four cookies. Top with another cookie and roll each sandwich in the cookie crumbs.
Variation 1: Cookie Whoopie Pie with Toffee and Dried Cherries
Replace the nuts with dried cherries and replace the chocolate chips with crumbled toffee.
Variation 2: Cookie Whoopie Pie with Cream Cheese and Orange
Replace the ice cream with 1 cup whipped cream cheese mixed with 1 Tbsp icing sugar and 1/2 an orange zested.
The publisher is offering two copies of this book to EYB Members in the US and Canada. One of the entry options is to answer the following question in the comments section of this blog post.
Which recipe in the index would you try first?
Please note that you must be logged into the Rafflecopter contest before posting or your entry won't be counted. For more information on this process, please see our step-by-step help post. Be sure to check your spam filters to receive our email notifications. Prizes can take up to 6 weeks to arrive from the publishers. If you are not already a Member, you can join at no cost. The contest ends at midnight on June 28th, 2018.