Boqueria
May 16, 2018 by Jenny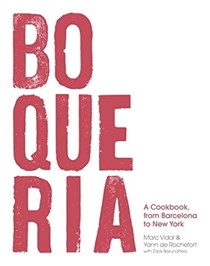 For over a decade New York City's famed Boqueria restaurants have been distilling the energy, atmosphere, and flavors of Barcelona, becoming a place where patrons share excellent wine and exquisite dishes. The Boqueria franchise has now spread to four New York City locations as well as to Washington, D.C. and I remember being in a cab last month driving by one of the locations and thinking I need to eat there (and I hope my copy of the book is waiting for me at home)!
Boqueria is named after the large public market in the Ciudad Vieja district of Barcelona, Catalonia, Spain which claims to be the best market in the world. A bustling market place filled with myriad stalls, bars and restaurants – all in one beautiful location, I am ready to go.
In
Boqueria: A Cookbook, from Barcelona to New York
, Chef Marc Vidal teams up with restaurateur Yann de Rochefort to tell the story of Boqueria, the restaurant and the food. Spectacular food photography transforms the simple Pan con tomate (Country bread rubbed with garlic, tomato, and olive oil) into something exciting and decadent. Vidal is a magician that gathers potato, egg and ham and churns out a humble masterpiece.
Continuing his wizardry, his portrayal of Barcelona is the catalyst that brings to us the hectic vibrancy of the stalls in the legendary fresh market one moment, delivering seafood dishes so tempting we can almost feel the sea breeze coming off the Mediterranean and splurging on desserts and drinks, the next. The book is organized by chapters as follows: The Classics, Salads, Eggs, Vegetables, Rice & Noodles, Seafood, Meat & Poultry, Desserts, Drinks and Bases with recipes that range from the simplicity of the appetizer shared below to a Spanish seafood platter with salsa Espinaler that is approachable and impressive. The measurements in this title are given in volume but oddly enough the seafood platter recipe also contains weight measurements.
Boqueria
also swings open the kitchen doors to reveal the fast-paced life of the restaurant, offering exciting glimpses of the locales that inspire it: the bars, markets, and cervezerias of Barcelona. Overall, this book will immerse the reader in the cuisine of Spain without a stamp on a passport or a visit to one of the restaurants – although I surely plan to do so on my next trip to New York.
Currently, the author has
one book event
this weekend.
Special thanks to Bloomsbury for providing me with a copy of this book for my review and for offering three copies to our members in the US and Canada in our contest below. EYB will provide one copy to members outside those two regions.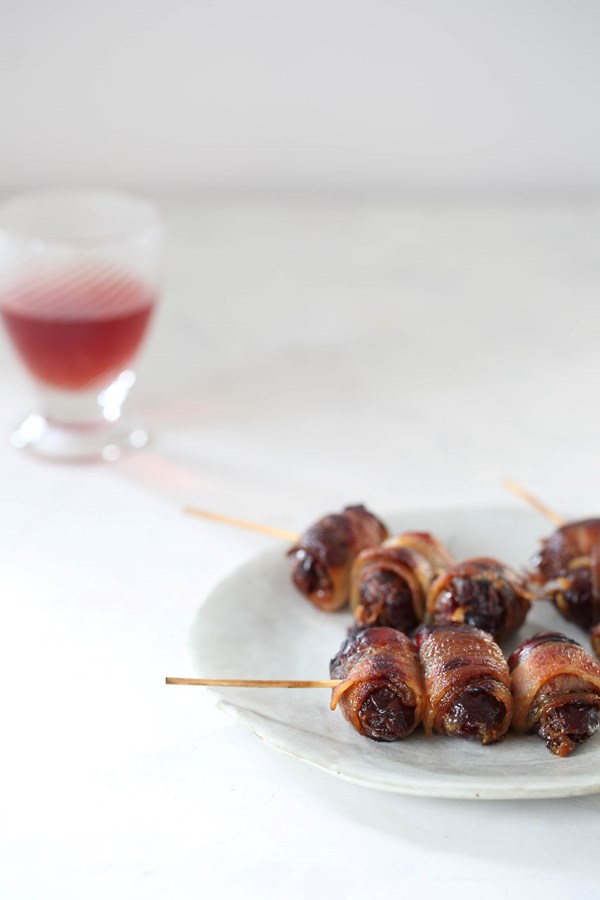 DÁTILES CON BEICON
Bacon-Wrapped Dates
Add this recipe to your Bookshelf (click the blue +Bookshelf button).
Makes as many as you like
Prep 20 minutes
Total 45 minutes
Four ingredients-one outstanding appetizer. These simple crowd-pleasers are so good that we haven't messed with them since we dished them out at our first friends and family pre-opening meal. Every single diner raved about these that first night. Ten years on, they still love them. Sweet dates and salty bacon are delicious enough on their own, but we stuff the dates with pungent Valdeón blue cheese and tender Marcona almonds for a knock-out punch of flavor.
You can make as many or as few of these as you'd like. Our Upper East Side prep cook, Rosa, made 25,383 of them last year! They're a great party dish as they're so quick to prepare. You can make them ahead of time and just pop them in the oven when you're ready to serve.
We enjoy a good date. We politely pass on the drier standard versions and opt for the bigger, sweeter varieties. Medjools are best, but Deglet Noors work too.
Medjool dates
Marcona almonds, roasted and salted
Valdeón cheese, or other mild creamy blue cheese, such as Gorgonzola
applewood-smoked bacon (½ slice per date)
You will need:
small skewers. We use 1 for every 3 dates, but you can skewer the dates individually or in pairs if you prefer. Soak the skewers in water for at least 30 minutes.
Preheat the oven to 400ºF. Line a half sheet pan with foil.
Cut a slit lengthwise in a date and pull out the pit. Put 1 almond inside the date, then spread ½ teaspoon cheese in the cavity. Close the date around the stuffing, completely sealing the edges as tightly as possible by pressing the cut edges of the date together. Wrap half a slice of bacon tightly around the date; the slice should overlap itself by at least one full rotation. Repeat to make as many as you'd like.
Place three bacon-wrapped dates side by side, close together. Insert a skewer through them. Repeat with the remaining bacon-wrapped dates.
Place the skewers on the prepared pan, spacing them an inch apart. Bake, turning once, until the bacon is evenly browned and its fat is rendered, about 12 minutes each side.
The publisher is offering three copies of this book to EYB Members in the US and Canada. EYB will sponsor one winner outside those two regions. One of the entry options is to answer the following question in the comments section of this blog post.
Which recipe in the index would you try first?
Please note that you must be logged into the Rafflecopter contest before posting or your entry won't be counted. For more information on this process, please see our step-by-step help post. Be sure to check your spam filters to receive our email notifications. Prizes can take up to 6 weeks to arrive from the publishers. If you are not already a Member, you can join at no cost. The contest ends at midnight on July 4th, 2018.
Seen anything interesting?
Let us know
& we'll share it!