Andina by Martin Morales Promotion
May 3, 2018 by Jenny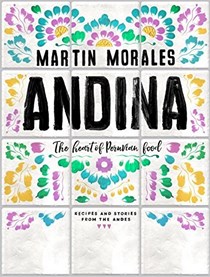 Martin Morales is an ambassador of Peruvian food and arts. Born in Peru, he left after the Communist terrorist group known as the Shining Path guerrillas threatened his father and has lived in London for over 20 years.
He is a self-taught chef who began seriously cooking at the age 9 with his great-aunts in Lima (but started at their sides as young as four years of age). After years of dreaming of opening his own restaurant, he gave up his career in music and opened Ceviche Soho in 2012.
His first cookbook, Ceviche, won numerous awards and was one of the first books on Peruvian cuisine in my collection (note the many tabs on my copy – I tried most of those recipes with great success).
Morales highly anticipated second cookbook, Andina: The Heart of Peruvian Food: Recipes and Stories from the Andes does not disappoint and soon is on its way to being dressed in sticky tabs. Andina is a word that means woman, or a dish or ingredient from the Andes. Andina is in the author's blood and now four restaurants later (Ceviche Soho, Ceviche Old St, Andina and the new Casita Andina), Morales has realized his dreams while staying true to his love of Peruvian food, art and music. He has even returned to his musical roots with the formation of Tiger's Milk Records specializing in Peruvian music.
Andina has the same raised tile-look cover as Ceviche, the same brilliant photography and colorful dishes but feels a little more upscale with recipes that have longer lists of ingredients and more of a restaurant-type presentation. Still as approachable as the first, this cookbook will have its rightful spot on my bookshelf to be used and tabbed for years to come. (Note: Measurements are in weight with a handy UK to US conversion chart included.)
Special thanks to Quadrille for providing the materials for our preview and three copies for our contest below. Check out Martin Morales' work – he's fresh and his food is exciting and delicious.
Our
will give you a closer look inside this beautiful title and our
shares the following recipes:
The publisher is offering three copies of this book to EYB Members in the US, UK, NZ and AU. One of the entry options is to answer the following question in the comments section of this blog post.
Which recipe in the index would you try first?
Please note that you must be logged into the Rafflecopter contest before posting or your entry won't be counted. For more information on this process, please see our step-by-step help post. Be sure to check your spam filters to receive our email notifications. Prizes can take up to 6 weeks to arrive from the publishers. If you are not already a Member, you can join at no cost. The contest ends at midnight on June 13th, 2018.