Lagom by Steffi Knowles-Dellner
May 30, 2018 by Jenny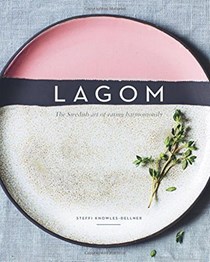 Lagom by definition means just the right amount, balanced, harmonious. I have spent countless hours craving a hygge lifestyle, when I could have been craving both. What could be better than a life lived in cozy balance? Well, maybe being a Princess but since Prince Harry has tied the knot, that dream has died.
Lagom: The Swedish Art of Eating Harmoniously by Steffi Knowles-Dellner is a gorgeous book that embraces the balance of elegance, comfort and delicious food. The overall appearance of the book clearly reflects this lifestyle and the photographs evoke a feeling of serenity.
Lagom offers genuine insight into how Swedes eat and cook – with recipes that fit around the seasons, occasions, times of day, and appetite. Eating and cooking in tune with "lagom" means embracing food that is good for body and soul, unfussy, delicious and sustaining, and all in harmony. The Swedes understand that balance is everything – that you crave comforting food when a bitter wind is howling outside, that refreshing, lighter meals suit hot, hazy days, that a mid-morning bun is good for morale, and that a long, sociable lunch with friends and family on a Sunday is the most rewarding way to end the weekend. There is a time and place for every kind of food, and when everything is in equilibrium, contentness and satisfication follows.
The Lingonberry and orange cheesecake is simplistic perfection and the soul warming Slow-braised pork cheeks is a hearty meal when temperatures drop. These recipes are approachable for any level cook and provide measurements in weight and volume. Good for you ingredients such as spelt are introduced into pizza doughs, rolls and breads to again balance indulgence and nutrition.
For a look inside this title see our
which shares
for the following recipes:
Special thanks to Quadrille for supplying the materials for our EYB Book Preview and providing three copies of this book in our contest below.
The publisher is offering three copies of this book to EYB Members in the US, UK, NZ and AU. One of the entry options is to answer the following question in the comments section of this blog post.
Which recipe in the index would you try first?
Please note that you must be logged into the Rafflecopter contest before posting or your entry won't be counted. For more information on this process, please see our step-by-step help post. Be sure to check your spam filters to receive our email notifications. Prizes can take up to 6 weeks to arrive from the publishers. If you are not already a Member, you can join at no cost. The contest ends at midnight on July 25th, 2018.
Seen anything interesting?
Let us know
& we'll share it!