Once Upon a Chef – Jennifer Segal
May 30, 2018 by Jenny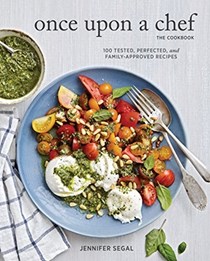 Once Upon a Chef: The Cookbook: 100 Tested, Perfected, and Family-Approved Recipes by Jennifer Segal provides the reader the tools needed to improve their cooking one recipe at a time, with helpful tips on topics such as how to season correctly with salt, how to balance flavors, and how to make the most of leftovers.

The author went to culinary school and worked in fancy restaurants before marriage and having two children. She created her blog, Once Upon a Chef, to share her culinary skills with readers so that they too can prepare delicious, fresh, family-friendly meals. Today, Jenn cooks dinner for her family every night and in her debut cookbook she shares 100 recipes that will up your kitchen game and surprise you with their ease and bold flavors.
Written with the authority of a chef but in a style of teacher, Jenn provides a wealth of information on ingredients, make ahead tips and more. Measurements are provided in both weight and volume and the author's headnotes are helpful and tell the story of the dish. Recipes range from homespun Savory ham & cheese waffles to creating your own Garlic & herb ciabatta. Step-by-step pictorials for Spanakopita rolls, Braided honey challah to Almost Southern buttermilk biscuits are included.
The novice cook will appreciate the care and detail Jenn provides and the more experienced cook, like myself, will appreciate the pro tips and range of recipes. Overall, this is a beautiful book filled with stunning photographs and recipes for every occasion.
Special thanks to Chronicle Books for sharing the following three recipes with our members today and for providing three copies of this book in our contest below. Jenn's events are available on our calendar.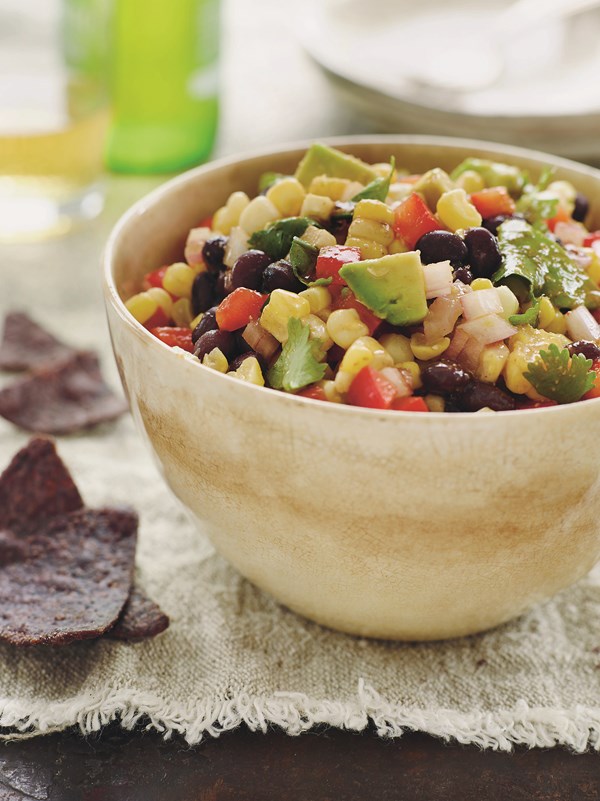 Black bean & corn salad with chipotle honey vinaigrette
Add this recipe to your Bookshelf (click the blue +Bookshelf button).
PERHAPS THE BEST COMPLIMENT this salad ever received was from one of my readers, who confessed to me, "I'm having an affair with this salad . . . please don't tell anyone." Another reader told me that she made this salad for a party, and later found one of her guests in her study, printing out copies of the recipe to hand out. It's just one of those crowd-pleasing, make-ahead recipes that everyone loves. Whether I serve it as a salad with grilled chicken or as a dip with tortilla chips (highly recommend!), the bowl is always empty and the plates are always full.
Serves 6
FOR THE SALAD
2 ears fresh corn
1 cup [140 g] finely chopped red onion
One 15½-oz [445-g] can black beans, drained and rinsed
1 red bell pepper, seeded and diced
1/2 cup [10 g] loosely packed fresh cilantro leaves, chopped, plus a bit more for garnish
1 avocado
FOR THE DRESSING
2 Tbsp red wine vinegar
2 Tbsp fresh lime juice, from 1 lime
2 Tbsp honey
1/4 cup plus 2 Tbsp [90 ml] vegetable oil
1 large garlic clove, roughly chopped
3/4 tsp ground cumin
3/4 tsp salt
1/4 tsp freshly ground black pepper
1/4 tsp dried oregano
2 small chipotle chiles in adobo sauce from a can
1. To make the salad: Bring a large pot of salted water to a boil. Add the corn, cover, and turn the heat down to low. Simmer for 10 minutes. Remove the corn from the pot and let cool.
2. Meanwhile, place the chopped red onion in a small bowl and cover with water. Let sit for about 10 minutes, then drain completely in a sieve and set aside.
3. One at a time, holding the cooled corn upright in a large bowl, cut the kernels off the cobs in strips.
4. Add the beans, onion, bell pepper, and cilantro to the corn.
5. To make the dressing: In a blender or mini food processor fitted with the steel blade, combine all of the ingredients and process until smooth.
6. Pour the dressing over the bean and corn mixture and toss well. Cover and refrigerate for at least 1 hour or preferably overnight.
7. Right before serving, cut the avocado in half and remove the pit. Using a butter knife, cut a grid in each half. Holding each avocado half over the salad, use a spoon to scoop out the diced flesh. Toss the salad gently, then taste and adjust the seasoning, if necessary (I usually add a squeeze of fresh lime to freshen it up). Garnish with a bit of fresh chopped cilantro, if desired. Serve cold.
MAKE AHEAD: This salad is best made a day ahead of time, but wait to add the avocado until right before serving.
heads up: Allow at least 1 hour for this salad to chill in the refrigerator.
sourcing savvy: Canned chipotle chiles in adobo sauce are small dried and smoked peppers (usually red jalapeños) that come in a spicy, smoky tomato sauce. You can find them in the Latin section of most supermarkets. Once you open a can, you can transfer any remaining chiles to a plastic or glass container and store in the refrigerator for up to a month, or freeze in a sealable plastic bag for up to 6 months.
pro tips: When boiling corn on the cob, be sure to add enough salt that the water tastes like the sea. Try adding a few tablespoons of sugar to the water as well-you'll be amazed by how much it enhances the corn's sweetness. Or, if you don't want to steam up the kitchen, you can roast the corn. To remove the sharp taste from raw onions, soak them in cold water for about 10 minutes, then drain.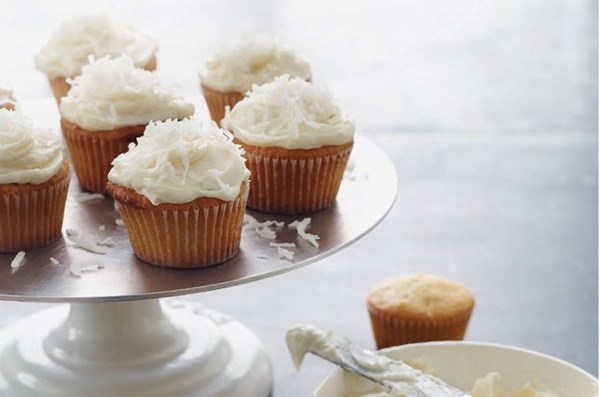 Honey's coconut cupcakes
Add this recipe to your Bookshelf (click the blue +Bookshelf button).
THEY SAY THAT TRAITS usually skip a generation, but in my case they skipped two. My great-grandmother, who was called "Honey" by everyone who knew her, was a baker and caterer. She baked cakes for the whole city of Buffalo, New York, and was especially well known for her coconut cake. Unfortunately, she left no real recipe when she passed, only scribbled notes on an old index card from my mom's green tin recipe box. Once I became the family baker, I took it upon myself to recreate Honey's famous coconut cake. I could never get it quite as "coconut-y" as the original but, finally, I nailed it. The trick was adding coconut milk and shredded coconut to both the cake and the frosting. Makes 24 cupcakes
FOR THE CUPCAKES
1 cup [240 ml] canned unsweetened coconut milk
2 Tbsp fresh lemon juice, from
1 lemon
2 1/2 cups [315 g] all-purpose flour
1/4 cup [30 g] cornstarch
1/2 tsp salt
1/2 tsp baking soda
1 cup (2 sticks) [220 g] unsalted butter, at room temperature
2 cups [400 g] granulated sugar
2 tsp vanilla extract
4 eggs, at room temperature
1 cup [85 g] sweetened shredded coconut
FOR THE FROSTING
1/2 cup (1 stick) [110 g] unsalted butter, at room temperature
6 oz [170 g] cream cheese, at room temperature
4 cups [460 g] confectioners' sugar
1/2 tsp vanilla extract
1/4 cup [60 ml] canned unsweetened coconut milk
Pinch of salt
1-1/2 cups [130 g] sweetened shredded coconut, for topping
Pro Tip: Adding cornstarch to the flour mimics cake flour, which makes a lighter and more delicate cake.
1. To make the cupcakes: Preheat the oven to 350°F [180°C] and set an oven rack in the middle position. Line two cupcake pans with paper liners. Lightly spray the top of the pans with a nonstick cooking spray with flour, such as Baker's Joy or Pam Baking Spray with Flour, just in case the cupcake tops stick to the pan (don't worry if the spray gets in the liners).
2. In a small bowl, whisk together the coconut milk and lemon juice. Set aside.
3. In a medium bowl, whisk together the flour, cornstarch, salt, and baking soda. Set aside.
4. In the bowl of an electric mixer fitted with the paddle attachment (or beaters), beat the butter and granulated sugar on medium speed until light and fluffy, about 3 minutes. Beat in the vanilla, then beat in the eggs, one at a time, scraping down the sides of the bowl as necessary.
5. Turn the speed down to low and beat in one-third of the flour mixture, followed by half of the coconut milk-lemon juice mixture. Scrape down the sides of the bowl. Add another one-third of the flour mixture, followed by the remaining coconut milk-lemon juice mixture. Beat in the remaining flour mixture, then scrape down the bowl and beat again until the batter is just combined. Quickly mix in the shredded coconut; do not overmix.
6. Spoon the batter into the prepared cupcake pans, filling each cup about three-fourths full. Bake for 20 to 23 minutes, until the cupcakes are set, lightly golden, and a toothpick or cake tester inserted into the center of a cupcake comes out clean (note that one pan may finish baking before the other). Let cool in the pans for about 10 minutes, then transfer to a wire rack to cool completely.
7. To make the frosting: In the bowl of an electric mixer fitted with the paddle attachment (or beaters), beat the butter and cream cheese until creamy and well combined. Gradually beat in the confectioners' sugar, and then beat in the vanilla, coconut milk, and salt.
8. When the cupcakes are completely cooled, use a butter knife or small offset spatula to swirl the frosting lavishly over the top. Sprinkle with the shredded coconut, pressing it gently so it adheres, and serve.
MAKE AHEAD: The cupcakes can be made and frosted up to 1 day ahead of time. Store in an airtight container at room temperature.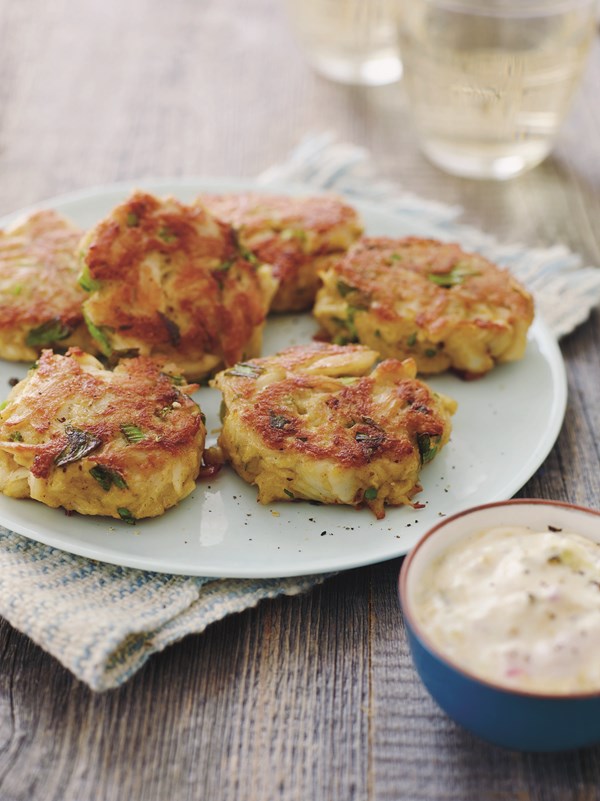 Maryland-style crab cakes with quick tartar sauce
Add this recipe to your Bookshelf (click the blue +Bookshelf button).
heads up: Allow 1 hour for the crab cakes to set in the refrigerator before cooking.
WHEN YOU LIVE IN MARYLAND, eating Chesapeake blue crabs is practically a religion-and in my family, we are all loyal devotees. Every summer, we hit all of our favorite crab shacks, from local joints all the way to the Eastern Shore, where you can look out over the bay and put your feet in the sand.
I'd never attempt making steamed crabs at home. Live crabs, giant steamers-yikes! But I do often make Maryland-style crab cakes, which are just as delicious and easier to prepare (not to mention eat). These are made with fresh lump crabmeat and just enough filler to bind the crabmeat together. I love them with the Quick Tartar Sauce below, but you can also serve them with lemon wedges or cocktail sauce.
Celery is not traditional in Maryland crab cakes, but I love the little crunch it adds. Feel free to leave it out if you're a purist. Makes 12 mini crab cakes
sourcing savvy: If you can only find jumbo lump crabmeat, you may need to break the pieces up a bit. If the clumps are too large, the crab cakes won't hold together well.
FOR THE CRAB CAKES
2 eggs
2 1/2 Tbsp mayonnaise, best quality such as Hellmann's, Best Foods, or Duke's
1 1/2 tsp Dijon mustard
1 tsp Worcestershire sauce
1 tsp Old Bay seasoning
1/4 tsp salt
1/4 cup [30 g] finely diced celery (optional)
2 Tbsp finely chopped fresh Italian parsley
1 lb [455 g] lump crabmeat
1/2 cup [30 g] panko
Vegetable or canola oil, for cooking
FOR THE QUICK TARTAR SAUCE
1 cup [240 g] mayonnaise, best quality such as Hellmann's, Best Foods, or Duke's
1 1/2 Tbsp sweet pickle relish
1 tsp Dijon mustard
1 Tbsp minced red onion
1 1/2 Tbsp fresh lemon juice, from
1 lemon
Salt and freshly ground black pepper, to taste
1. Line a baking sheet with aluminum foil for easy cleanup.
2. To make the crab cakes: Combine the eggs, mayonnaise, mustard, Worcestershire, Old Bay, salt, celery (if using), and parsley in a large bowl and mix well. Add the crabmeat (be sure to check it for any cartilage) and panko; gently fold the mixture together until just combined, being careful not to shred the crabmeat. Shape into 12 mini crab cakes, about ¼ cup [50 g] each, and place on the prepared baking sheet. Cover and refrigerate for at least 1 hour.
3. Preheat a large nonstick pan over medium heat and coat with oil. When the oil is hot, place the crab cakes in the pan and cook until golden brown, about 3 to 5 minutes per side. Be careful, as the oil may splatter.
4. Meanwhile, make the tartar sauce: Mix all the ingredients together in a small bowl. Taste and adjust the seasoning, if necessary. Cover and chill until ready to serve.
5. Serve the crab cakes warm with the tartar sauce. MAKE AHEAD: The crab cakes can be formed, covered, and refrigerated a day ahead of time before cooking. The tartar sauce can be made and refrigerated up to 2 days in advance.
Recipes reprinted from Once Upon a Chef by Jennifer Segal with permission from Chronicle Books. Photography by Alexandra Grablewski.
The publisher is offering three copies of this book to EYB Members in the US and Canada. One of the entry options is to answer the following question in the comments section of this blog post.
Which recipe in the index would you try first?
Please note that you must be logged into the Rafflecopter contest before posting or your entry won't be counted. For more information on this process, please see our step-by-step help post. Be sure to check your spam filters to receive our email notifications. Prizes can take up to 6 weeks to arrive from the publishers. If you are not already a Member, you can join at no cost. The contest ends at midnight on July 17th, 2018.