Masala & Meatballs – Anolon Promotion
May 8, 2018 by Jenny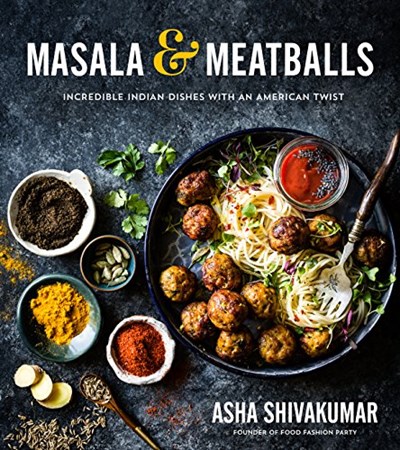 Asha Shivakumar's Masala & Meatballs: Incredible Indian Dishes with an American Twist marries the the warm soulfulness of Indian spices with American classics. White chicken curry pot pie, Curried shrimp skewers with pineapple, and Potato and chickpea burger with apple cilantro chutney are examples of the magical fusion you will find in this collection of outstanding recipes.
Asha is the voice behind
Food Fashion Party
and believes that food is art and that cooks should always be experimenting with flavors. I couldn't agree more with her vision. I approach cooking with that same passion whether I am developing my own recipe or adapting a recipe from a cookbook. Here, in her debut cookbook, she caters to both novice and experienced cooks and invites them to be bolder in the kitchen. Why have banana bread when you can add orange and cardamom to take your bread to the next level or try a cilantro chutney to yam and potato wedges. Her recipes shake flavors up, they are approachable and the photographs in this title are breathtaking.
Asha and her recipes have achieved worldwide popularity. As editor of The Feed Feed, she has helped develop an international community of cooks. Whether readers are looking to take their cooking in a new direction or they are just starting out, everyone will want to try the exciting new flavor combinations in this book that are delightful and delicious.
The Chicken meatballs and noodles in spicy plum barbecue sauce were such a wonderful departure from spaghetti and meatballs that we all enjoyed it. Right now I am in the midst of returning from travel, packing, and work, and I am not able to try as many recipes as I would like from each book I review. Often, I just don't have the patience to style and photograph a dish. But, hopefully after summer we will be in our new home and I'll be able to tackle all the recipes that I want to make from this fabulous book and the many others that have been released this year.
Take a closer look inside
Masala & Meatballs
with our
and check out the following recipes with
.
What is better than a new exciting cookbook? A shiny new piece of cookware to accompany the book!
The above-pictured Anolon Covered Braiser is ideal for making many of the dishes in Masala & Meatballs. This specifics for this piece include:
3-Quart Covered Braiser
Durable three-ply construction features an aluminum core between layers of stainless steel for excellent heat distribution
The braiser is suitable for use on all stovetops, including induction; the polished, sophisticated stainless steel exterior is easy to clean
Comfortable stainless steel handles are dual riveted for strength; deep-seated lid seals in heat and moisture with a clean, professional look
The covered braiser is oven safe to 500 degrees Fahrenheit and dishwasher safe, and works well with other Anolon cookware pieces and sets
It is stylish and looks great coming to the table (I have a thing for pretty cookware – quality, pretty cookware, that is).
Page Street Publishing is offering three copies of Masala & Meatballs and Anolon is offering three of their beautiful braisers in our contest below open to US members.
The publisher is offering three copies of Masala & Meatballs and Anolon is offering three braisers in our contest below open to EYB Members in the US . One of the entry options is to answer the following questions in the comments section of this blog post.
Which recipe in the index would you try first?
Please note that you must be logged into the Rafflecopter contest before posting or your entry won't be counted. For more information on this process, please see our step-by-step help post. Be sure to check your spam filters to receive our email notifications. Prizes can take up to 6 weeks to arrive from the publishers. If you are not already a Member, you can join at no cost. The contest ends at midnight on June 25th, 2018.