The L. A. Cookbook
June 11, 2018 by Jenny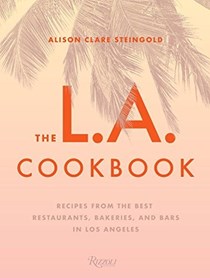 The L.A. Cookbook: Recipes from the Best Restaurants, Bakeries, and Bars in Los Angeles by Alison Clare Steingold is the ultimate West Coast food lover's dream.

Beautiful photography and profiles of all THE places to be are complemented by the shared recipes from those locales. The "Fried chicken sandwich, spicy B&B pickle slaw, rooster aioli" from Son of a Gun, "Tagliatelle with pork ragu" from Union, and "Sweet potato gnocchi with broccolini agliolio" from the vegan hotspot Crossroads are a few examples of the recipes here. From Greenspan's Grilled Cheese's, Eric's Tomato basil soup recipe is shared as well (look for his cookbook, The Great Grilled Cheese Book coming in August).

While the entire book draws me in from cocktails to sweets, the dessert chapter is killer. Almond-ginger cake from Spago, Rosemary-pine nut tart from Jon & Vinny's and Butterscotch budino with caramel sauce from Bottega Louie all look amazing. I cannot wait to try some of these recipes when we are settled in our new home.
I love New York and would move back there in a (pardon the pun) New York minute, but the West Coast has my heart, too. There is something magical about L.A. – the Pacific Ocean coastline, the food scene, the Hollywood sign – it's a little piece of heaven, if you take away the traffic and lack of rain, it is paradise. This cookbook brings us a taste of Los Angeles to recreate at home wherever that home may be.
Special thanks to Rizzoli for sharing a recipe with our members today as well as for providing three copies of this book in our giveaway below.
Baja yellowtail tostada with peach-habañero salsa and avocado puree [Otium ]
Add this recipe to your Bookshelf (click the blue +Bookshelf button).
Next to The Broad Museum is a marvelous setting for chef Tim Hollingsworth to create works of edible beauty. Take this tostada, for example. From afar, the confetti of ingredients could pass for a painting of abstract expressionism! It features brined and quick-seared Baja yellowtail with tiny tomatoes, peaches, cilantro blossoms, micro mint, and shaved radish all splashed with lime juice. A silky avocado puree refreshes like a smoothie with kick; the hot peach salsa could double as a killer chilled soup or liven up simple grilled meats.
Hollingsworth makes his own crisp, flagstone-sized tortillas that float to the table. You can purchase your own or use soft corn or flour tortillas and simply bake them in a hot oven until crisp and the edges start to curl. Poolside or served with salt-rimmed margaritas or cold beer, baked or fried, you can see why tostadas are one of L.A.'s beloved seafood standbys.
Serves 4
Yellowtail and brine
1 cup (140 grams) Diamond Crystal kosher salt
Zest of 3 oranges
Zest of 4 limes
5 bay leaves (fresh, if possible)
10 cups water
2 pounds Baja yellowtail
Salt and freshly ground
black pepper
Peach-habañero salsa
Canola oil
3 cups julienned white onions
(about 2 medium)
1 to 2 habañero chiles, stemmed
1 pound whole firm peaches,
pitted, peeled, and halved
10 to 13 (10 grams) chiles de árbol
2 (1-inch) slices peeled fresh ginger
½ cup chicken stock
3 tablespoons fresh lemon juice
Salt
Avocado puree
½ cup fresh lime juice
1 cup crushed ice
2 serrano chiles
4 large avocados, peeled and
seeded
1 bunch cilantro
2 tablespoons olive oil
Salt
To brine the yellowtail: In a blender, combine the salt, orange and lime zest, the bay leaves, and 4 cups of the water. Puree until the salt has dissolved. Transfer the brine to a container and add the remaining 6 cups water. Place the yellowtail in the brine and refrigerate for 30 minutes.
Meanwhile, make the salsa: In a large saucepan, heat enough canola oil to cover the bottom of the pan over medium heat. When hot, add the onions and cook, stirring, until they are browned and caramelized, 7 to 10 minutes. If they are not sizzling, increase the heat.
Char the habañero and halved peaches on a grill or over a gas burner until lightly blackened. If using stovetop burners, a long skewer will help here to turn the chiles without handling them. Do not touch your eyes. When the onions are caramelized, add the chiles de árbol and ginger and cook over medium heat. Add the grilled habanero and peaches and stir to combine. Add the stock, bring to a simmer, and simmer for 2 minutes. Remove from the heat, add the lemon juice, and season with salt. Transfer the mixture to a blender. Carefully handling the hot mixture, puree until smooth, and transfer to a bowl to cool. Cover, and refrigerate to chill.
To make the avocado puree: Rinse out the blender. In the following order, add the lime juice, ice, serrano chiles, scooped flesh of the avocado, the cilantro, and olive oil, and puree until smooth. Season with salt.
Grill the fish: Oil the grill grates, then heat the grill to high (or heat a cast-iron pan over high heat). Remove the yellowtail from the brine and pat dry with a paper towel. Place the yellowtail on a plate and season well with salt and black pepper. Place the fish on the grill (or in the skillet) and sear for barely 2 minutes per side. You want the fish to be rare in the center but lightly charred.
Transfer the yellowtail to a cutting surface and allow the fish to cool completely before cutting into sugar cube-size pieces.
TO ASSEMBLE
2 handfuls of multicolor cherry tomatoes, halved
1 peach, pitted and cut into small dice
1 tablespoon olive oil
Juice of 1 lime
1 to 2 packages tostadas or tortillas
1 radish, shaved
Cilantro and cilantro blossoms, for garnish
Tiny mint leaves, for garnish
To really go for it, restaurant-style, load both the salsa and the puree into squirt bottles. In a large bowl, gently toss the diced fish with the cherry tomatoes, diced peach, olive oil, and lime juice until coated. Distribute the yellowtail mixture on top of each tostada and dollop artfully with the salsa and avocado. Garnish with radish medallions, cilantro, and mint.
Serve immediately.
The publisher is offering three copies of this book to EYB Members in the US. One of the entry options is to answer the following question in the comments section of this blog post.
Which recipe in the index would you try first?
Please note that you must be logged into the Rafflecopter contest before posting or your entry won't be counted. For more information on this process, please see our step-by-step help post. Be sure to check your spam filters to receive our email notifications. Prizes can take up to 6 weeks to arrive from the publishers. If you are not already a Member, you can join at no cost. The contest ends at midnight on August 1st, 2018.