Just Cook It! Justin Chapple
June 3, 2018 by Jenny
Just Cook It!: 145 Built-to-Be-Easy Recipes That Are Totally Delicious by Justin Chapple is not your typical "you can make a meal' type of cookbook. It's more in line with a you can make a truly delicious, elevated meal with a few basics thrown in for good measure type.
Justin is the mad genius at Food & Wine's test kitchen. His first book Mad Genius Tips: Over 90 Expert Hacks and 100 Delicious Recipes provides a world of tips and tricks that even this experienced cook could appreciate.

In Just Cook It!, Justin ups the game a bit with elevated dishes such as Garlicky smoked salmon rillettes, Pomegranate-glazed Turkish meatballs, and Pork, scallion and enoki negimaki with sesame-soy glaze. I love the range of dishes the author covers along with the wealth of international flavors that this title provides. Justin focuses on bringing out fresh and vibrant flavors without having to spend all day in the kitchen but your family and guests will think that you have.
We are preparing an EYB Book Preview for this title, but I wanted to get this promotion up today. Updated: check out our EYB Book Preview. I'll be interviewing Justin at the Tattered Cover in Denver on June 12th and I hope those of you in the area can come and meet Justin.
Check out these three fantastic recipes (the carrot chimichurri is everything) and enter our giveaway below for a chance to win one of three copies of this book.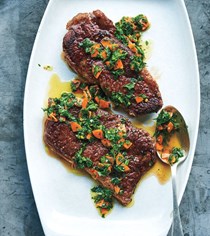 3-Minute Steaks with Carrot Chimichurri
Add this recipe to your Bookshelf (click the blue +Bookshelf button).
Total time: 20 min Serves 4
The last time Jason and I went to Paris, we had steak frites, like, a million times. Without guilt. The reason? The steaks were far thinner than the gigantic ones served here in the United States. By the time we got back, we vowed to eat smaller steaks. You know, for our health, and maybe a little bit because we Americans enjoy "being French" sometimes more than the French do. Things started out well, but pretty soon we began feeling slightly dissatisfied with our petite meat. The problem was that small steaks cook so quickly, they don't develop a sensational char. So I went on a mission to discover a way to get the crusts we craved. Eventually I figured out that a little cornstarch dusted on the meat before cooking absorbs excess moisture and promotes browning. Now I cook all my "baby steaks" this way, as well as thin-cut pork chops and fish fillets. I love to serve these steaks with a bright, acidic sauce, like my carrot "chimichurri." It's a fun riff on a classic version but with the addition of very thinly sliced pieces of carrots and their greens, which lend a sweetness and earthiness that I find to be downright delicious.
2 small carrots (about 2 ounces), quartered lengthwise and very thinly sliced crosswise
¼ cup finely chopped carrot greens
¼ cup plus 2 tablespoons extra-virgin olive oil
¼ cup finely chopped fresh parsley
3 tablespoons fresh lemon juice
1 garlic clove, finely grated
¼ teaspoon red pepper flakes
Kosher salt and freshly ground black pepper
4 (6-ounce) boneless New York strip steaks, cut ½ inch thick (have your butcher cut them like this)
Cornstarch, for dusting
In a medium bowl, whisk the carrots and their greens with ¼ cup of the olive oil, the parsley, lemon juice, garlic, and red pepper flakes. Season the chimichurri generously with salt and black pepper.

In a large cast-iron skillet (as big as you have!), heat the remaining 2 tablespoons olive oil over high heat until almost smoking. Season the steaks with salt and black pepper. Dust both sides of the steaks with the cornstarch and rub it in with your fingers. Add the steaks to the skillet and cook until crusty on the bottom, about 2 minutes. Flip the steaks and cook until crusty on the other side, 1 minute for medium-rare and 2 minutes for medium.

Transfer the steaks to plates and serve with the carrot chimichurri.
DO IT AHEAD The carrot chimichurri can be refrigerated in an airtight container overnight. Bring to room temperature before serving.
Ravioli Lasagna with Arugula
Add this recipe to your Bookshelf (click the blue +Bookshelf button).
Hands-on time: 20 min
Total time: 1 hr 15 min Serves 6 to 8
This is definitely not a traditional lasagna, but who cares when you can make such a good, fast approximation on a weeknight? Store-bought cheese ravioli are the ultimate hack because they let you skip all the layering and spreading. Just parboil them, tear up some fresh mozzarella, and open a jar of good marinara sauce. I sauté the sauce quickly with some ground beef for a cheater Bolognese, but you can skip that step entirely for a veggie version.
2 tablespoons extra-virgin olive oil
1 pound lean ground beef
Kosher salt and freshly ground black pepper
3 cups good-quality marinara sauce, such as Rao's
1 teaspoon red pepper flakes
3 ¼ pounds prepared cheese ravioli, thawed if frozen
2 cups packed chopped baby arugula, plus leaves for sprinkling
1 pound fresh mozzarella cheese, sliced ¼ inch thick and torn into pieces
Preheat the oven to 400°F.
In a large skillet, heat the olive oil over medium heat until shimmering. Add the beef and a generous pinch each of salt and black pepper and cook, breaking up the meat with a wooden spoon, until just cooked through, about 7 minutes. Stir in the marinara sauce and red pepper flakes and cook, stirring occasionally, until bubbling, about 5 minutes. Season the sauce with salt and black pepper.
Spread 1 cup of the sauce over the bottom of a 9 by 13-inch ceramic baking dish and arrange half the ravioli on top. Spread half the remaining sauce on the ravioli and sprinkle the arugula on top. Scatter half the mozzarella on the arugula and season with salt and black pepper. Layer the remaining ravioli, sauce, and cheese on top.
Cover the lasagna tightly with aluminum foil and bake for about 30 minutes, until the filling is bubbling and the cheese has melted. Uncover the lasagna and bake for 15 minutes more, until the top is lightly browned. Let stand for 10 minutes, then sprinkle with arugula and serve.
DO IT AHEAD The unbaked layered lasagna can be covered and refrigerated overnight. Bring it to room temperature and then bake it as directed in step 4.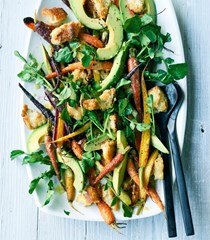 Roasted Carrot and Avocado Panzanella
Add this recipe to your Bookshelf (click the blue +Bookshelf button).
A while back, my buddy Jesse Tyler Ferguson, the incredibly talented actor best known for his role onModern Family, started a food blog with his friend Julie Tanous. It's filled with healthy riffs on classic recipes-lots of Paleo, lots of gluten-free. All delicious! To celebrate the launch, our mutual friend Ellen Bennett, an apron designer, threw a potluck brunch at her place in LA, so I flew out. Jesse and I woke up early that morning and each prepared something to bring. He made a tangy-fresh salad with fresh and pickled tomatoes. Me? I made this recipe. Roasted-carrot salads aren't anything new, but I definitely amped mine up.
Hands-on time: 35 min
Total time: 1 hr 15 min
Serves 8 to 10
1 pound sourdough bread, cut or torn into bite-size pieces
[3/4] cup extra-virgin olive oil
Kosher salt and freshly ground black pepper
1[1/2] pounds small mixed-color carrots, halved lengthwise
1 tablespoon coriander seeds, crushed
2 teaspoons cumin seeds
1 orange, cut into wedges
1 lemon, halved
[1/3] cup champagne vinegar
1 shallot, minced
1[1/2] tablespoons Dijon mustard
4 ripe but firm Hass avocados, pitted, peeled, and cut into wedges
4 cups watercress, thick stems removed
Preheat the oven to 400°F.
On a large rimmed baking sheet, toss the bread with 1/4 cup of the olive oil and season generously with salt and pepper. Spread in an even layer and bake for about 12 minutes, until golden and almost crisp. Transfer to a bowl and let cool. Keep the oven on.
Meanwhile, in a large bowl, toss the carrots, 2 tablespoons of the olive oil, and the coriander and cumin seeds. Squeeze the orange and lemon over the carrots, then add the squeezed fruit to the bowl, too. Season generously with salt and pepper and toss to mix. Spread on two large rimmed baking sheets and roast for about 25 minutes, until lightly charred and tender. Let cool; discard the orange and lemon.
In a small bowl, whisk together the vinegar, shallot, mustard, and the remaining 6 tablespoons olive oil. Season the vinaigrette with salt and pepper.
On a large serving platter or in a serving bowl, gently toss the bread, carrots, and avocados with the vinaigrette. Add the watercress, season with salt and pepper, and toss to mix. Serve at room temperature.
Recipes are excerpted from JUST COOK IT! © 2018 by Justin Chapple. Photography © 2018 by David Malosh. Reproduced by permission of Houghton Mifflin Harcourt. All rights reserved.
The publisher is offering three copies of this book to EYB Members in the US and Canada. One of the entry options is to answer the following question in the comments section of this blog post.
Which recipe in the index would you try first?
Please note that you must be logged into the Rafflecopter contest before posting or your entry won't be counted. For more information on this process, please see our step-by-step help post. Be sure to check your spam filters to receive our email notifications. Prizes can take up to 6 weeks to arrive from the publishers. If you are not already a Member, you can join at no cost. The contest ends at midnight on July 27th, 2018.
Seen anything interesting?
Let us know
& we'll share it!