Ostro by Julia Busuttil Nishimura
July 12, 2018 by Jenny
Julia Busuttil Nishimura started her blog
Ostro
in 2014 and has steadily gained a strong and loyal following for her uncomplicated, seasonal food. As an Australian of Maltese descent and a fluent Italian speaker, who is married to a Japanese man, Julia expertly brings together a broad range of cuisines and culinary influences using the very best produce available. Her style is relaxed and graceful and her food simple, yet elegant.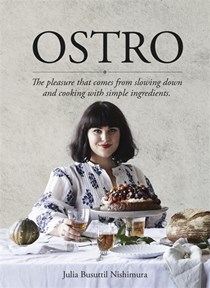 Her debut cookbook,
Ostro: The Pleasure That Comes from Slowing Down and Cooking with Simple Ingredients
reflects that relaxed, elegant beauty in terms of both her food and her life. She guides us through the uniquely satisfying experience of making pasta or pizza dough from scratch, clearly explaining the processes and demystifying the reasons behind them.
Julia also shares simple, flavourful salads and one-tray bakes (like the recipe we are sharing today) for days when time is scarce or the desire to cook is absent. Baking and desserts, too, needn't be overly complicated – as the author demonstrates, some of the best go-to recipes are the ones passed down the generations. But we also need the odd show-stopper on standby for special occasions and this book delivers.
Ostro
is an old friend in your kitchen teaching you to slow down, enjoy life and make good food: "My approach to food favours intuition over strict rules and is about using your hands, rushing a little less and savouring the details. It is food that slowly weaves its way into the fabric of your daily life – food for living and sharing." Brilliant words.
NOTE: While this book is expensive for those on this side of the world (US), the
$13.99 Kindle
price is worth every penny. It is available at
Amazon UK
and on
Kindle there
as well.

Special thanks to Pan Macmillian AU for sharing the following recipe with our members and for providing two copies of this special book that was chosen as one of the Books of the Year 2017 by Gourmet Traveller Australia in our giveaway below.
Tray-roasted chicken with grapes, olives and walnuts
Add this recipe to your Bookshelf (click the blue +Bookshelf button).
Serves 4 to 6
A meal that can be prepared in just a few minutes is sometimes very necessary and much appreciated in the middle of the week. Nice free-range chicken from a reputable source will ensure this dish really sings. You really must use skin-on chicken thighs to prevent them from drying out. I like to use good-quality Italian olives, with their pits still in, for the best result.
6 boneless chicken thigh fillets (about 800 g in total), skin on
120 g red grapes
50 g (¼ cup) olives
2 garlic cloves, roughly chopped
30 g (¼ cup) walnuts
1 rosemary sprig, leaves picked
1 lemon
2 tablespoons extra-virgin olive oil
sea salt
Preheat the oven to 180°C.
Arrange the chicken thighs, skin-side up, in a deep roasting pan. Scatter around the grapes, olives, garlic, walnuts and rosemary. Halve the lemon, squeezing the juice into the pan, then nestle the lemon halves into the grapes and olives. Drizzle with the olive oil, season with sea salt and roast, uncovered, for 40-45 minutes until the chicken is cooked through and golden. If there is too much liquid in the pan, increase the oven temperature to 200°C.

Remove the chicken from the pan, keep warm and return the tray to the oven for 5-10 minutes to reduce the liquid. Return the chicken to the pan and serve.
The publisher is offering two copies of this book to EYB Members in AU and NZ . One of the entry options is to answer the following question in the comments section of this blog post.
Which recipe in the index would you try first?
Please note that you must be logged into the Rafflecopter contest before posting or your entry won't be counted. For more information on this process, please see our step-by-step help post. Be sure to check your spam filters to receive our email notifications. Prizes can take up to 6 weeks to arrive from the publishers. If you are not already a Member, you can join at no cost. The contest ends at midnight on August 29th, 2018.