Too Good To Waste by Victoria Glass
July 15, 2018 by Jenny
Jamie Oliver has stated that the Western world wastes three times the amount of food needed to feed the planet's hungriest people and that up to 50% of our household food will get thrown away every week, untouched. Today, we have more food choices at our fingertips than ever before, but the amount we throw away is at an all-time high.

Cookbooks devoted to reducing this painful truth are emerging fast and furious with several new titles coming soon. Last year, Victoria Glass's Too Good to Waste: How to Eat Everything was published and is a valuable resource for those who wish to make food waste a thing of the past.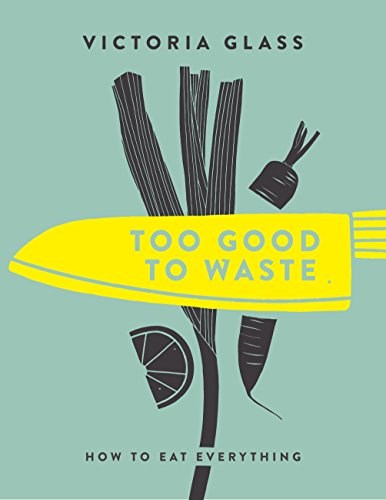 Victoria's smart thinking and shortcuts guide you to make delicious dishes with every bit of your leftover ingredients. Not only does this save money, but it will also help combat food waste. From stale bread to scraps, peel to pods, discover brilliant solutions for your spare egg yolks or whites, leftover rice, vegetable skins and more. Alongside recipes for stocks and preserves to spice up your store cupboard, this book has over 100 inspiring ideas to revolutionize your kitchen.

Rocket gnudi, Wilted watercress and chicken wonton soup, and Salted caramel, chocolate and beetroot fudge cake are just a few recipes that sound perfect enough for guests. You can see from the two photographs below that the dishes shared in this title are beautifully presented. Mindful cooking is not all dandelion greens and wrinkled carrots – it can also be making the best dish out of what you have available.

Inspiring photographs, tasty recipes and great tips throughout make this a top book to start your waste less journey. Special thanks to Nourish for providing two copies of this book in our giveaway below as well as sharing these two beautiful recipes with our members.
Caramelized parsnip tarte Tatin
Add this recipe to your Bookshelf (click the blue +Bookshelf button).
Tarte tatins scream posh, even though they're easier to rustle up than a quiche. This version makes an impressive vegetarian main, or pairs beautifully with roast venison, pork or beef.
3-5 parsnips, peeled and cut into 2cm/¾in rounds (prepared weight 450g/1lb)
1 tbsp olive oil
30g/1oz/2½ tbsp light muscovado sugar
2 tbsp cider or white wine vinegar
50g/1¾oz/3½ tbsp unsalted butter a little plain/all-purpose flour, for dusting
300g/10½oz all-butter puff pastry
fine sea salt and freshly ground black pepper
Heat the oven to 190°C/375°F/Gas 5.
Bring the parsnips to the boil in a saucepan of salted water, then parboil for 5 minutes. Drain and rinse under cold water until they are cool enough to handle.
Heat the oil in a 20cm/8in ovenproof frying pan or tatin pan over a medium heat. Arrange the parsnips, cut-side down, in a single layer as neatly as you have the patience for. Season well. Fry the parsnips for about 5 minutes, without turning, until nice and golden.
Mix the sugar and vinegar with 3 tablespoons water and add it to the pan. Dot the butter across the top and watch it melt in. Turn down the heat and leave to simmer for 10 minutes. If the pan is looking a little dry, add another 1-2 tablespoons water, then turn off the heat.
On a lightly floured work surface, roll out the pastry to about 3mm/⅛in thick. Use a dinner plate as a template and cut around it to make a neat circle. Place the pastry circle on top of the parsnips and tuck in the edges. Prick several times with a fork to allow the steam to escape and bake for 20-25 minutes, or until crisp and golden.
Leave the tatin in its pan for 10 minutes, before turning it out by inverting it onto a serving plate. Pour any juices from the pan over the top and serve as a vegetarian main course with a lightly dressed green salad, or as accompaniment to roast beef, game or pork.
TIP: If you have any leftover pastry, simply re-roll, sprinkle over some grated hard cheese, fold in half and roll again. Cut into 1cm/½in thick strips and twist them before scattering over more cheese and some salt and pepper and baking in a fairly hot (190°C/375°F/Gas 5) oven for 10-15 minutes, or until puffed up and golden.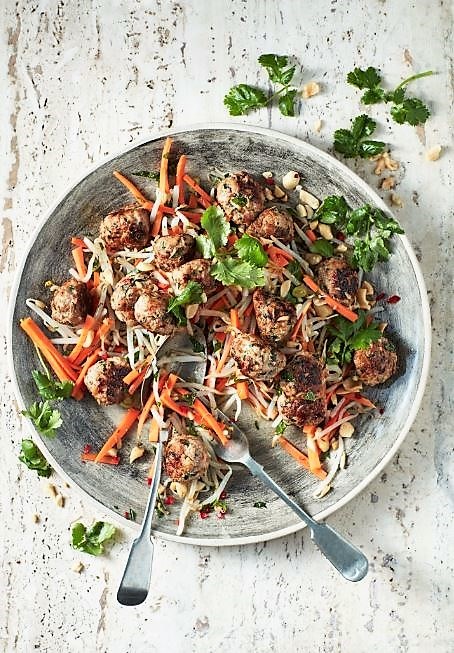 Pork & lemongrass meatballs & aromatic sprout salad
Add this recipe to your Bookshelf (click the blue +Bookshelf button).
Soft, fragrant meatballs complement the crunch of the beansprouts and the tangy dressing in this dish. The meatballs are also perfect alone as a light lunch, or serve with steamed rice for a more substantial supper.
For the meatballs
500g/1lb 2oz minced/ground pork
4 shallots, finely chopped
1 bunch of coriander/cilantro, stalks removed and finely chopped, leaves reserved
½-1 red chilli, finely chopped
3 garlic cloves, crushed
2 lemongrass stalks, trimmed, bruised and finely chopped
2 tbsp fish sauce
1 tsp sugar groundnut/peanut oil, for frying
fine sea salt
For the salad
300g/10½oz/3 cups beansprouts
juice of 1 lime
2 tbsp groundnut/peanut oil, plus extra for frying
2 tbsp fish sauce
1 tsp sugar
2 spring onions/scallions, sliced
1 garlic clove, crushed
½-1 red chilli, finely chopped
2 carrots, scrubbed and cut into fine matchsticks
1 large bunch of mint, leaves picked and roughly chopped
reserved coriander/cilantro leaves, roughly chopped
80g/2¾oz/heaped ¾ cup salted roasted peanuts, chopped
Heat the oven to 150°C/300°F/Gas 2.
Put all the meatball ingredients, except the frying oil and salt, into a bowl and mix thoroughly.
Heat a little oil in a heavy-based frying pan over a medium heat and fry a teaspoonful of the mixture for a few minutes until cooked. Taste and adjust the seasoning of the mixture, if needed. Shape into 24 walnut-sized meatballs and put in a roasting pan. Pop in the refrigerator to chill.
Blanch the beansprouts in a large saucepan of boiling water for 2 minutes, then drain and run them under the cold tap to cool.
In a large bowl, mix together the lime juice, groundnut/peanut oil, fish sauce, sugar, spring onions/scallions, garlic, chilli and carrots. Toss in the beansprouts and set aside at room temperature while you fry the meatballs.
Heat a little peanut or sunflower oil in a frying pan over a low-medium heat. Working in batches so the pan is not overcrowded, fry the meatballs for about 5 minutes until the undersides are a deep golden brown. Turn and fry for a further 5 minutes until they are browned and cooked through.
Transfer to an ovenproof dish and keep them warm in a low oven while you fry the remaining meatballs. Once they are all cooked, toss the chopped herbs through the beansprouts and sprinkle with the peanuts. Serve with the hot meatballs.
Recipe excerpts and photographs taken from Too Good to Waste by Victoria Glass, published by Nourish Books in 2017.
The publisher is offering two copies of this book to EYB Members in the US, UK and CA. One of the entry options is to answer the following question in the comments section of this blog post.
Which recipe in the index would you try first?
Please note that you must be logged into the Rafflecopter contest before posting or your entry won't be counted. For more information on this process, please see our step-by-step help post. Be sure to check your spam filters to receive our email notifications. Prizes can take up to 6 weeks to arrive from the publishers. If you are not already a Member, you can join at no cost. The contest ends at midnight on August 29th, 2018.