Celebrating another milestone
July 16, 2018 by Darcie
The EYB indexing team is always working diligently to make sure the best new releases are indexed as soon as they are published. Their hard work has allowed us to hit another milestone of 8,000 books indexed on EYB.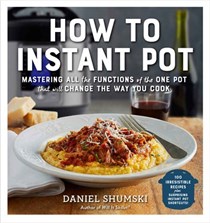 What book was the 8,000th? How to Instant Pot by Daniel Shumski which has an
for our members to take a look at and is on 90 members' Bookshelves. For those of you interested in an Instant Pot – today's Prime Day special is an Instant Pot DUO60 6 Qt 7-in-1 Multi-Use Programmable Pressure Cooker, Slow Cooker, Rice Cooker, Steamer, Sauté, Yogurt Maker and Warmer for $58.99 – the lowest price ever in the US. The Canada Prime Day deals are currently unavailable. Update: Today July 17, How to Instant Pot is a Prime Day Deal!
As we extend a well-earned "huzzah!" to our wonderful indexers, we'd also like to recognize our Member indexers, who currently account for 35% of new books indexed. A hearty thanks to each and every one of you for contributing to this exciting milestone.
It was just over a year ago that we celebrated 7,000 indexed books, so I thought I would take a quick look at statistics in the Library to see where we stand today. Combined, the number of recipes inside the 8,000 indexed books is over 1.35 million! To save you from doing the math, that is an average of about 170 recipes per book. The books run the gamut from general cookery books to deep-dive specialty books, spanning all seven continents (only one book touches on Antarctica – The Thyme Bandit Cookbook: Recipes from White Star Farms and a Lifetime of Cooking from Alaska to Antarctica and All Places in Between. Below is a collage of covers of our most recently indexed books.
Although most classic cookbooks aren't available in digital format, with our EYB Book Preview (149 titles to date) and new EYB Digital features, more recipes than ever can be accessed from electronic devices like computers, tablets, and phones. The Preview feature is an excellent way to sample a book before you commit to purchasing it, and EYB Digital has the potential to streamline the way you use your cookbooks.
Remember, you can request to index a book yourself (it isn't difficult and most Members who do this end up doing more than one book) or you can request that EYB index it. Older or more obscure books are placed into the queue for indexing according to number of requests, so make sure you submit a request for any books you would like to see indexed. Here's looking forward to the next milestone!