Tuscany by Katie and Giancarlo Caldesi
July 17, 2018 by Jenny
In 1997 restaurateur, Giancarlo Caldesi met artist, Katie. He fell in love with her painting and she with his pasta. They now sit at the helm of two restaurants, Caffé Caldesi and Caldesi in Campagna, run a busy cookery school, have authored a library of cookery books and have two sons.
The cooking couple's latest title, Tuscany: Simple Meals and Fabulous Feasts from Italy is a welcomed addition to my library which contains all of their cookbooks. Each month, I would buy an older title until I had them all. I tend to do that when I find an author(s) I love. Just a heads up, their next title, The Long and the Short of Pasta will be published this Fall and is a compilation of their favorite pasta dishes from earlier titles. See our
for a look inside this upcoming release.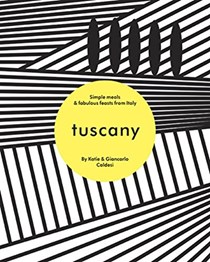 Tuscany takes readers on a culinary journey through a Tuscan day. Breakfasts are thoughtful and planned out, lunch often eaten at home with family, and weekend dinners a feast. The Caldesis' share their knowledge as if we are their students but deliver the instructions and recipes as if we were their family. The ultimate teachers, they leave nothing to chance – sharing with us tips and tricks from how to make a cartoccio, a parcel constructed of cooking paper that traps the flavors and juices of those ingredients carefully placed within, to how to store low-sugar preserves. Their culinary experience is generously shared on each page of this beautifully photographed book that captures the people, their stories and, of course, the food of Tuscany.

There is nothing pretentious or overly complicated in the way the couple cooks or teach. At its heart, this book is a celebration of food whether it be toasted bread with a tasty and well executed topping assortment to Fabrizio's hand-rolled pasta strands. Tuscany is a glorious snapshot into the calm and relaxed Tuscan lifestyle.
Our
presents a beautiful picture of the content of this title and features the following
:
Special thanks to Hardie Grant for supplying the materials for our preview as well as for providing three copies of this book in our giveaway below.
The publisher is offering three copies of this book to EYB Members in the US, UK, AU and NZ. One of the entry options is to answer the following question in the comments section of this blog post.
Which recipe in the index would you try first?
Please note that you must be logged into the Rafflecopter contest before posting or your entry won't be counted. For more information on this process, please see our step-by-step help post. Be sure to check your spam filters to receive our email notifications. Prizes can take up to 6 weeks to arrive from the publishers. If you are September 4th, 2018.
Seen anything interesting?
Let us know
& we'll share it!