Madeleine Kamman has died at age 88
July 18, 2018 by Darcie
We have just learned of the passing of Madeleine Kamman, a pioneering French chef, restaurateur, and mentor to hundreds of chefs. Kamman was born in Paris and started her culinary career in 1940 at her aunt's restaurant in the Touraine region of France. She moved to America with her husband in 1960, where she became a revered culinary instructor. She opened her own cooking school in 1971 and helmed a string of cooking schools in the US and France in a career that spanned over 30 years. She also hosted a PBS cooking show that ran from 1984-1991.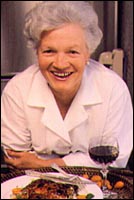 In addition to these achievements, Kamman wrote seven highly-regarded cookbooks and a memoir called 'When French Women Cook'. While her teaching techniques were sometimes considered controversial, Kamman had a profound influence on her students, such as cooking teacher and author Joanne Weir.
When Kamman stepped down from her cooking school in 2000, Weir noted that she incorporated history, geography, geology and food science into her teaching and – years before Harold McGee and others dived into the scientific aspects of cooking – frequently lectured her students on the chemical reactions that occur in the kitchen.
Kamman was the winner of multiple James Beard awards, including Cookbook of the Year, and the James Beard Foundation Lifetime Achievement Award.