The Flavor Matrix – James Briscione with Brooke Parkhurst
July 19, 2018 by Jenny
The Flavor Matrix: The Art and Science of Pairing Common Ingredients to Create Extraordinary Dishes by James Briscione and Brooke Parkhurst is a revolutionary new guide to pairing ingredients, based on groundbreaking research into the chemical basis of flavor.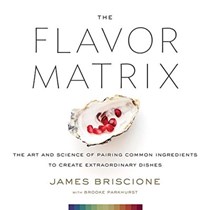 As an instructor at one of the world's top culinary schools, James Briscione thought he knew how to mix and match ingredients. That view quickly changed when he began working with IBM supercomputer Watson (or more appropriately Chef Watson) to turn big data into delicious recipes using 150 of the most commonly used ingredients. Each ingredient's characteristics are displayed in a sunburst graph displaying the best flavor pairings and more.
The Flavor Matrix
is culinary DNA meets You're Eating It Wrong to deliver extraordinary dishes.
Briscione and Parkhurst (husband and wife dream team) distills chemical analyses of different ingredients into easy-to-use infographics, and presents mind-blowing recipes that he's created with them. The result of intensive research and incredible creativity in the kitchen,
The Flavor Matrix
is a must-have for home cooks and professional chefs alike.
Don't shy away from this title thinking it is too scientific. While it does provide a wealth of information, the recipes are approachable and include such dishes as Sweet pea, pork and coconut tacos, Peanut and lime macarons with dulce de leche and Cocoa and chile-rubbed beef that any level cook can reproduce easily.
If you are in the Pensacola, Florida area – you are in for a treat. The couple are nearing the grand opening of their Italian restaurant,
Angelena's
. You can check out their
Facebook page
for updates.

Our
shares a look inside this fabulous book and features the following
recipes:
Special thanks to HMH Cookbooks for sharing the materials for our preview above and providing three copies of this title in our giveaway below.
The publisher is offering three copies of this book to EYB Members in the US and Canada. One of the entry options is to answer the following question in the comments section of this blog post.
Which recipe in the index would you try first?
Please note that you must be logged into the Rafflecopter contest before posting or your entry won't be counted. For more information on this process, please see our step-by-step help post. Be sure to check your spam filters to receive our email notifications. Prizes can take up to 6 weeks to arrive from the publishers. If you are not already a Member, you can join at no cost. The contest ends at midnight on September 5th, 2018.