From the North Promotion
July 2, 2018 by Jenny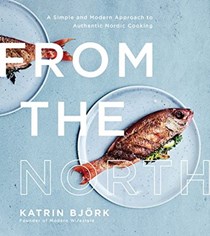 From the North: A Simple and Modern Approach to Authentic Nordic Cooking by Katrin Bjork celebrates the classic dishes of Nordic countries, while making them more accessible and approachable for the rest of the world.

Katrín was born in Iceland, moved to Denmark to study photography and ended up living there for 14 years. Now she resides in New York where she writes the blog, Modern Wifestyle.
Katrín includes recipes for basic staples including Blueberry jam, Smoked butter, and Sourdough starter. A few other examples include Skyr cake, which highlights traditional Icelandic yogurt and a crust of fresh fruit and nuts and looks super easy and delicious and Danish crackling pork with sugar-glazed potatoes for the ultimate meat and potatoes dinner with a touch of sweetness.
The author was the photographer for this title and her photos are elegant and inspiring. I have her Brussels sprouts with smoked butter and sage, Reindeer meatballs with mushrooms (I'll use beef), and Crushed potatoes with horseradish and duck fat on the menu this week and will report back. We finally moved this weekend and I hope I can find all my spices to pull this dinner off.
For a look inside From the North our
features these
recipes:
Special thanks to Page Street Publishing for the materials for our preview as well as providing three copies of this stunning book in our contest below.
The publisher is offering three copies of this book to EYB Members in the US. One of the entry options is to answer the following question in the comments section of this blog post.
Which recipe in the index would you try first?
Please note that you must be logged into the Rafflecopter contest before posting or your entry won't be counted. For more information on this process, please see our step-by-step help post. Be sure to check your spam filters to receive our email notifications. Prizes can take up to 6 weeks to arrive from the publishers. If you are not already a Member, you can join at no cost. The contest ends at noon on August 17th, 2018.