Dosa Kitchen by Nash Patel and Leda Scheintaub
July 25, 2018 by Jenny
Every day millions of South Indians eat a light, crisp crepe made of rice and lentils with or without an endless number of various fillings. These crepes are called dosas and are attractive to many with dietary restrictions as they are gluten-free and dairy-free with the added benefits obtained from being a fermented product. The varieties of savory or sweet fillings make them desirable to vegetarians, vegans and carnivores alike.

The Dosa Kitchen, a Vermont food truck launched in 2014 by Nash Patel and Leda Scheintaub, has made this sour, delicious staple a hot commodity in Brattleboro. From their kitchen on wheels, they share their love for farm-to-table food via the dosa with locals and tourists alike that line up to try their food.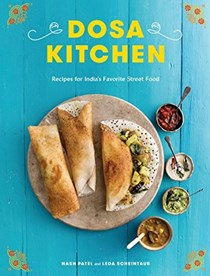 Thanks to Nash and Leda, the dosa is no longer confined to urban cities with Indian restaurants or to the homes of Indian cooks. Their debut cookbook (and first cookbook devoted to this Indian staple) Dosa Kitchen: Recipes for India's Favorite Street Food makes the dosa available to us all. Sharing their foolproof technique, the couple promises we can create dosas with the bonus of recipes for fillngs from cream cheese, lox and caper to pulled pork with tamarind barbecue chutney. Step-by-step photographs and pages of their vibrant dishes will inspire and guide us to setting up a dosa kitchen for ourselves.
For a glance inside this spectacular title, see our
which features three recipes in our
for the following dishes:
The publisher is offering three copies of this book to EYB Members in the US. One of the entry options is to answer the following question in the comments section of this blog post.
Which recipe in the index would you try first?
Please note that you must be logged into the Rafflecopter contest before posting or your entry won't be counted. For more information on this process, please see our step-by-step help post. Be sure to check your spam filters to receive our email notifications. Prizes can take up to 6 weeks to arrive from the publishers. If you are not already a Member, you can join at no cost. The contest ends at midnight on September 10th, 2018.