The Indian Vegetarian Cookbook
July 27, 2018 by Jenny
In The Indian Vegetarian Cookbook, Pushpesh Pant delivers fresh, delicious, easy Indian vegetarian dishes that don't compromise on flavor, texture or enjoyment. Pant, a professor at the Jawaharlal Nehru University in New Delhi and a regular recipe columnist, is also the author of Phaidon's global bestseller, India: The Cookbook as well as a library of other titles.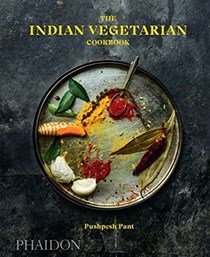 Here, the author shares 150 healthy and approachable vegetarian recipes showcased in a vibrant array of delicious breakfasts and drinks, salads, vegetables and legumes, grains, and even desserts. Vegetables are an integral part in global cuisine and especially in Indian dishes.

Drawing inspiration from India's myriad regions and culinary traditions, Pant simplifies this hugely popular cuisine with easily achievable, nourishing, and authentic dishes that are tasty and satisfying to vegetarians, meat-eaters, and those simply wishing to reduce the amount of meat in their diet. I, for one, love my vegetables but am totally unable to resist their charms when paired with the spices of India. The Indian Vegetarian Cookbook has me inspired to dive into my larder of spices and get cooking.
Please remember Eat Your Book members receive 30% off Phaidon titles when using the link provided for this title and all Phaidon books which are in a class by themselves.
Our
delivers a look inside this stunningly presented book and highlights the following
dishes:
Special thanks to Phaidon for providing the materials for our preview and offering two copies of this beautiful book in our giveaway below.
The publisher is offering two copies of this book to EYB Members in the US, CA, UK and AU. One of the entry options is to answer the following question in the comments section of this blog post.
Which recipe in the index would you try first?
Please note that you must be logged into the Rafflecopter contest before posting or your entry won't be counted. For more information on this process, please see our step-by-step help post. Be sure to check your spam filters to receive our email notifications. Prizes can take up to 6 weeks to arrive from the publishers. If you are not already a Member, you can join at no cost. The contest ends at midnight on September 5th, 2018.