Southern From Scratch
July 31, 2018 by Jenny
Ashley English has authored a number of cookbooks ranging from homesteading to pie making to picnics. Her books are treasures and will become worn and food splattered from love and use. Her latest, Southern from Scratch: Pantry Essentials and Down-Home Recipes delivers 150 recipes that will not only guide us to creating our own Southern foods pantry but will inspire and encourage us to make more staples from scratch.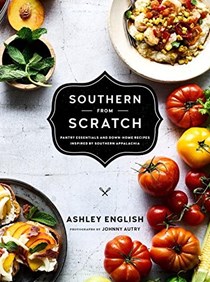 Ashley begins with preservation and freezing techniques that are shared via step-by-step photographs before diving into chapters that are organized as follows: pickles and relishes, jams and spreads, sauces and vinegars, fruits and vegetables, dry goods and sundries, fats and meats, ice box and freezers, and sweeteners and desserts. She has thought of everything in this well-organized and thoughtful book.
Southern from Scratch is not only a beautiful work (as are typical with Roost Books' titles and Ashley's modus operandi) but also shares a collection of recipes that we will turn to time and again. From making your own Sour cream or Pimento cheese to Breakfast sausages shaped into meatballs that will turn your brunch upside down, this book will please any level of cook. Recipes include Southern Shakshuka with hoecakes, Buttermilk and smoky paprika fried chicken (using homemade buttermilk but I won't tell anyone if you buy the buttermilk, I promise), and a Salted caramel cake that is slap ya' mama good. This book should be on everyone's bookshelf as it is a valuable resource for scratch cooks as well as those who want reliable home-spun recipes.
Our
provides a lovely look inside this title and features the following
dishes:
Thanks to the publisher, Roost Books, for sharing the materials for our preview above and for providing five copies of this keeper title in our giveaway below.
The publisher is offering five copies of this book to EYB Members in the US and Canada. One of the entry options is to answer the following question in the comments section of this blog post.
Which recipe in the index would you try first?
Please note that you must be logged into the Rafflecopter contest before posting or your entry won't be counted. For more information on this process, please see our step-by-step help post. Be sure to check your spam filters to receive our email notifications. Prizes can take up to 6 weeks to arrive from the publishers. If you are not already a Member, you can join at no cost. The contest ends at midnight on September 15th, 2018.