What's new at the Fancy Food Show
July 4, 2018 by Darcie
Wander down the aisles of any large supermarket or grocery store and you will be bombarded with choices. There are rows and rows of every type of processed food imaginable, from chips/crisps to cookies to pickles to soups and sauces and so much more. How do those myriad items find their way onto the store's shelves? One part of the process is the trade show, like the Fancy Food Show that was just held at the Javits Center in New York City. Bon Appétit's Alex Beggs takes us inside this enormous event.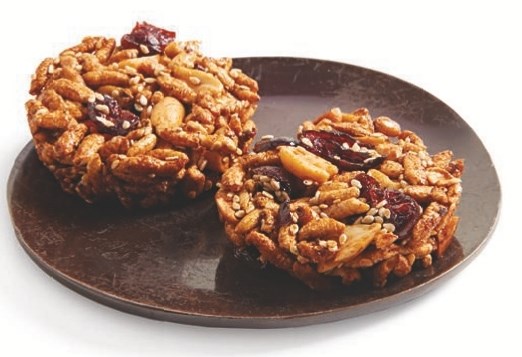 The Fancy Food Show is one way that food producers catch the eye (and tastebuds) of buyers for supermarkets, kitchen stores, and convenience stores. Vendors provide samples of their wares to interested parties, offering stories to help sell the product. According to Beggs, smoked items were rampant, with everything from smoked chocolate to smoked honey and even smoked olive oil. "That's how you know a trend is over, I was told by an apt specialty store owner," he says.
Puffy was another big theme at the event. "Take a grain, seed, whatever, and puff it with air to make it a snack," says Beggs. He sampled puffed quinoa, rice, and edamame, just to name a few. With over 2,600 companies at the show, there is no way to sample – or even visit – all of the items on display.
Photo of Puffed grain and miso cookies from Better Homes & Gardens Magazine by Dorie Greenspan