The New Spanish
July 5, 2018 by Jenny
The New Spanish: Bites, Feasts, and Drinks by Jonah Miller and Nate Adler presents the cuisine of Spain with an exuberance that takes into consideration the way we eat and cook today. Packed with brilliant illustrations and quirky photography, this book is a full throttled ride to Spain that delivers everything but typical tapas fare. It is the authors' hope that Spanish food will be embraced by cooks for weekly menu planning and no longer relegated to themed dinners.
Miller and Adler know their stuff (they've traveled extensively in Spain), but here they're mixing up the old country rules. Recipes include a seafood salad made with Clamato®, golden squash christened with Marcona almonds, Basque sausages in hot dog buns, a cocktail made with red wine and Coca-Cola® (they say "trust us, it's delicious"), and even a blueprint for making your own vermouth from scratch. Normally heavy dishes, like duck with sherry and olive sauce, is given a makeover to be fresher and more intensely flavorful as a result. Seasonal produce plays a huge factor in these recipes as well.

The book is served up as a meal is, chapters start with Pintxos (super-simple skewered bites) and Conservas (canned and pickled foods are the unlikely jewels of Spanish cooking) then move on through Eggs, Vegetables, Rice & Grains, Meat & Poultry, Fish, and Dessert. The traditional flavors and celebratory vibe of Spanish-style eating is combined with modern techniques and a tongue-in-cheek attitude, The New Spanish makes for the perfect introduction to the cooking of Spain. Here the recipes are approachable, tips are shared throughout (such as frying cherry tomatoes for a minute to make peeling easier), ingredients are easily obtainable and the book is just pure fun and inspiration.
Special thanks to the publishers for sharing the following recipe with our members today and for providing copies of this title in our giveaway below.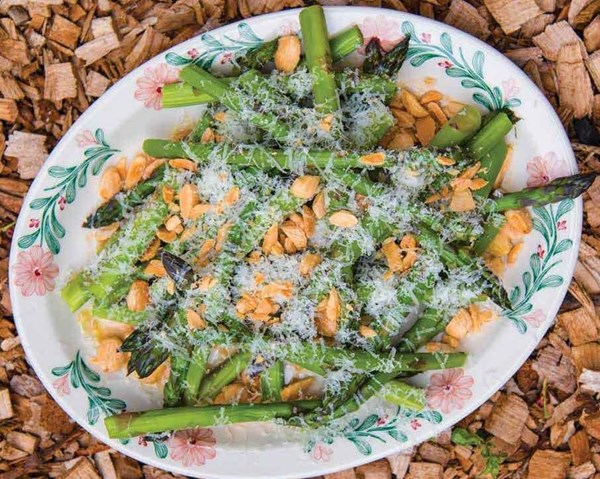 Asparagus with almonds and Roncal (Espárragos con almendras y queso)
Add this recipe to your Bookshelf (click the blue +Bookshelf button).
As you'll find with most recipes in this chapter (with the exception of salad-like preparations), our approach to vegetables is typically not to combine them, but rather let them all play a starring role, with techniques, seasonings, and flourishes that highlight or complement their flavors and textures. You can certainly roast or grill the asparagus here, but because the almonds, Roncal, and mustard are all assertive flavors, we usually opt for the milder results from blanching the asparagus. – Jonah Miller and Nate Adler
Serves 4 as a part of a larger meal
1 pound asparagus
Salt and freshly ground black pepper
2 tablespoons olive oil
2 tablespoons aged sherry vinegar
1 tablespoon fresh lemon juice
1/2 teaspoon Dijon mustard
2 ounces Roncal or Manchego cheese, grated
2 tablespoons Marcona almonds, chopped
Trim the woody ends of the asparagus stalks by gripping them, one at a time, with one hand at the very bottom of the stalk and one in the middle. Bend until the end snaps off, letting it break where it will naturally. It's usually about one-fourth of the way up the stalk. If the asparagus are very thick, you can peel off the outer skins with a vegetable peeler to tenderize them.
Fill a pot large enough to hold the asparagus either vertically or horizontally three-fourths full of water and bring to a simmer over high heat. Salt the water heavily; it should taste of the sea.
Next, add the asparagus to the seasoned, simmering water and, depending on the thickness of the stalks, simmer for 1 to 3 minutes. The best way to tell if they are done is to taste-test one; they should still have some snap to them and remain bright green. Drain the asparagus. Pat the stalks dry and transfer to a platter large enough to spread the asparagus in a single layer.
In a bowl, whisk together the olive oil, vinegar, lemon juice, and mustard. Don't worry about slowly adding the oil, as there's no need to emulsify this vinaigrette. Season with salt and pepper.
To finish, spoon the vinaigrette over the plated asparagus and top with the almonds and grated cheese. Serve immediately.
The publisher is offering four copies of this book to EYB Members in the US/UK – two winners in each region. One of the entry options is to answer the following question in the comments section of this blog post.
Which recipe in the index would you try first?
Please note that you must be logged into the Rafflecopter contest before posting or your entry won't be counted. For more information on this process, please see our step-by-step help post. Be sure to check your spam filters to receive our email notifications. Prizes can take up to 6 weeks to arrive from the publishers. If you are not already a Member, you can join at no cost. The contest ends at midnight on August 22nd, 2018.
Seen anything interesting?
Let us know
& we'll share it!