The Bordeaux Kitchen
August 12, 2018 by Jenny
In February, I was able to attend the IACP* conference in New York where I met a number of authors including Tania Teschke, who wrote The Bordeaux Kitchen: An Immersion into French Food and Wine, Inspired by Ancestral Traditions. Tania is an old soul who cares deeply about others and nutrition. Her demeanor puts you at ease and her kindness is inspirational. Her debut cookbook reflects all of these things with the added bonus of harvesting her vast knowledge between its pages.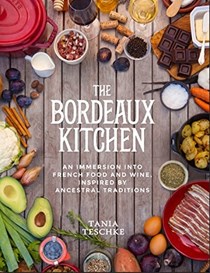 Countless photographs and over 200 recipes fill this book but the real value here is Tania's narrative and her encyclopedic knowledge of the Bordeaux kitchen and nutrition. In addition, the author explains how eating an ancestral diet is healthier than a modern diet that can contain processed foods and harmful chemicals. While delivering dishes that rely on fermented foods, raw food and other techniques that the French have relied on for centuries, Tania's recipes are still comforting and delicious.
Bone-in prime rib, Pears in butter and cinnamon, and Rosemary pork ribs are a few of the dishes here along with stocks, condiments from scratch, and lots of wine and cheese! It is apparent that Tania invested years and a good portion of her gentle soul into this work and they were very well spent. It's a beautiful book that every cook should read to soak all things Bordeaux. Tania has some events planned in the US, please check our calendar to see if she is near you.
Our
takes you inside this book which shares a wealth of information and inspiration. The following dishes are featured in our
for you to try now.
Primal Blueprint, the publisher, has several podcasts with Tania talking about her book on their site that are interesting. Special thanks to the author and Primal Blueprint for providing the materials for our preview above as well as providing two copies of this book in our giveaway below.
The publisher is offering two copies of this book to EYB Members in the US and Canada. One of the entry options is to answer the following question in the comments section of this blog post.
Which recipe in the index would you try first?
Please note that you must be logged into the Rafflecopter contest before posting or your entry won't be counted. For more information on this process, please see our step-by-step help post. Be sure to check your spam filters to receive our email notifications. Prizes can take up to 6 weeks to arrive from the publishers. If you are not already a Member, you can join at no cost. The contest ends at midnight on September 27th, 2018.
*More information on IACP including a new member discount can be found on this post.