The Art and Craft of Chocolate
August 14, 2018 by Jenny
The earliest evidence of chocolate dates back to 1900 BC where it was used in beverages in Mexico. In Nathan Hodge's The Art and Craft of Chocolate: An Enthusiast's Guide to Selecting, Preparing and Enjoying Artisan Chocolate at Home, the world-renowned chocolatier shows how to hack the basic principles of chocolate-making at home using tools as simple as a food processor, a hair dryer, or a double boiler ("hacks at home"). In addition, he offers recipes for traditional moles from different regions of Mexico; traditional Mayan chocolate drinks; cocoa as a meat rub; and various baked goods.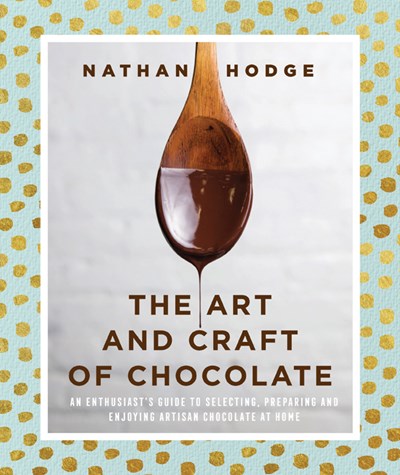 For centuries, chocolate and cacao have been used for many purposes all over the world from a currency during the Mayan empire, to homemade beverages consumed by farm workers in Central America for energy, as well as tortillas and moles in Mexican cuisine. About a year ago, I attended an event at Cholaca in Boulder, Colorado, the producer of pure liquid cacao. One sip of their product had me buzzing for hours so I can attest to the energy aspect.
Here, Hodge delivers a brief history of chocolate as well as how cacao is processed from bean to bar. He then explains techniques such as how to properly temper chocolate before providing recipes for dishes that include Chocolate stout rolls to Cocoa nib pappardelle with wild mushroom cream sauce. The Art and Craft of Chocolate covers chocolate in depth and provides insightful facts and tempting recipes.
Our
takes you inside the pages of this book and features the following
dishes for you to try now:
The photographs, as you can see, are beautiful and the recipes are pure inspiration. Special thanks to Quarry Books for sharing the materials for our preview above as well as providing three copies of this title in our giveaway below.
The publisher is offering three copies of this book to EYB Members in the US, CA and UK. One of the entry options is to answer the following question in the comments section of this blog post.
Which recipe in the index would you try first?
Please note that you must be logged into the Rafflecopter contest before posting or your entry won't be counted. For more information on this process, please see our step-by-step help post. Be sure to check your spam filters to receive our email notifications. Prizes can take up to 6 weeks to arrive from the publishers. If you are not already a Member, you can join at no cost. The contest ends at midnight on October 2nd, 2018.