Bake From Scratch Volume 2
August 15, 2018 by Jenny
Bake from Scratch is an incredible magazine which I have written about in prior articles: the Taste of the South's makeover and the publication of Cook Real Food. Hoffman Media, the publisher, produces magazines that contain recipes and photographs that equal, and at times surpass, cookbook quality. Each year they compile all those tempting recipes from their magazine into one beautiful book.

Bake from Scratch, the first volume was published in 2017 and Bake from Scratch, Volume Two: Artisan Recipes for the Home Baker was released earlier this year. The third volume can be preordered now and for bread bakers, The Bread Collection will be published on September 1st! We will have lots of baking in our futures.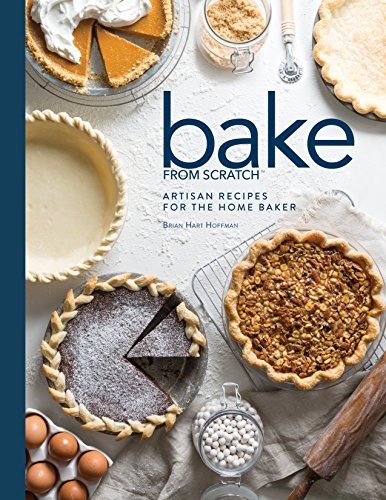 If you subscribe to the magazine, you might question why you would need the cookbook? It is simple – the cookbook is gorgeous, and we are cookbook lovers after all, are we not? Why do I have a subscription when I can get the book a year later? Because I don't want to wait a year for these recipes! I do hand off my magazines to others after the cookbooks are published and I have verified that all the recipes are indeed in the compilation volumes. (They are save those recipes that were published in prior cookbooks. Those recipes we have access to in the original author's cookbook or online.) We do index the magazines and cookbooks for our members.
Bake from Scratch volumes are organized by Cakes, Breads, Pies and Tarts, Pastries, Cookies and Bars, ending with a Miscellaneous chapter with doughnut, puddings and candies. I particularly love that their weight amounts are given in weight and volume and the same stunning photography that graces the pages of the magazines fill these titles.
Hoffman Media is sharing one of their recipes with our members today and offering two copies of Volume Two in our giveaway below. Be sure to check out their magazines and books – they are not to be missed and offer endless inspiration and tasty baked goods.
Rhubarb Brown Sugar Cake
Add this recipe to your Bookshelf (click the blue +Bookshelf button).
Makes 1 (9-inch) cake
Ingredients
¾ cup (170 grams) unsalted butter, softened
1½ cups (330 grams) firmly packed dark brown sugar
1 tablespoon (2 grams) orange zest
2 large eggs (100 grams)
1 teaspoon (6 grams) vanilla bean paste
1½ cups (188 grams) all-purpose flour
¾ teaspoon (3.75 grams) baking powder
½ teaspoon (1.5 grams) kosher salt
¾ cup (180 grams) whole buttermilk
1 cup (100 grams) diced rhubarb
½ cup (50 grams) sliced rhubarb
2 tablespoons (24 grams) granulated sugar
Instructions
Preheat oven to 350°F (180°C). Spray a 9-inch round cake pan with baking spray with flour.
In the bowl of a stand mixer fitted with the paddle attachment, beat butter, brown sugar, and zest at medium-high speed until fluffy, 3 to 4 minutes, stopping to scrape sides of bowl. Add eggs, one at a time, beating well after each addition. Beat in vanilla bean paste.
In a medium bowl, whisk together flour, baking powder, and salt. Reduce mixer speed to low, and gradually add flour mixture to butter mixture alternately with buttermilk, beginning and ending with flour mixture, beating just until combined after each addition. Fold in diced rhubarb. Pour batter into prepared pan. Top with sliced rhubarb, and sprinkle with granulated sugar.
Bake until a wooden pick inserted in center comes out clean, 35 to 40 minutes. Let cool in pan for 10 minutes. Remove from pan, and let cool completely on a wire rack.
The publisher is offering two copies of this book to EYB Members in the US. One of the entry options is to answer the following question in the comments section of this blog post.
Which recipe in the index would you try first?
Please note that you must be logged into the Rafflecopter contest before posting or your entry won't be counted. For more information on this process, please see our step-by-step help post. Be sure to check your spam filters to receive our email notifications. Prizes can take up to 6 weeks to arrive from the publishers. If you are not already a Member, you can join at no cost. The contest ends at midnight on September 30th, 2018.