Wild Bread – Flour – Water – Air
August 18, 2018 by Jenny
Wild Bread: Sourdough Reinvented by MaryJane Butters completely reinvents the concept of healthier-for-you, naturally fermented sourdough. Until now, sourdough was perceived as too much work and sour-tasting, artisan-style-only loaves. Here, her quick and easy 1 minute 2x/day technique demonstrates the use of eight different types of flours for each bread featured – everything from gluten-free brown-rice flour to quinoa to common white to heirloom whole wheat – for a grand total of 295 recipes and 475 photographs. This is an encyclopedic volume devoted to sourdough.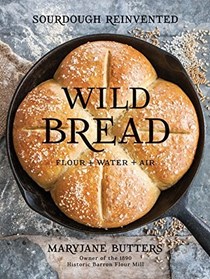 Using her step-by-step method, every style of bread imaginable, including gluten-free, will loft with wild abandon without the purchase of a single packet of not-so-healthy, store-bought yeast. In nutritionally superior wild-yeast bread, fermentation triggers the release of vital nutrients and breaks down carbohydrates. In MaryJane's world, there's no such thing as too much bread because once you convert to slow-rise wild-bread making, that bagel you've been thinking about is more like a vitamin pill than a source of "carb-loaded" guilt. I'm excited to try the author's recipe for sourdough bagels myself as I've been on a quest lately to find the best.
Our
provides a look inside this title and features the following
and variations include:
Special thanks to Gibbs Smith for providing the materials for our preview as well as offering three copies of this book in our worldwide giveaway.
The publisher is offering three copies of this book to EYB Members worldwide. One of the entry options is to answer the following question in the comments section of this blog post.
Which recipe in the index would you try first?
Please note that you must be logged into the Rafflecopter contest before posting or your entry won't be counted. For more information on this process, please see our step-by-step help post. Be sure to check your spam filters to receive our email notifications. Prizes can take up to 6 weeks to arrive from the publishers. If you are not already a Member, you can join at no cost. The contest ends at midnight on October 13th, 2018.
Seen anything interesting?
Let us know
& we'll share it!