Buyer beware when it comes to cookbook safety
August 19, 2018 by Darcie
The recent recall of Tales from a Forager's Kitchen got me thinking about food safety in cookbooks. Many modern books go out of their way to be safe, with meticulous instructions and caveats – especially books on sous vide cookery. With older books and self-published books, you're on your own.
Books by self-described foragers or naturalists are among the most danger-prone. I purchased the self-published cookbook Native Harvest after reading an intriguing article in The New Yorker about the owner/chef Damon Baehrel. Baehrel owns and operates a tiny restaurant in upstate New York in which he serves foods that are mostly made from ingredients on his 12-acre property. The chef goes to great lengths in his preparations, making flours from almost every plant or tree imaginable (including clover and willow bark), among other esoteric ingredients.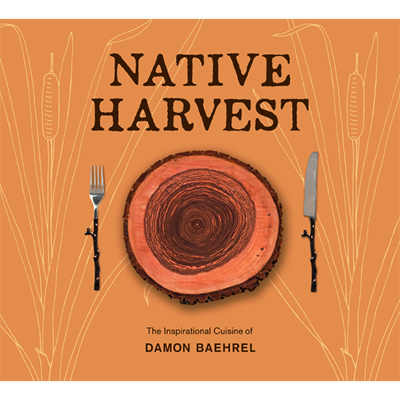 While Baehrel's book has a few warnings (about the potential dangers of foraging for wild mushrooms and using pine needles for brine), it contains some dubious recommendations. For instance, he suggests cooking vegetables at low temperatures in the soil in which they are grown. He also advocates making ingredients such as acorn flour without mentioning that unprocessed acorns are exceedingly tannic and can make you ill. Baehrel also touts the attributes of staghorn sumac with no caveat regarding other types of sumac that can severely irritate your skin if you touch them.
Many older canning and preserving books also advocate methods that don't meet modern safety standards. I recently snagged a copy of Mes Confitures and was a bit surprised that the author recommended the inversion method of sealing (filling jars with hot jelly, putting on the lids, and turning them upside-down). While I know many people use this method, it is no longer considered safe, at least in the US. If you are interested, Marisa McClellan of the indexed blog Food in Jars has an excellent explanation of why the inversion method isn't recommended.
If you are like me, you might ignore some food safety warnings – no one is going to stop me from eating raw cookie dough. In that instance, I am aware of the risk and choose to disregard it. It's probably fair to say that cookbook authors generally strive to be safe and to include warnings when their recipes deviate from standard food safety practices. However, as the recent recall shows, sometimes these things can slip by editors. Therefore we should exercise caution when presented with any recipe that involves foraging, preserving or unusual techniques, or when using older books that might not be up to snuff with regard to modern food safety practices.
Seen anything interesting?
Let us know
& we'll share it!