More with Less by Jodi Moreno
August 20, 2018 by Jenny
Jodi Moreno is a trained natural foods chef and award-winning blogger known for keeping food simple. In her third book, More with Less: Whole Food Cooking Made Irresistibly Simple, she creates bold, satisfying flavors using only whole food ingredients. The 130 recipes in this title are approachable and utilize easy techniques while requiring 10 ingredients or less!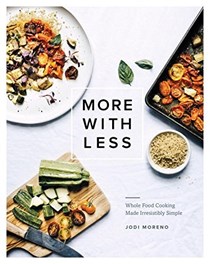 While the dishes in this beautifully photographed book are approachable and easy to recreate in any kitchen, they are still stunning and at home on the table for friends, family and guests. Thai peanut sweet potato skins, Deviled Brussels sprout salad and Eggplant rolls stuffed with macadamia ricotta and roasted tomato pesto are examples of dishes that will impress. The book is veg-heavy with a chapter on seafood recipes and Jodi's food is so gorgeous and delicious you will not miss the animal proteins at all.
Our
takes you behind the cover of this title and highlights the following dishes in our
feature:
Special thanks to the publisher for offering five copies of this book to EYB Members in the US and Canada. One of the entry options is to answer the following question in the comments section of this blog post.
Which recipe in the index would you try first?
Please note that you must be logged into the Rafflecopter contest before posting or your entry won't be counted. For more information on this process, please see our step-by-step help post. Be sure to check your spam filters to receive our email notifications. Prizes can take up to 6 weeks to arrive from the publishers. If you are not already a Member, you can join at no cost. The contest ends at midnight on October 13th, 2018.
Seen anything interesting?
Let us know
& we'll share it!