August 2018 Eat Your Books Cookbook Club Summary
August 26, 2018 by Jenny
We have an incredible community here at Eat Your Books that has flowed into our Eat Your Books Cookbook Club and Sweet Eat Your Books Cookbook Club, places where we share our successes and fails in cooking and baking from specific cookbook titles. Here on the site our recipe notes feature – completed by members and our indexers – help share issues and tips. Checking the notes section on a recipe for any errata that may have been reported by the publisher or discovered by a member is always a wise idea.
This month we have been working through:
And, desserts are still being churned out in our second group working through Ottolenghi's Sweet.
Our future month selections are re-shared at the end of this post and all club posts are tagged
#EYBCookbookClub
if you are looking for a particular post.
The photos below are just a few of the beautiful shots our members have been sharing; visit each group for more inspiration. Do not forget to also upload your photos and add your notes to your bookshelf at Eat Your Books. Instructions on uploading your photos and links to other helpful articles can be
found here
.
On that note, Eat Your Books has been sharing your photos on our
Instagram
feed. If you would like to be tagged in your lovely photos, update your bio here at EYB to include your social media handles. You can edit your bio on your Profile page, accessed from the menu under your username at top right. When we choose photos, we can then check your bio for your Instagram handle.
Other members have expressed an interest in following the members that make such beautiful food! Also, if you would like your EYB username shown when we post your photos in this monthly roundup, please add your username to your Facebook posts.
A few announcements before we share some highlights from this month's options:


Please make sure you have
entered all our giveaways
. We have a few up right now that combine a piece of cookware or a Boos cutting board. This Fall we'll have promotions that will offer a Mauviel roaster, Leuke products for pastry and chocolate work, Emile Henry stoneware as well as a set of Shun knives and I'm working on even more!
Every week new
and
books are being added. Find out more here. We recently just announced our newest feature Eat Your Books Digital – see our updated post for more information.
Every Sunday, I compile a post of Kindle cookbook deals so be sure to check those for bargains!
Now to this month's highlights: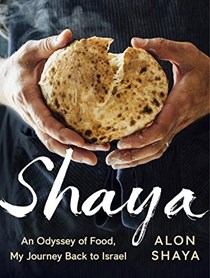 Lisa S made the Roasted Chicken with Harissa, Israeli Salad, Schmaltzy Potatoes, and the Herb Salt as well as the Israeli Couscous with Summer Vegetables and Caramelized Tomato.
Jeanne made a number of dishes including this Halva latte (see the group posts for details on these dishes),
Kimberly K made the Banh mi sandwiches and more from Vegetarian Vietnam and I have made several recipes but the photos were not easy on the eyes.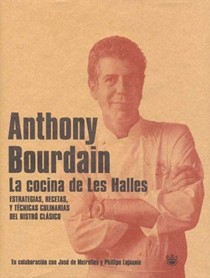 Maree made the Poulet Roti / roast chicken and its gravy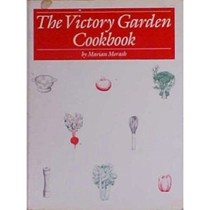 Kathleen L from Victory Garden made a number of dishes from the Victory Garden including the the Basque Piperade ( using yellow bells in lieu of green) – as a filling for one large omelette. Topped with new batch homemade Cotijo cheese.
A few of us made Annabel Langbein's Peanut crunch slice which are addictive and a number of other recipes.
There are many other wonderful photos in the group.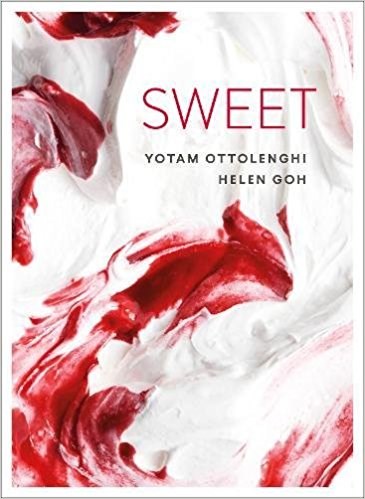 Eat Your Books Sweet Cookbook Club
Sweet – Ottolenghi

RachelB Fig and pistachio frangipane tarts & prickly pear sorbet with almond tuiles
Kathy G made the popular Pistachio roulade with raspberries and white chocolate
Harriet made the cinnamon pavlova with praline mascarpone and figs!


September
October