Edgy Veg by Candice Hutchings
August 30, 2018 by Jenny
The Edgy Veg: 138 Carnivore-Approved Vegan Recipes by Candice Hutchings and James Aita promises to deliver vegan food that satisfies our insatiable need for comfort food. The Edgy Veg, the YouTube sensation (with over 250,000+ subscribers and counting), was created by Candice Hutchings and her husband James Aita who are on a journey to revolutionize vegan food as we know it.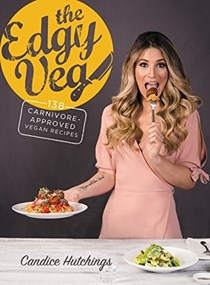 The couple grew tired of the traditional plant-based diet that left them unsatisfied so Candice started veganizing childhood cravings, fast food faves and food obsessions. Buffalo Cauliflower Wings 7 Ways, Easy Cheesy Fondue, and Chick Fillet Deluxe are what you will find here rather than zucchini noodles and hummus (fear not, there is the mandatory kale salad.) No food is off limits and everything in the book has received their signature carnivore stamp of approval. Don't tell anyone but I've made the dish below using beef – it was delicious and I plan on making more of the authors' recipes with substitutions for my family. With 138 recipes that take vegan cooking to the next level, you can put down that spiralizer and get ready to have your cake, burger and fries, and eat them too!
Special thanks to the publisher for sharing the following recipe which is packed with Thai flavors and for providing three copies of this book in our giveaway below.

Street Food-Style Thai Basil Beef
Add this recipe to your Bookshelf (click the blue +Bookshelf button).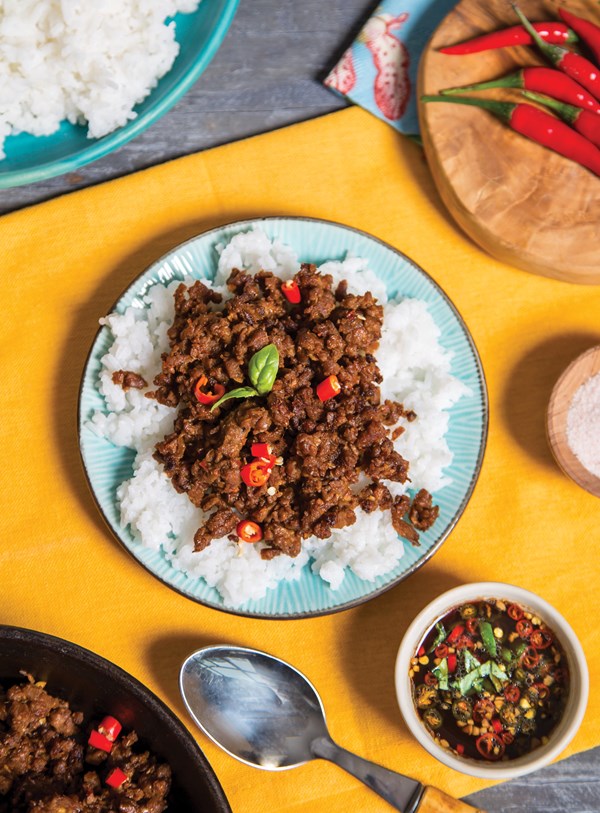 Serves 4
Pad gra prao is one of Thailand's most beloved street foods. I would know because James lived in Bangkok for a year, where he acquired a habitual need for the stuff. This dish is so good because of the Thai basil, which gives it a peppery kick (and a kick is what James needs to get me a plane ticket to Thailand). It's a household favorite that always delivers – just like my insistence to go to Thailand ASAP.
Rice
1 cup jasmine rice, rinsed 250 mL
1-1/2 cups water 375 mL
Basil Beef
7 garlic cloves, peeled 7
1 red bell pepper, chopped 1
2 red Thai chiles, halved and seeded 2
3 large shallots, roughly chopped 3
3 tbsp coconut oil 45 mL
3 tbsp water 45 mL
1/4 cup tamari (approx.) 60 mL
1 tsp coconut sugar 5 mL
2 tbsp mirin (approx.) 30 mL
3 tbsp vegan Worcestershire 45 mL
2 lbs veggie ground round 1 kg
Sea salt
1 cup packed fresh Thai basil leaves 250 mL

Serving Sauce
3 garlic cloves, minced 3
3 red Thai chiles, sliced 3
2 tbsp mirin 30 mL
1/3 cup tamari 75 mL
6 tbsp freshly squeezed lime juice 90 mL
5 fresh Thai basil leaves, roughly chopped 5
1/4 cup sliced cucumber 60 mL

1. Rice: In a large saucepan, combine rice and water. Bring to a boil over high heat. Immediately reduce heat to low, cover with a tight-fitting lid and simmer for 15 minutes, until all the liquid has been absorbed. Remove from heat and let stand, covered, while you prepare the recipe. Use a fork to fluff up the rice when ready to serve.
2. Basil Beef: In a food processor, combine garlic, red 
pepper, red Thai chiles and shallots; pulse until a coarse paste forms.
3. In a large skillet, heat coconut oil over medium-high heat. Add paste and cook, stirring, for about 3 minutes, until fragrant.
4. In a small bowl, whisk together water, 1/4 cup (60 mL) tamari, coconut sugar, 2 tbsp (30 mL) mirin and vegan Worcestershire. Set aside.
5. Add veggie ground round to skillet and cook, breaking, up with a wooden spoon. Add tamari mixture and cook, stirring occasionally, for about 20 minutes, until veggie ground round is steaming and heated through. Make sure to check the amount of liquid in the skillet: if it gets too dry, add a little bit of water. You do not want this to be dry. Add more tamari or mirin to taste.
6. Serving Sauce: In a small bowl, whisk together garlic, red Thai chiles, mirin, tamari, lime juice and basil leaves.
7. Once the veggie ground round is heated through, add 1 cup (250 mL) basil leaves. Cover to wilt the basil quickly, about 2 minutes, max.
8. Serve over rice with a side of cucumber slices and a tiny bowl of serving sauce.
Recipe excerpt courtesy of The Edgy Veg: 138 Carnivore Approved Recipes by Candice Hutchings and James Aita © 2017 Robert Rose Canada. Available where books are sold. Photo credit: Brilynn Ferguson
The publisher is offering three copies of this book to EYB Members in the US and Canada. One of the entry options is to answer the following question in the comments section of this blog post.
Which recipe in the index would you try first?
Please note that you must be logged into the Rafflecopter contest before posting or your entry won't be counted. For more information on this process, please see our step-by-step help post. Be sure to check your spam filters to receive our email notifications. Prizes can take up to 6 weeks to arrive from the publishers. If you are not already a Member, you can join at no cost. The contest ends at midnight on October 19th, 2018.