Levant by Rawia Bishara
August 6, 2018 by Jenny
Levant: New Middle Eastern Flavours by Rawia Bishara pays tribute to the cuisine that has blossomed from the wall flower of global cuisine to one whose dance card is filled. Rawia is also the author of Olives, Lemons & Za'atar and owner of Brooklyn's Tanoreen restaurant who believes one of the greatest assets of Middle Eastern cuisine is its inherent fluidity, its remarkable capacity to adapt and transform over time.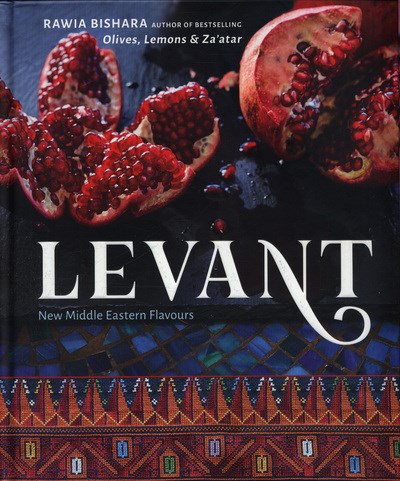 Levant offers up more than 100 recipes that represent the very best of those dishes she has developed over the last twenty years in her restaurant for today's palate. Relying on a traditional pantry (including olive oil, tahini, za'atar, sumac), she applies classic flavor profiles in modern applications. By focusing on dishes that are naturally vegetarian or vegan and gluten-free, as well as meat dishes where vegetables take the leading role, she delivers the type of food that people wish to eat and cook today.
Below, the busy chef and author graciously shares her time in a short interview for our members as well as providing a recipe from the book. At the bottom of this article, please be sure to enter our giveaway for three copies of this vibrant glorious book.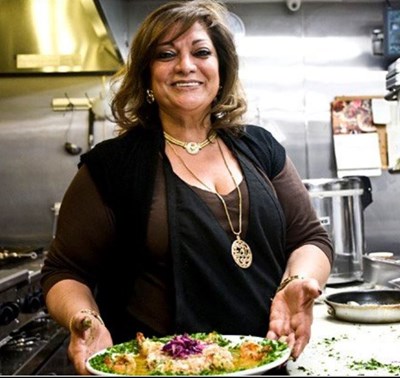 EYB: I am a huge fan of both of your books Olives, Lemons & Za'atar and now Levant that will never leave my collection which is quite extensive. The first recipe I made was the Shrimp in garlic sauce and it was outstanding. Served with some toasted sourdough bread, it was perfection. Tell us how your latest title is different from your first.
Rawia: Thank you, that means a lot! That shrimp dish is a Tanoreen classic! In the process of writing both books, I tried to make them as personal as possible, because after all, food is personal. As I grew, changed and evolved so did my cooking philosophy. So, Levant is a continuation of that journey and adheres to traditions but allows for evolution and movement that allows healthy and alternate ingredients to take center stage.
EYB: I don't think Middle Eastern food is a craze or a fad. I feel that it has found its home as a go-to cuisine for cooks around the world because dishes are typically fresh, vibrant and packed with flavor. I do think we've found new fans due to relief type books such as Cook for Syria, Soup for Syria and Bake for Syria (and of course Ottolenghi). As more people try recipes, either at restaurants or books such as yours, they find it is not difficult or complex, that just the flavors are. Would you agree or do you think there is another reason for the Middle Eastern cuisine food love?
Rawia: Well yes, I agree. This type of cooking and many of these dishes origins originated centuries ago. I feel like the recent spotlight on Middle Eastern food is the result of exposure to the Mediterranean diet and focus on healthy ingredients. It's been part of my plan at Tanoreen all along to slowly incorporate my touches and traditions with new ingredients to achieve what is the theme of Levant.
Most of my guests at the restaurant never knew what Palestinian cuisine was before they ate there, and the one thing I can say is, if you cook from either book or if you eat at Tanoreen, you will most certainly know what Palestinian food is. I say that with pride.
EYB: For someone just picking up your cookbooks for the first time – which recipe would you recommend they try first? Which are your favorites or go-tos?
Rawia: I think any of the salads would be a good introduction to my food. They can be easier to make and will help the home cook ease into it. It's basically chop and mix cooking. Try the Fall Fatoush! Alternately, try the beet hummus – it's a show stopper and very easy to get right!
EYB: As cookbook lovers, we'd like to know if you are a cookbook collector yourself and if so could you share with us some of your favorite titles? And, some of your cooking idols.
Rawia: I have a lot of cookbooks, most of which are on display at Tanoreen. I've just contributed to a couple that I really like: 'The Immigrant Cookbook' and 'Women Chefs of New York'. I also enjoyed 'Palestine on a Plate' and 'Jerusalem'. Of course, Claudia Roden is a wonderful and prolific cookbook writer.
EYB: Lastly, any plans for book three? I for one can't get enough of baking either savory or sweet Middle Eastern titles – any hope for such a book from you?
Rawia: We will see. We are still working on getting Levant out into the world, but there are always thoughts and ideas swirling around. We hope to continue the journey onward and upward!
Harissa Baked Chicken
Add this recipe to your Bookshelf (click the blue +Bookshelf button).
Heat can register on the palate in a myriad of ways: a jalapeño lands differently than wasabi, and the same goes for black pepper and harissa. The latter is my favorite for imparting both flavor and fire, just assertive enough to jolt a dish while contributing intriguing, aromatic depth.
Makes 4 to 8 servings
2 chickens, halved or quartered (you can ask your butcher to do this)
2 tablespoons Tanoreen Spice Mix 
or
 1 tablespoon ground allspice, 
1 teaspoon freshly grated nutmeg
, 1 tablespoon ground cumin
, 1 tablespoon freshly ground black pepper
, 1 tablespoon ground ginger
½ cup vegetable oil
8 waxy potatoes, sliced into ½-inch-thick rounds
1 cup olive oil
1 cup Harissa (page 212, or store-bought)
½ cup fresh lemon juice
1 cup chopped shallots
2 tablespoons chopped garlic
2 poblano chiles, finely chopped
2 tablespoons crushed dried Persian limes (limu omani; optional, see sidebar)
¼ cup Cilantro-Basil Pesto (page 216), or 1⁄3 cup chopped fresh basil and 1⁄3 cup chopped fresh cilantro
4 cups chicken broth or water
Sea salt
Preheat the oven to 450˚F.
Place the chicken pieces in a large bowl. Rub 1 tablespoon of the Tanoreen Spices evenly over the chicken pieces, pressing gently so they adhere.
Heat the vegetable oil in a large, deep skillet over medium-high heat. Working in batches if necessary, sear the chicken pieces on both sides until golden, about 4 minutes each side.
In a large bowl, toss the potatoes with ½ cup of the olive oil, then place them in a large baking dish. Roast until just golden, 20 to 25 minutes. Remove from the oven and place the seared chicken in a single layer on top of the potatoes. Return the dish to the oven and reduce the oven temperature to 350˚F.
In a small bowl, whisk together the remaining ½ cup oil, the harissa, lemon juice, shallots, garlic, chiles, crushed dried limes, if using, the remaining 1 tablespoon Tanoreen Spices, and the pesto. Brush evenly over the chicken.
Pour the chicken broth into the four corners of the baking dish, being careful not to let it splash on top of the chicken. Season everything with salt. Cover the dish with aluminum foil, place in the oven, and roast for 1 hour to 1 hour and 15 minutes, until the juices run clear when a knife is inserted between the leg and breast or a meat thermometer registers 165°F. Remove the foil and roast for 5 minutes more, or until golden all over and crispy, being careful not to let the hot pepper paste burn.
The publisher is offering three copies of this book to EYB Members in the US and UK. (Please note the US subtitle is New Middle Eastern Cooking from Tanoreen) One of the entry options is to answer the following question in the comments section of this blog post.
Which recipe in the index would you try first?
Please note that you must be logged into the Rafflecopter contest before posting or your entry won't be counted. For more information on this process, please see our step-by-step help post. Be sure to check your spam filters to receive our email notifications. Prizes can take up to 6 weeks to arrive from the publishers. If you are not already a Member, you can join at no cost. The contest ends at midnight on September 27th, 2018.