Southern Baked – Promotion and Giveaway
August 7, 2018 by Jenny
Last month, we announced EYBDigital, our preorder incentive that provides digital access to a cookbook (after purchasing the print book) for a number of titles coming this Fall
If you preorder a title within the promotional period, for the first time you will have access to the full EYBD cookbook wherever you can access EYB – on vacation, at work, in the grocery store, etc. In addition to the digital book, all the features of EYB will be included in the access, at no cost to the book purchaser.
• Recipe search
• Bookmarks
• Recipe ratings and reviews
• Photo upload (personal photos of dishes cooked)
• Shopping lists
We are pleased to share that our first EYBDigital Book has launched today on its publication day!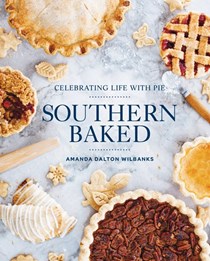 Southern Baked by Amanda Wilbanks is a celebration of life through pie, but not just any pie, Southern pies including all the fixings to go along with. Amanda is the owner of Southern Baked Pie Company in Georgia and knows a thing or two about flaky crusts and tempting fillings.
Amanda's Southern charm shines with Apricot pie in Mason jar lids, Pimiento cheese pie bites, as well as recipes for non-pie dishes such as Marinated chicken wings and Spoon-worthy egg nog. This weekend the cookbook was displayed and sold in the Southern Baked Pie locations as you can see from the photos below.
Amanda's book tour is shared on our calendar so you can find out if she will be near you. If you are near one of the Southern Baked Pie stores stop in to buy a copy of the book and pick a pie while you are there.
Our
shares a look inside this book, perfect for all your pie baking needs (especially with the holidays fast approaching) and features the following recipes with our
feature:
If you have preordered Southern Baked, or do so before November 30, 2018, register here (be sure you have a photo of your receipt or screenshot from your online order ready to upload). Once your purchase has been verified, this button
will appear on the book on your Bookshelf and will take you to the digital access for this gorgeous book. Below are screenshots showing how these features will appear.
To celebrate the publication, the live launch of EYBDigital and pie, Gibbs Smith is providing three copies of Southern Baked in our giveaway below opened to EYB members worldwide. We hope you are as excited about EYBDigital as we are! Remember to check out our post for more titles that will have this exclusive access as a pre-order and book purchase incentive as well as more detailed information.
The publisher is offering three copies of this book to EYB Members worldwide. One of the entry options is to answer the following question in the comments section of this blog post.
Which recipe in the index would you try first?
Please note that you must be logged into the Rafflecopter contest before posting or your entry won't be counted. For more information on this process, please see our step-by-step help post. Be sure to check your spam filters to receive our email notifications. Prizes can take up to 6 weeks to arrive from the publishers. If you are not already a Member, you can join at no cost. The contest ends at midnight on September 16th, 2018.