At Home with Natalie Morales
September 10, 2018 by Jenny
Natalie Morales, longtime news anchor and co-host of the TODAY show, knows how hard it can be to get a nutritious dinner on the table that the whole family will enjoy.

Morales was born in Taiwan to a Brazilian mother and Puerto Rican father, and has lived around the world as a child – Panama, Spain, and Brazil. That multicultural experience fed her love for good food, but it's her experience as a working mom that taught her how to cook on the run and keep her recipes healthful. The result is a personal collection of her family favorites in her new book, At Home with Natalie: Simple Recipes for Healthy Living from My Family's Kitchen to Yours.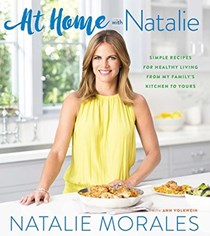 Natalie's global influences drawn from her heritage and travel are sprinkled throughout the 125 recipes shared. Grilled chimichurri soy steak, Asian turkey meatballs, and Happy family chicken and shrimp stir-fry are a few examples of those international touches. Packed with dishes from breakfast to dessert, there is something for everyone in this approachable and beautifully photographed cookbook. The Tortilla Española and Chicken in garlic sauce are on list to make soon.
Take a look inside At Home with Natalie with our
which features three
s.
Special thanks to Houghton Mifflin Harcourt for the providing the materials for our preview above and sharing three copies of Natalie's book in our giveaway below.
The publisher is offering three copies of this book to EYB Members in the US and Canada. One of the entry options is to answer the following question in the comments section of this blog post.
Which recipe in the index would you try first?
Please note that you must be logged into the Rafflecopter contest before posting or your entry won't be counted. For more information on this process, please see our step-by-step help post. Be sure to check your spam filters to receive our email notifications. Prizes can take up to 6 weeks to arrive from the publishers. If you are not already a Member, you can join at no cost. The contest ends at midnight on October 23rd, 2018.