Mowgli Street Food by Nisha Katona
September 12, 2018 by Jenny
In 2014, barrister Nisha Katona wanted to build a restaurant serving the kind of food Indians eat at home and on the street. The first Mowgli restaurant opened in Liverpool in late 2014, blowing away the critics forming legions of fans. Nisha gave up her 20-year career to build Mowgli Liverpool and now there are six Mowgli locations in the UK. Nisha, a dedicated curry evangelist, is responsible for Mowgli's growth and she still hand trains each new Mowgli chef.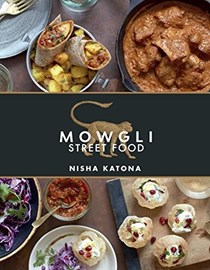 The simple dishes on the Mowgli menu differ greatly from the curry stereotype. These dishes reflect real Indian food which is extremely healthy, often vegan, and always packed with fresh flavour. One hundred of those signature dishes are shared in her latest book, Mowgli Street Food: Stories and Recipes from the Mowgli Street Food Restaurants. I am a street food devotee and Indian food is one of my favorite cuisines so this book is a winner in my collection. The recipes here range from Gunpowder chicken, Mowgli rocky road (yes there are desserts!), Mowgli onion bhajis to cocktails and drinks. Measurements are given in weight and volume and the recipes are approachable and made with ingredients that aren't difficult to procure.

Nadia has written two previous cookbooks, The Spice Tree and Pimp My Rice that should be on your radar. Special thanks to Nourish Books for sharing the following two recipes with our members today. Be sure to add them to your bookshelf and scroll to the end of this post to enter our giveaway to win a copy of Mowgli Street Food.
Chinese Lettuce Salad
Add this recipe to your Bookshelf (click the blue +Bookshelf button).
PREP: 5 MINUTES • COOK: 5 MINUTES • SERVES 4
These big, crunchy, moist leaves are not a common Indian ingredient. They are, however, my favourite salad leaf. They are giant, generous, sweet torpedoes that work as well in salads as they do in soups or stir-fries. This salad formula is entirely transferable to your favourite leaves.
1 tbsp vegetable oil
½ tsp mustard seeds
2 small Chinese lettuces, halved and finely shredded
1 red pepper, deseeded and thinly sliced
1 small red chilli, deseeded and thinly sliced
½ small bunch of fresh coriander/cilantro, leaves and stalks roughly chopped
¼ tsp chat masala
1 tbsp lemon juice
pinch of salt
1 Put the vegetable oil in a small frying pan set over a medium-high heat. When hot, add the mustard seeds and fry until they begin to fizz and pop. Remove from the heat and set aside until cool.
2 In a large bowl, add all of the remaining ingredients, mix well, check for seasoning and serve immediately.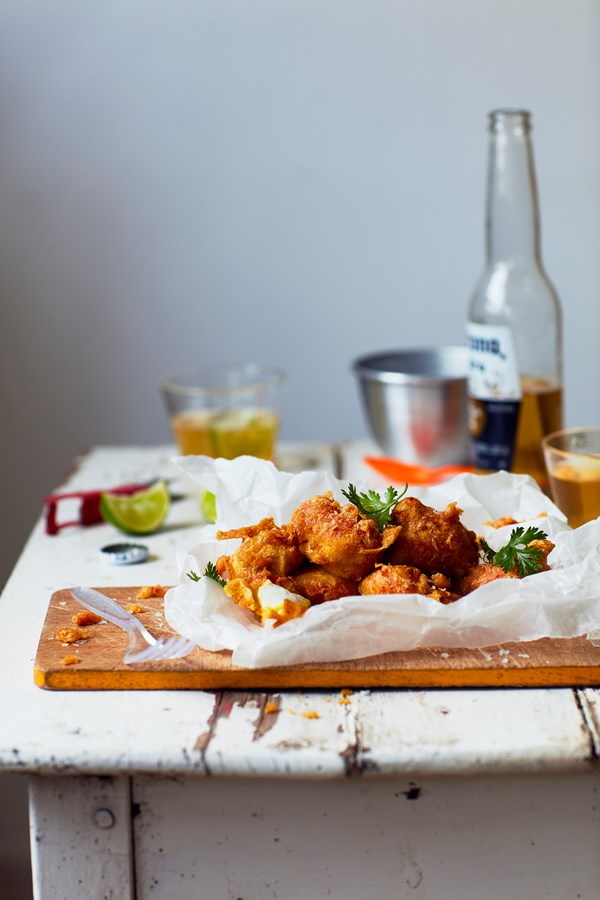 Fish Pakoras
Add this recipe to your Bookshelf (click the blue +Bookshelf button).
PREP: 15 MINUTES + 1 HOUR MARINATING • COOK: 15 MINUTES • SERVES 4
Pakora is just another word for bhaji – another excuse for that gram flour batter. This is as close as Indians get to fish fingers. Play with the batter to make this a bespoke favourite. Lime zest and your choice of herbs finely chopped are a good twist.
450g/1lb skinned white fish fillets, such as cod or haddock, chopped into 2.5cm/1 inch chunks
vegetable oil, for deep frying
fresh coriander/cilantro
FOR THE MARINADE
1 tbsp lemon juice
3 garlic cloves, minced
2.5cm/1 inch piece of fresh root ginger, peeled and grated
¼ tsp ground turmeric
½ tsp salt
½ tsp ground cumin
FOR THE BATTER
200g/7oz/12⁄3 cups gram/chickpea flour
½ tsp bicarbonate of soda/baking soda
½ tsp salt
¼ tsp chilli powder
¼ tsp ground turmeric
½ tsp garam masala
1 Mix the fish with the marinade ingredients, cover and set aside in the refrigerator for at least an hour.
2 Mix together the ingredients for the batter. Slowly pour 275-300ml/10-10½fl oz/ 1-1¼ cups water into the dry ingredients and mix well – you want it to form a smooth paste.
3 Heat a deep-fat fryer to 180°C/350°F or set a saucepan over a medium-high heat with about 4cm/1½ inches of oil. You know the oil is hot enough when you drop a small amount of batter into it and it floats to the surface.
4 Coat the fish pieces in the batter and carefully fry in small batches for 3-5 minutes until they are golden brown and cooked through. Remove from the oil using a slotted spoon and drain thoroughly on paper towels.
5 Finish with fresh coriander and serve immediately.
Receipt excerpts used with permission from Mowgli Street Food: Stories and recipes from the Mowgli Street Food restaurants, by Nisha Katona. © Nourish Books, 2018. Hardback, £25. Commissioned photography © Yuki Sugiura
The publisher is offering three copies of this book to EYB Members in the US, CA and UK. One of the entry options is to answer the following question in the comments section of this blog post.
Which recipe in the index would you try first?
Please note that you must be logged into the Rafflecopter contest before posting or your entry won't be counted. For more information on this process, please see our step-by-step help post. Be sure to check your spam filters to receive our email notifications. Prizes can take up to 6 weeks to arrive from the publishers. If you are not already a Member, you can join at no cost. The contest ends at midnight on October 29th, 2018.